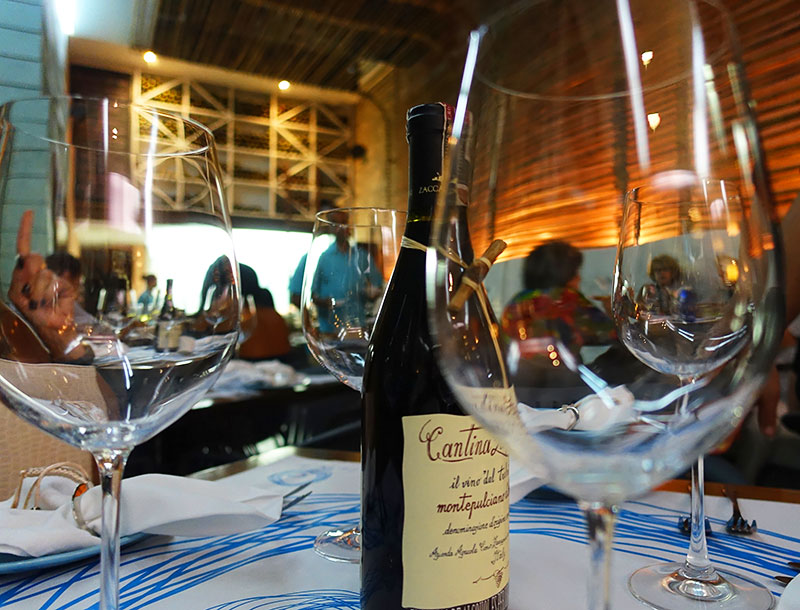 Our Favorite Restaurants in Cartagena
Looking for the best restaurants in Cartagena? With so many options to choose from it's almost impossible to decide where to eat lunch or dinner. What makes it even harder is the sheer variety of food available in Cartagena. This historic city has become truly modern when it comes to the cuisine on offer. Indeed, Cartagena has become something of a destination for foodies and restaurateurs with interesting and exciting visions of what authentic food should really be.
As a service to all of our guests (and ourselves), we've tried just about every place to eat in Cartagena from the best restaurants in town to the trendiest food stalls around and have come up with a list of our favorite restaurants in Cartagena. Below you'll find a little something for everyone from trendy eateries featuring eclectic menus to authentic restaurants offering local ambiance for miles.
If you're vacationing in Cartagena you owe it to yourself to experience the wide variety of food available to you so don't just stick with the first place you try. Get out, explore, and enjoy every bite of this Caribbean vacation getaway.
Don Juan
Don Juan is easily one of our favorite restaurants in the old city. It is a sophisticated restaurant offering an extensive menu that relies heavily on the fresh fish available in Cartagena. The chef and owner Juan Felipe Camacho provides excellent attention to detail and the presentation is always immaculate. (It doesn't hurt that the air conditioning is top-notch as well.)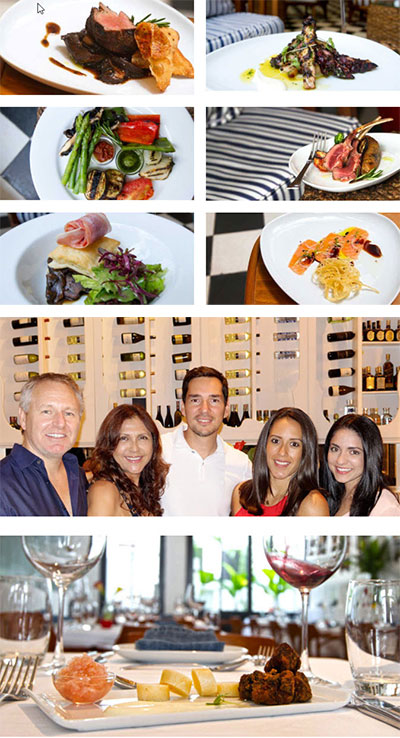 La Vitrola
Another clear winner on our list of favorite restaurants is La Vitrola which is one of the busiest restaurants in Cartagena and reservations book fast. Why is La Vitrola so popular? The menu features a unique blend of local and International cuisine so you can travel across borders in one sitting. But because of its iconic stature in Cartagena, it can be a bit difficult to get into.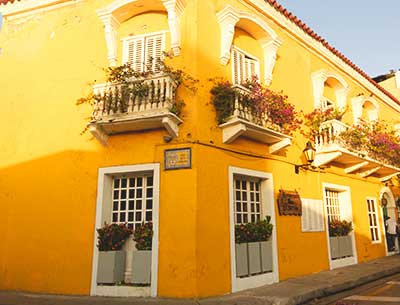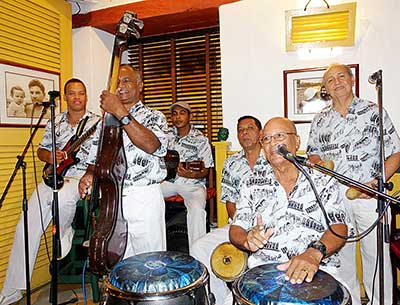 Cande
Traditional inland Colombian dishes are actually a bit hard to find in Cartagena. With the abundance of fresh fish right from the sea, the best restaurants in Cartagena typically serve seafood. However, if you'd like to try something a little more earthy, the menu at Cande offers traditional stews, steaks, pork, and even rabbit. The best time to go is for lunch!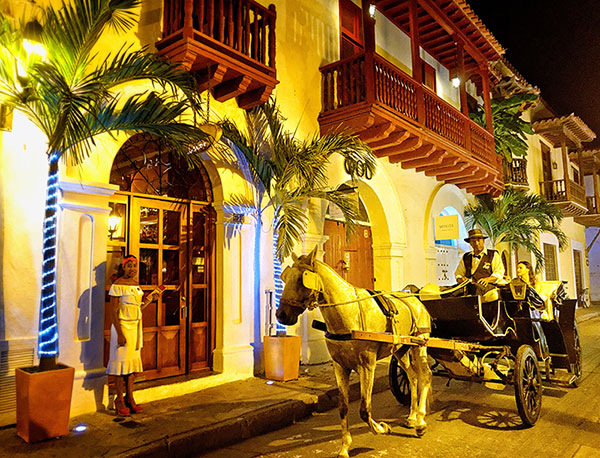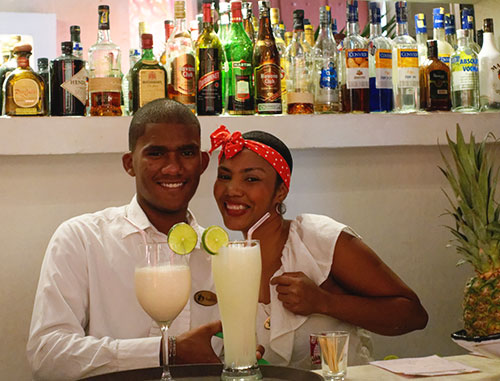 Alma
If you're in the mood for ambiance, Alma offers it in spades. This gorgeous little restaurant features a great locally-inspired food and an authentic Colombian Band plays in the courtyard. It's a great place to get a good meal without feeling like you have to impress anyone.
Restaurante 1621
You wouldn't think that Cartagena would be a good place to find fine French cuisine but 1621 offers diners a trip to the Continent right in the Caribbean. With traditional favorites like duck paired with an absolutely amazing wine list, you can sip and savor until your heart is content.
Carmen
Caremen restaurant offers trendy "course" meals featuring small plates that are designed to pair excellently with one another. It's a bit on the pricey side but the presentation is almost enough to make up for it. Add in the wonderful décor and you have all the ingredients for an excellent dinner.
Marea
It's not often that a restaurant offers great food and great views but Marea capitalizes on its location to give diners both. The simplistic yet elegant style is overshadowed by the amazing views of the harbor. It's wonderfully entertaining to watch the great yachts come and go. Plus it's located right at the Convention Center so if you're attending a trade show, a company function, or an exhibition Marea is a wonderful place to slip away for a great meal.
Restaurant Café San Pedro
This restaurant is located in the heart of the gorgeous plaza in the city. You can sit and enjoy your meal here in the middle of all the action without worrying about being hassled by street vendors as you would be elsewhere. The cool, dark, and authentic vibe of this place simply can't be replicated and the food is exceptional relying heavily on fresh fish. And, if you're a people watcher, this little hideaway offers an excellent vantage point right in front of one of the oldest churches in Cartagena.
Juan del Mar
This place is great for seafood, ceviche, and a homey vibe that's laid back and fun without being stuffy and pretentious. You can find seating inside in the AC or in the courtyard outside and enjoy the band while you sample some excellent fish dishes.
Cuzco Cocina Peruana
Peruvian food has found a new home in Cartagena and one of the most authentic versions of it can be found at Cuzco in Cartagena. The menu offers a wide variety of seafood dishes expertly seasoned and grilled to perfection. And if you enjoy a little musical accompaniment with your meal, Cuzco features a live band every day.
Andante Allegro Vivace
If real authentic Italian cuisine is calling you, visit Andante Allegro on Calle Don Sancho. Owned by a pair of expat Italians, this little eatery is the epitome of authentic home cooking. With pasta made fresh daily, fresh ingredients prepared expertly, and a wine list straight from the Piedmont guests experience tastes transported straight from the Mediterranean.
El Boliche Cevicheria
Ceviche is Cartagena's unofficial dish. You can get it everywhere from food carts to fine restaurants. One of the best places is El Boliche Cevicheria. This little "Hole-in-the-Wall" eatery on Calle del Hobo is just the place to go if you're craving real a "local" experience and an excellent fish dish. Simple ingredients mingled expertly create dishes that are bright, flavorful, and completely unique to Colombia.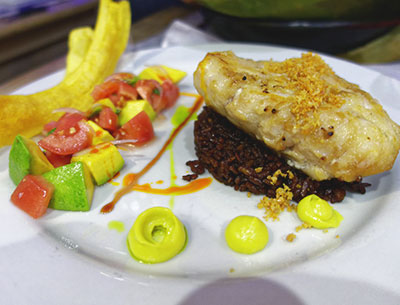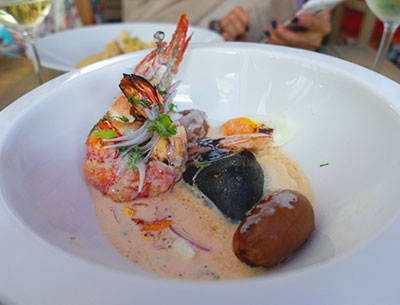 Peru Fusion
If Peruvian food sounds fun but you want something a little non-traditional, Peruvian fusion is for you. And the best restaurant in Cartagena to enjoy Peruvian fusion cuisine is—of course—Peru Fusion. This is a great spot for lunch and offers interesting twists on traditional fish dishes like ceviche that will have your tastes buds wonderfully confused. Wondering what to try from the menu? We suggest the sushi rolls—literally some of the tastiest in town.
La Perla
La Perla is one of our favorite restaurants for lunchtime fine dining at an affordable price. This restaurant's authentic menu with friendly staff and of course great food makes it onto our list.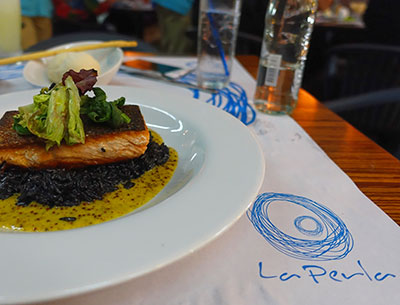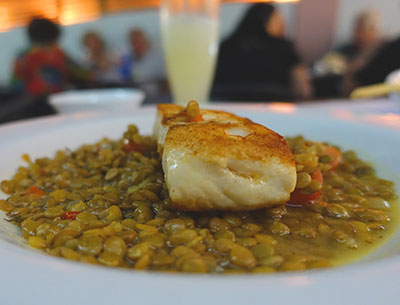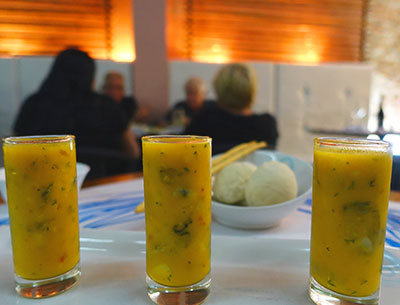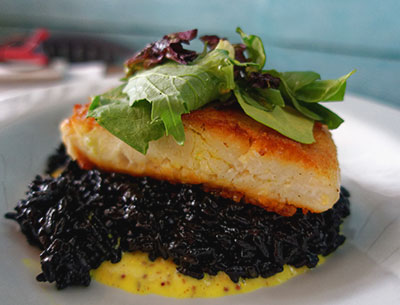 Demente
Looking for late night eats after a pub crawl or clubbing? Demente is a low key eatery in Getsemani that doesn't even open its doors until 2:00 a.m. What do you get? Amazing pub-style food (like sliders!) with several unique items thrown in (crab dumplings, pork belly ceviche, and fried black sausage.)
Tratoria Da Silvo
The absolute best pizza in Getsemani. There's no getting around it, pizza is one of the best foods when you're out on the town for a night of drinks, dancing, and fun with friends and there's no better place to grab a slice (or a whole pie) in Cartagena than Tratoria Da Silvo. Better yet, if you can grab a table by the street you get the added bonus of people watching in one of the hippest neighborhoods in Cartagena!
Vera
If you're in the mood for Italian food you can find it on nearly every street in the city but if you're looking for the best Italian food in Cartagena look no further than Vera. Located at Silvia Tcherassi Hotel on Calle Sargento Mayor, Vera transports diners to Italy with its gorgeous interior courtyard featuring European-style architecture and lush greenery. This upscale eatery is a wonderful place for a leisurely dinner with friends.