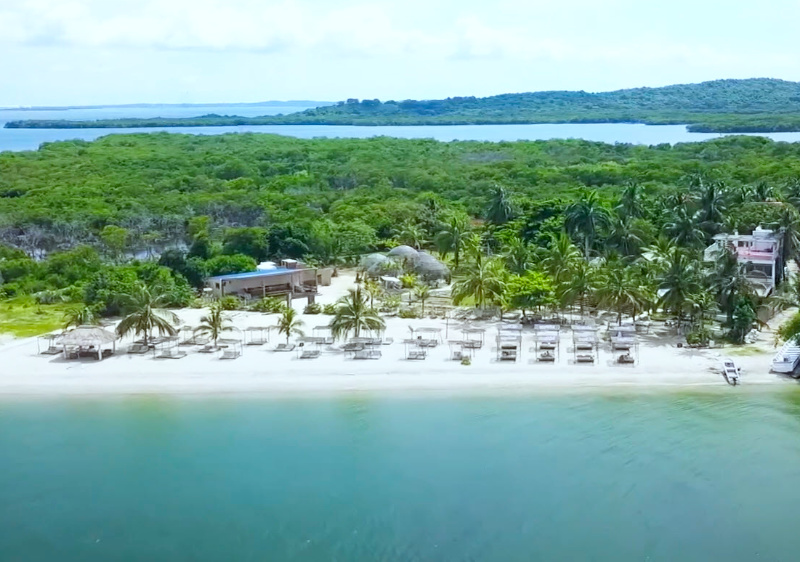 Fenix Beach Private Daytrip Excursions from Cartagena
Located along the Colombian Caribbean coast, Cartagena has access to crystal blue waters, pristine white beaches, and gorgeous people worldwide! There is any number of private beach getaways in and around Cartagena. However, those secluded beaches can range from a few well-worn sun loungers on a small strip of sand to high-end establishments that host rockstars and destination weddings. If you're looking for something that fits comfortably between those two extremes, may we suggest Fenix Beach in Cartagena?
This beach resort is chic but has maintained that low-key, laid-back aspect that many visitors cherish. Of course, the main attraction is the white sand beach and azure surf. Still, the owners have created something special here by augmenting that natural beauty with cabanas, a pool, skillfully landscaped courtyards, raw art, and a handful of surprises around every corner.
Fenix Beach – To Bundle or Not to Bundle?
The resort itself offers a Daytrip package that includes everything you could want. The bundle provides roundtrip transportation on a water shuttle, a complimentary welcome beverage, lunch (with dessert), and access to various amenities, including the beach, volleyball courts, pool, and a towel.
But the experience is a bit limiting. Your schedule is at the mercy of the boat operators. You're crammed in with other guests. You are herded to and froe and generally treated more like a tourist than a local than most of our luxury vacation home occupants enjoy.
Perhaps a better alternative is to experience Fenix Beach yourself. Our complimentary concierge service can arrange personal transportation to and from Fenix Beach at your leisure. This allows you to follow your schedule, enjoy your privacy, and bring your guests.
Of course, you may miss out on some of the perks of bundling with a tour group, but this allows you to truly experience this gorgeous private beach in luxury like a visitor, not a tourist. Plus, when you have a personal boat service at your disposal, you can visit other islands in the area if Fenix Beach becomes too crowded. Alternatively, you can plan a sunset cruise for a romantic interlude before the evening's festivities.
Beach Dining at Fenix Beach
A day in the sun and surf will work up an appetite, and the restaurant at Fenix Beach is perfectly equipped to alleviate that issue with aplomb.
The restaurant at Fenix Beach in Cartagena offers a small but well-curated menu that includes various fish dishes, including multiple takes on ceviche, calamari, shrimp, and red snapper. For those who prefer something that doesn't come from the sea, there are a handful of pasta and beef dishes and even a vegetarian option or two. All the dishes showcase the authentic Caribbean and Colombian flavors that perfectly accent your beach escape.
The prices of the dishes are amazingly affordable for a private beach restaurant, ranging from 15.000 to 83.000 Colombian pesos (roughly $4 to $23.00).
Plan Your Day Away Today
Fenix Beach is located at Punta Arena, Tierra Bomba in Cartagena, Colombia. You'll need a boat to get there, but we can help. When you stay at any of our luxury vacation rental homes in Cartagena, you'll have access to our exclusive complimentary concierge service. We can arrange everything for you with just a phone call. Our local guides know the best boat crews and drivers, from ground transportation to and from the port to private water taxi services or even luxury motor yacht rentals. All you must do is have fun. We'll take care of the rest.
Get in touch to learn more.