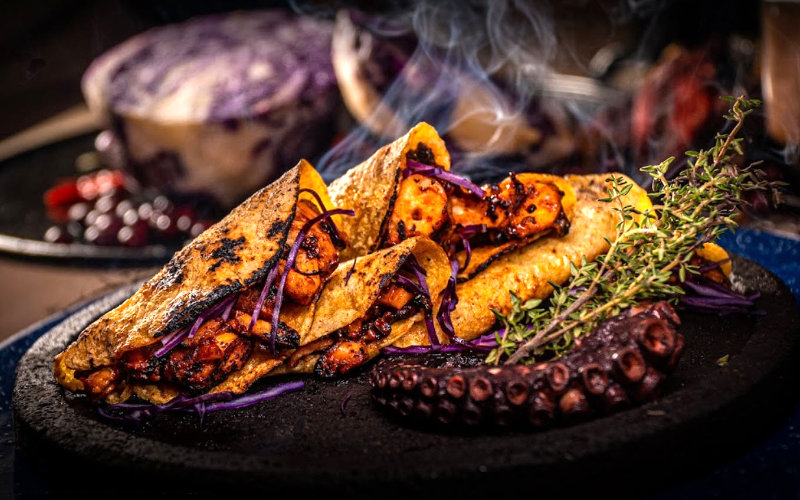 La Santa Guadalupe Gourmet Mexican Restaurant in Cartagena
Cartagena is a unique Spanish Colonial city that's bathed in history. However, most authentic local cuisine has heavy Colombian and Caribbean influences that often overpower the Spanish dishes' roots. That doesn't mean you can't find other cuisines when vacationing in Cartagena. This city has one of the most ethnically diverse gastronomy scenes in South America. So when you're visiting Cartagena and get a craving for authentic Mexican food, you have a lot of options from which to choose. However, suppose you want authentic gourmet Mexican food in a restaurant that feels like a cross between a dive bar in Cabo San Lucas and a ritzy bistro in Mexico City. In that case, La Santa Guadalupe is the place to be.
The Adventurous Menu Elevates Traditional Mexican Food
La Santa Guadalupe bills itself as the authentic Mexican kitchen that cooks sins and miracles. And with just a glance at the menu, it's not hard to see why. The luscious dishes are so overpoweringly flavorful that you'll wonder where this food has been all your life.
You'll find a variety of tacos (of course) that are far elevated above your standard food truck offerings that they're in another galaxy altogether. From pork carnitas tacos with crackling dust to pickled shrimp tacos with sauteed peppers and onion to fresh duck tacos that melt in your mouth, these insanely tasty recipes make the humble taco into an art form.
Of course, being so close to the ocean, La Santa Guadalupe would be a crime to skimp on the seafood dishes. The chefs have devised unique ways to sample the sea, including smoked octopus shish kebab, fresh ceviche tostada, and mescal marinated salmon!
If you want something unique, check out the "Miracles" section of the menu. Here you'll find the chef's most adventurous dishes like the Holy Lamb—a grilled leg portion served with corn and asparagus bathed with chipotle sauce and finished with smoked rosemary. Or perhaps the Divine Pineapple would be more to your liking. This braised pineapple comes stuffed with melty Oaxaca/mozzarella sauce and sauteed shrimp with corn tortillas on the side. Or maybe it's the Reyes Broad Loan—pork slow-roasted in Ancho Reyes liquor for 12 hours or longer!
The Ambiance Creates a Hip Scene with Nods to Mexico's Culture and Past
The exterior of La Santa Guadalupe looks much like any other Spanish Colonial building in Cartagena. Still, the interior is a colorful cross between a chill Mexican cantina and a hip nightspot. The interior designers responsible for integrating Mexico's storied past and Cartagena's cutting-edge entertainment scene did an outstanding job of creating a harmonious mash-up of two contrasting styles.
You'll find elegant lighting, crisp uniforms, and a modern bar crafted from traditional materials like glass tile and stucco paired flawlessly with vibrant contemporary art, including stylish Día de Los Muertos and Frido Kahlo-inspired murals. While the colors can be quite garish, they are used in such a way as to elevate your dining experience, not detract from it. The way many dishes are artfully plated feels like an extension of the restaurant's architecture and art style.
There is also outside open-air seating which makes dining after sunset simply stunning.
This groovy art and laid-back atmosphere make La Santa Guadalupe Mexican restaurant in Cartagena the perfect place to meet with friends and sip a few of their signature cocktails while sharing a handful of their snazzy smaller plates.
Reservations and Special Occasions at La Santa Guadalupe
La Santa Guadalupe Mexican restaurant in Cartagena allows you to make reservations online, by phone, or by email. The venue also has space for special occasions, and when you make your reservations, you can specify whether you're celebrating a birthday, anniversary, or other milestone.
Of course, if you're staying at any of our luxury vacation rental homes in Cartagena, we can handle the reservations for you with a simple phone call. If you are vacationing in Cartagena and craving a gourmet Mexican meal, La Santa Guadalupe should not be overlooked.
Service options: Dine-in · Takeout
Address: Playa de la Artilleria #36-38 2, Cartagena de Indias, Provincia de Cartagena, Bolívar, Colombia
Hours: Opens 4PM