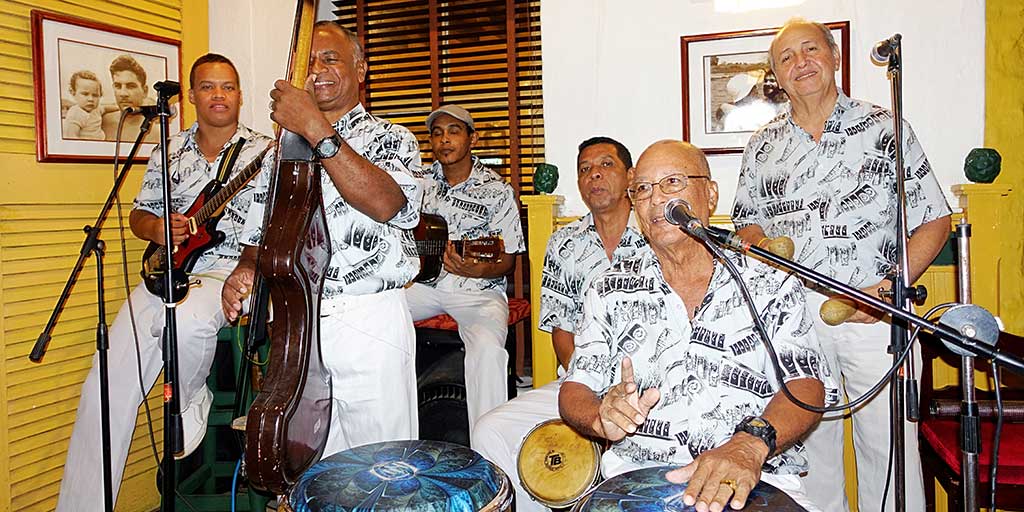 The Preferred Dining Option for Colombia's Elite
La Vitrola is a lively Cuban themed restaurant in the heart of Cartagena. It's not a quiet place to dine though thanks to its electric vibe it can be quite romantic.
There's often live music in the background and even concerts which play in time with the dinner service. Add on dozens of laughing patrons discussing everything from the politics of the day to what's going on in Getsemani after hours and you start to get the picture. Regardless, La Vitrola is still one of the best restaurants in Cartagena. In fact, Colombia's visiting elite love this place, making dinner reservations difficult to come by.
The Ambiance is La Vitrola's Selling Point
The ambiance is essential to La Vitrola's dining experience. When you step inside the old Spanish Colonial building you feel almost as if you've walked through a time warp into Cuba of the 1940's. The warm woods, dark tile, and colorful Caribbean flair all combine with the lively music and sensational smells coming from the kitchen to reinforce this illusion. Add in the fluent Spanish buzz and free-flowing cocktails and you can just picture yourself in pre-war Havana.
In fact, many reviewers say the food is secondary to the La Vitrola experience, a thought reinforced by the rather limited (but exceptional) menu.
La Vitrola's Menu
The chef at La Vitrola specializes in fish. That's no surprise. Half the restaurants in Cartagena take advantage of the city's location to pull fresh catch from the Caribbean. Ceviche seems to be the official dish of Cartagena!
However, La Vitrola takes that specialization up a notch offering mostly variations on grouper dishes. This mild-flavored white fish lends itself to numerous preparations which the chef's at La Vitrola use to their advantage.
It's prepared at least a half-dozen different ways on the menu and each dish is spectacularly unique. From spicy Caribbean peppers to Indian Masala to slightly sour tamarind sauces the grouper just absorbs all of those flavors and becomes a completely different fish every time you have it. There are several meat options and as well but really the appetizers and the grouper are by far the standouts.
Trouble Getting In to La Vitrola?
You're not alone. Located at Calle Baloco #2-01, La Vitrola is notoriously difficult to get into. Because the restaurant is so popular with Colombians coming from Bogota and the surrounding area La Vitrola books fast.
Calling far in advance (575-660-07-11) is the best way to secure a table but even if you have a reservation you may still have to convince the "bouncer" at the front door that you're supposed to be there. However, when you're staying at one of our luxury vacation homes our complimentary concierge service can help you secure dinner reservations (and travel to and from) with enough wiggle room.
Regardless, once you finally get through those doors, all the hassle will be well worth it. Excellent fish, lively music, and colorful patrons blend together to make you forget the outside world if even just for the duration of the dinner service.