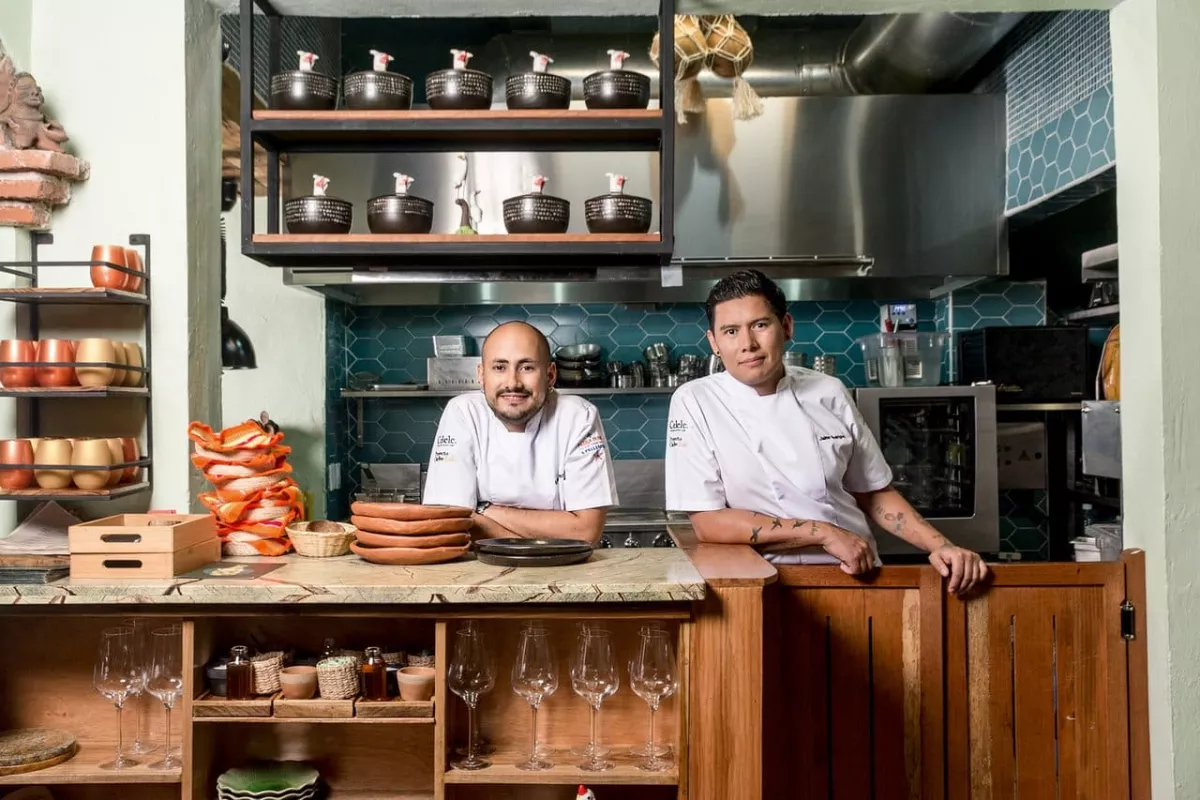 Award-Winning Experimental Cuisine Based on Centuries of Tradition
Cartagena has become a haven for chefs with something to prove. The gustatory scene in this tiny Caribbean hideaway is unlike anything you'll find anywhere else in the World, and it's evolving every day with new additions, unique fusions, and experimental offerings to tempt even the pickiest tastebuds. As a foodie's paradise, Cartagena is the perfect place setting for Celele by Proyecto Caribe Lab. This restaurant popped onto the scene in 2018 and immediately started winning awards. With chefs Jaime Rodriguez and Sebastian Pinzon at the helm, Celele quickly carved out a unique niche for itself in the already restaurant-heavy neighborhood of Getsemani—where Cartagena's most vibrant nightlife and cultural exhibitions are on offer. It is the mission of Celele to bring cutting-edge fusion cuisine down to earth without lowering the quality standards of the expectations of world-class diners.
The menu at Celele is something to see. It is filled with contemporary cuisine based on the "gastronomic culture and biodiversity of the Colombian Caribbean," it offers exotic dishes with local ingredients like fresh seafood that have their roots in traditional meals served in Cartagena and on the surrounding islands for generations. You'll find "super creative" dishes like Cartagena-style braised beef that's been cooked for 72 hours or more, pork confit with banana puree, Mompox style duck stew with orange juice and coconut milk base and curried duck, and pan-roasted catch of the day fresh from the boats in the harbor.
Smaller plates and starters offer the chance to really explore the exciting mind of the men behind the menu with offerings that include beef tongue pastrami with roasted pineapple and yam emulsion, a beautiful Caribbean flower salad topped with edible blossoms, and handmade arepa baked in fresh banana leaves with sugarcane syrup.
And unlike many restaurants in Cartagena, Celele doesn't skimp out on the dessert course. Here you'll find temptations like Celele style Merengon made with a crispy vanilla bougainvillea wafer topped with creamy sour guava and rosewater ice cream, roasted bananas in rum sauces, and tangy fresh fruit sorbets.
A Truly Immersive Dining Experience
But the food is really only half the story because dining at Celele by Proyecto Caribe Lab is about the experience as much as it is the food. Housed in a quaint little house in the Getsemani neighborhood of Cartagena, Celele sets the scene from the moment you walk in the door. Once at the table, you'll be attended by friendly and knowledgeable waitstaff who are happy to guide you on your gustatory journey through Caribbean fusion cuisine, offering suggestions based on your tastes and explaining the thought-process behind the creation of each of the dishes.
After dining just once at Celele by Proyecto Caribe Lab, you'll quickly see how this hot new restaurant in Cartagena was voted one of the World's 50 Best Restaurants in 2021.
Celele by Proyecto Caribe Lab Reservations
As you might expect, getting into a trendy new restaurant like this can be a bit difficult at high-traffic times during the tourist season in Cartagena. That's why we recommend making reservations far in advance. However, suppose you're staying at one of our luxury vacation rental homes in Cartagena. In that case, our complimentary concierge service can make those reservations and arrange for car service to and from your exciting dining experience at Celele by Proyecto Caribe Lab.