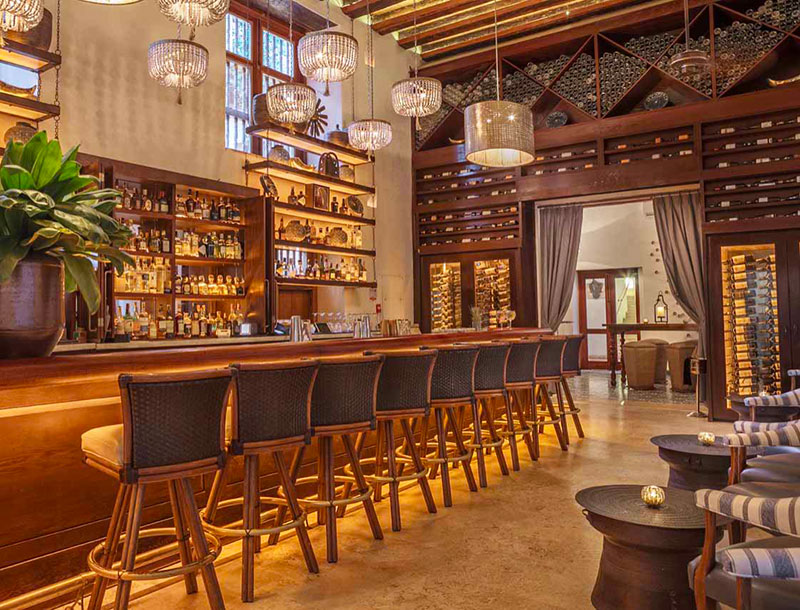 Gorgeous Venue with Authentic Flavor
It's not hard to find good restaurants in Cartagena. In fact, the number of excellent places to grab a bite to eat makes it a bit overwhelming when trying to choose just one. But if you're only in Cartagena for a short vacation, Alma Restaurant is a must. This gorgeous little restaurant is elegant and quaint with a menu that's not only excellent but affordable as well.
The beautiful interior that was designed by the insanely talented US based Interior Designers Ksmcrorieinteriordesign Kelly Mcrorie and Anna Gustafson combined classic and modern furnishings to add to the stunning historic architecture striking the perfect balance between traditional and modern.
Picture dark wood furniture, golden tiles, elegant arches, and tropical greenery in an open air courtyard that resounds with the sound of water. That's the laid back dining experience that the Restaurant Alma offers. Some nights you can even enjoy live music played by local Colombian musicians.
If that paints an enticing picture, wait until you see the menu.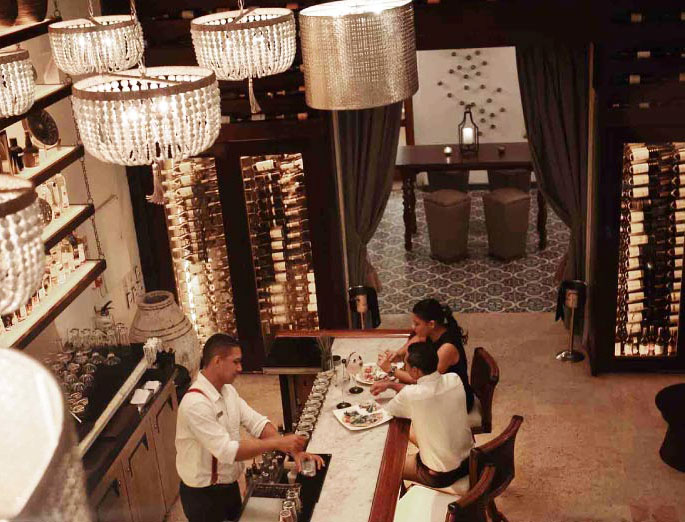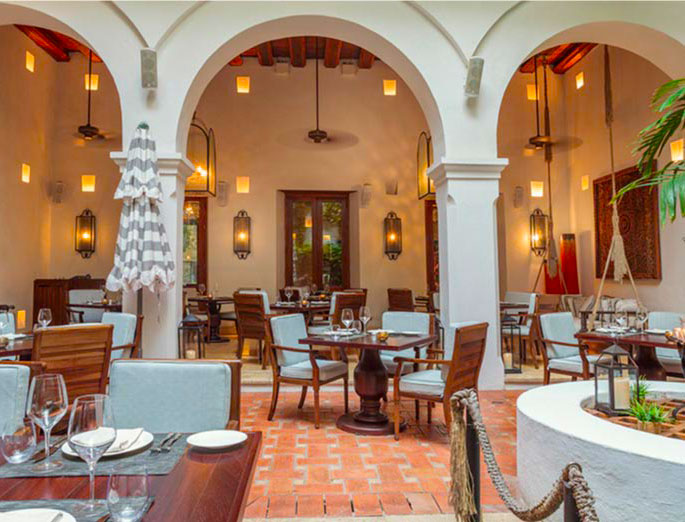 The New Prix Fixe Menu
Alma Restaurant recently revamped its entire menu and now offers an amazing three-course prix fixe menu for just 65.000 CPS (about $25 US) making it one of the most affordable restaurants in Cartagena in which you can grab a truly authentic Caribbean meal without sitting in the sweltering heat. The dishes on the menu are heavily seafood-based (as you would expect from a vacation town sitting on the edge of the Caribbean) with authentic Colombian elements that make them truly exceptional.
Find new favorites like shrimp and fish aquachillies (very spicy ceviche) in jalapeno salsa, Caribbean shrimp skewers glazed with a sweet chili sauce, then finish everything off with a decadent coconut pie!
And while you're sampling these authentic dishes, it just wouldn't be right to ignore the refreshing cocktails that Alma offers. Frozen margaritas and watermelon martinis are among a few of the favorites.
Don't fancy the prix fixe options? You can still get some of the best tapas and steak and seafood dishes in town made to order just the way you like them—including Almas own spin on the Certified Angus Beef hamburger.
Al Fresco Dining at its Best
If you want to eat in the open air but don't relish the idea of sitting street side, Alma restaurant offers guests a wonderful enclosed courtyard in which to dine. It's comfortable, clean, and elegant with privacy enough for an intimate dinner with someone special or a small gathering of friends old and new.
You get all the benefits of Cartagena's amazing climate (including the amazing night sky) without the hustle and bustle of tiny restaurants in the historic Old City that seat you right on the street. With the cool greenery and pool nearby makes Alma feel as if it's situated in some private rainforest grotto.
Our Town, Your New Home Away from Home
This reimagining of one of the best restaurants in Cartagena wouldn't have been possible without Martha Hampton, a key member of the Alma's opening team and owner of CartagenaColombiarentals.com. A native of Colombia, Martha has made it her mission to welcome travelers to Cartagena like family. Offering cozy luxury vacation rental homes in Cartagena so visitors can vacation like locals, she's extended that sense of welcome to the Alma as well.
Come enjoy comfortable dining in a sheltered poolside courtyard that's so authentically Cartagenan you'll think you've stepped back in time
Staying in one of our luxury vacation homes in Cartagena now or in the future? Our complimentary concierge services will help you plan the perfect vacation in Cartagena