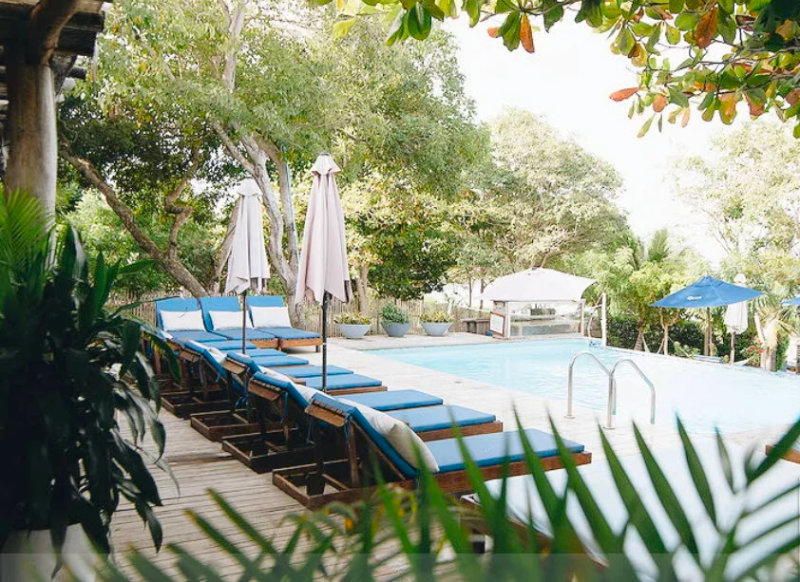 A Culturally-Inclusive Ibiza-Style Beach Club with an Ecological Conscience
Imagine a dream location, surrounded by cool breezes, beautiful water and lots of people having fun. Now imagine this place being within reach; it's where the Blue Apple Beach Club Tierra Bomba is located. This terrific beach club, near Cartagena offers the ultimate luxury of relaxation combined with endless entertainment that you can enjoy so close to Cartagena. It is an amazing experience that will blow your mind. Blue Apple is located in Tierra Bomba.
The first thing you'll notice about Blue Apple Beach Club is that the vibe is so intense there. You'll hear the music pumping long before your boat reaches the shore. That's because the club has a self-professed "obsession" with music. Jams keep the energy high through the sunny days and long into the night. But we're not simply talking about canned music from a PA system. Of course, there's the ubiquitous ambient music pumped through high-end speakers throughout the club, but you'll also find that Blue Apple Beach Club in Cartagena hires some of the most talented local artists to come and play. You find solo musicians and small bands belting out everything from salsa and reggaeton to pop hits.
Music is so important to Blue Apple that there's a DJ every day during the weekend spinning high-energy tracks from 1 PM to 5 PM so you can party all afternoon long every day. And talk about parties—the club has regularly scheduled parties, including a "straight-friendly LGBTQ+" dance party and unique holiday jams that go so hard you'll think you're on another planet.
Diversity Creates Unforgettable Experiences
Blue Apple Beach Club is also inclusive—that is to say, they openly embrace people from all walks of life and every lifestyle. Straight, gay, white, black, local, or foreign vacationers are all welcome and embraced with friendship and positivity.
Here you'll experience a beautiful blending of cultures like a microcosm of Cartagena itself as people from all over the world come together in harmony to enjoy life in a sunny paradise. The experience at Blue Apple reflects Cartagena so well that over 60% of the visitors to the beach club on the weekends are local Cartagenans!
The Food at Blue Apple is Internationally Inspired and Locally Sourced
You won't get your typical "authentic" touristy meal here at Blue Apple beach club, either. The food is extraordinary for its freshness and the precision with which it has been created. The restaurant is operated by internationally-trained Executive Chef Pedro Mosqueda, who has traveled the world from the best restaurants in Colombia to New York City and beyond.
Blue Apple keeps its poultry and livestock instead of relying on factory farming or mass-processed products as part of its commitment to a healthier planet. And the seafood served at Blue Apple is always sustainably sourced.
The menu changes seasonally but has fan favorites like Pork burgers with cilantro mayo, roasted veggie melts with locally grown produce, Seafood Paella, and more. Blue Beach even offers a traditional breakfast for early risers featuring homey omelets, pancakes, and waffles!
Dream to Reality: Blue Apple is an Expression of Entrepreneur Portia Hart
Blue Apple was created but the multi-cultured entrepreneur Portia Hart. The self-proclaimed "British-Trinidadian Londoner," Portia, came to Cartagena on vacation and fell in love with the place. She saw an opportunity to bring Ibiza-style beach club entertainment to the Caribbean and jumped in feet first. She introduced her personal beliefs about sustainability, ecological preservation, and good stewardship, making Blue Apple a truly down-to-earth haven on the paradisical Bomba Terra Island just minutes from Cartagena's busy harbor.
Blue Apple isn't technically an eco-resort, but the founder, Portia Hart, has made it her goal to reduce the ecological footprint of this high-energy beach resort while still providing an outstanding experience. As such, the resort recycles 70% or more of its waste, relies on solar power for electricity, raises its livestock, sources products locally and from sustainable stock, and artisans even turn what would usually go to waste into beautiful art and even sturdy construction materials to expand the resort!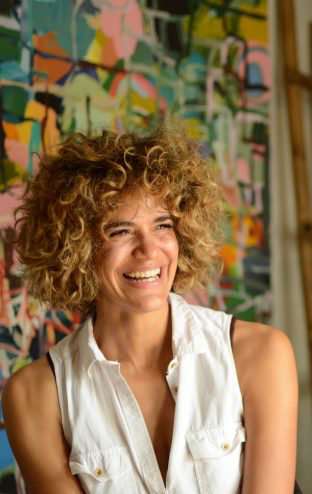 Some of the profits from the resort have been reinvested into the community through Portia's Green Apple program, which donates funds to build recycling centers and invests in sustainable farming and fishing in Cartagena.
Your Day at Blue Apple Starts Now
Just a short boat ride from Cartagena, Bomba Terra is the perfect place for a day trip or an evening of dining and dancing under the stars. When you stay at any of our luxury vacation rental homes in Cartagena, our complimentary concierge service can arrange private transportation to and from Blue Apple Beach Club any time, day or night. Give us a call, and we'll have a car service and a private boat for you and your friends. Make an excursion of it—stop at any of the islands between Cartagena and Bomba Terra before or after your trip to Blue Apple and make your experience as exciting or romantic as you want it to be!