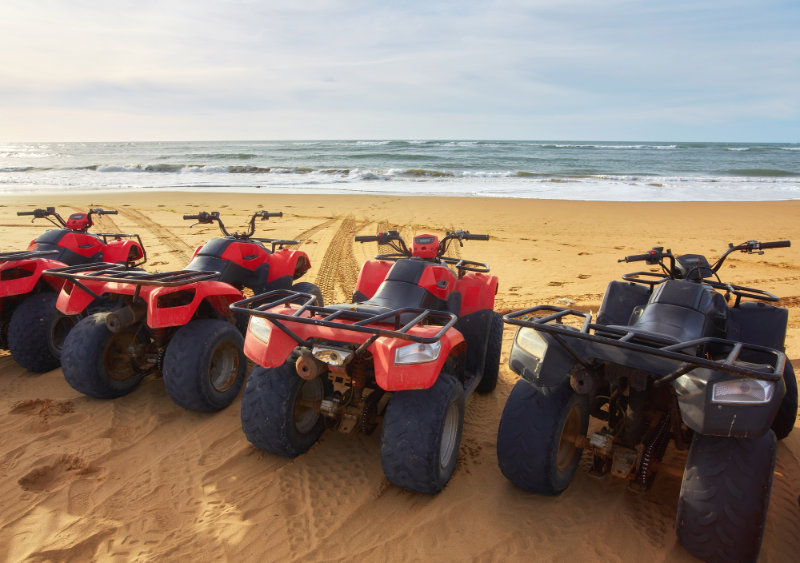 ATV Tours – Explore the Wilder Side of Cartagena on a Quad Bike
There's a lot to do and see right in the heart of the city when you are vacationing in Cartagena, but sometimes you want to cut loose, get a little wild, get a little dirty. There's no better way to scratch that itch than on the back of an All-Terrain Vehicle! As some folks call them, ATVs (or quad bikes) are a fantastic recreational tool that will allow you to see parts of Cartagena that no one else gets to see.
Cartagena ATV supplies guided all-terrain vehicle tours of Cartagena and the surrounding areas with the perfect speed for anyone. From novice ATVer to experienced off-roaders, these ATV tours are the best way to put a little excitement into your Colombian Caribbean vacation.
Tours will have you zipping along dirt roads and trails that snake through the bush and beaches to see amazing ocean views, cliffs and rock formations, and friendly locals. You'll also pass tourist destinations like:
• Mansanillo del Mar
• Playa de Oro
• Villa Gloria
But you won't be stuck on a bus or with any boring old tour–leave everyone there staring in jealousy as you ride off with your family and friends to the next great adventure on your own ATV.
These guided ATV tours in Cartagena aren't just about the thrills. They also present a fantastic opportunity to learn about the culture and daily lives of the people indigenous to the area.
Indeed, as your ATV tour passes through numerous small towns and villages, you'll be able to glimpse "Real Life" in Cartagena and the surrounding areas first-hand.
Tired of Kicking Up Dust? Stop for a Cool Drink and Dip in the Ocean!
Touted as "the best land tour in all of Cartagena," your 3-hour tour takes you along otherwise inaccessible all-terrain routes through Cartagena's Majestic North Zone. Your tour guide will lead you to a local beach at around the halfway mark, where you'll be greeted with a tasty (and thirst-quenching) coconut drink. After, you'll be able to take a refreshing dip in the ocean to cool off.
Your return trip will take you past some of the most fantastic rock formations you'll likely see during your stay in Cartagena. End up at Cartagena ATV's facility, and if you haven't had enough excitement for the day, sign up for a paintball match to get out that pent-up energy.

Intimate and Exciting—ATV Tours Unlike the Others
If you've been on similar ATV tours in other vacation destinations around the world, you may have a picture of a long trail of quad bikes running along muddy tracks with the tour guide so far ahead of the group that they're out of sight. This tour isn't like that at all.
Tour size is limited to five ATVs (not including the guide), accommodating one or two riders each. That means a maximum of 10 guests—everyone gets as much (or as little) personal attention as they need, and no one misses out on what the tour guide has to say or show.
This makes Cartagena ATV's guided tour the perfect day trip for small groups of friends and family. However, if you're traveling alone or with a loved one, the company will slot you in with a friendly group of ATVers who are sure to become your new best trail buddy.
Logistics Made Easy
Cartagena ATV is one of the best and most reputable ATV tour companies running in Cartagena today. They offer outstanding added services above and beyond the simple guided tour, including:
• Guest pick-up and drop-off at your accommodation
• Energetic bilingual tour guides well-versed in the local geography and culture
• Well-maintained quad bikes and safety gear
• Complimentary bottled water
Additionally, guests can buy buckets of beer to share with the new friends you'll meet on the trail!
To preserve the memories of your special day exploring the wilder side of Cartagena, the company even offers a souvenir video for a nominal fee.
Book Your Guided ATV Tour of Cartagena Today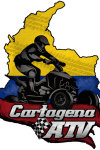 To book your ATV quad bike tour of Cartagena, call 1-800-707-4163 now or visit Cartagena ATV's website. Remember, tour size is limited, and tours only leave at certain times of the day. Plan ahead, contact their friendly staff to secure your quad bike today.