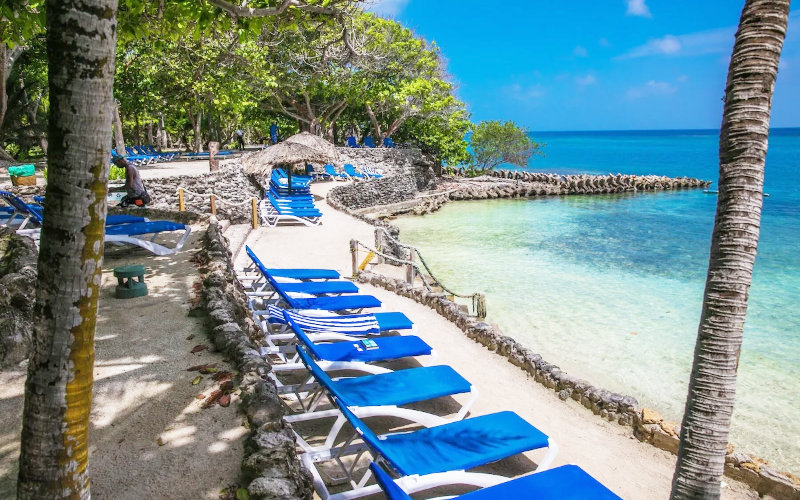 Visit Majagua Restaurant
Majagua Restaurant is a laid-back restaurant with bar service right on the beach of the beautiful Playa Sol on Isla Grande in the Rosario Islands. Built-in a kitschy Caribbean style with a palm frond thatched roof and access straight into the sand surrounded by a tropical forest, you wouldn't expect this restaurant to be one of the best examples of unpretentious Caribbean food.
Pop in after bathing in the sea or the sun and sip a cool cocktail, frosty local beer, or a tropical fruit drink. If you're hungry, choose from a myriad of freshly prepared Caribbean dishes—mostly seafood based—that is hearty, tasty, and not at all overpriced.
One of the best dishes on the menu is the Pargo Rojo (redfish). It's fried whole in hot oil yet somehow remains light and delicate. One regular visitor (a local doctor) compares every other version of this dish to the one offered at Majagua Restaurant. He tells friends and acquaintances that this is " his gold standard for Pargo Rojo."
Coming or going, Majagua Restaurant is worth an hour or two of your time. A light lunch midday is a great way to refuel for a few more hours playing in the sand and the surf. A few cocktails at the bar (with beautiful views of the bright blue water and golden sand) is the perfect way to end the day before your private boat takes you on a sunset cruise back into Cartagena harbor. Your personalized car service takes you back to your luxury vacation rental home to refresh before a night on the town.
How to get to Majagua Restaurant
Booking a day trip to the Rosario Islands has become a "Must-Do" while you're vacationing in Cartagena. Combine it with a trip to Majagua Restaurant. Take full advantage of the incredible natural wonders surrounding this wonderful cultural melting pot. And while you can find any number of "captains" willing to take you up and down the piers in Cartagena's bustling harbor, if you truly want an experience to remember, it's best to plan.
Firstly, the islands remain as beautiful as ever, giving you the sensation that they're a tightly kept secret along the Caribbean shoreline of Colombia. When you know who to talk to, you can find completely uninhabited stretches of pristine beaches or beautiful ocean areas just for you! And while it may seem like everyone is bragging about boat trips to the Rosario Islands, that doesn't mean you have to worry about the experience becoming too commercial or oversold.
Next, the experience is what you make it. You can take a different old same-old trip as every other tourist does. You can book a private boat to shuttle you and your friends to and from the islands rather than cramming into public transportation at the pier. When you stay at any of our luxury vacation rental homes in Cartagena, our complimentary concierge service can help you rent from a speedy outboard with an experienced captain to a stately sailboat or motor yacht with an attentive crew to pamper you while you party to get you to Majagua Restaurant.
Lastly, there are so many islands to choose from; you can create the excursion you want, from a wild beach party with loud music and beautiful people to an intimate day dipping your toes in the sand with a quiet cocktail as the golden sun bathes your sparkling skin. Some available tours don't even make landfall—sail through the sunset or snorkel on protected coral reefs!
So how do you pick the best day trip to the Rosario Islands when there's so much to do and see?
One of the best all-around island experiences is on Isla Grande, right in the heart of Corales del Rosario National Natural Park, just offshore of Cartagena, Colombia. This island offers the perfect mix of tropical desert isle feeling with all the accommodations you'd expect from a classic beach resort, including a restaurant that serves fresh fish dishes the locals rave about!