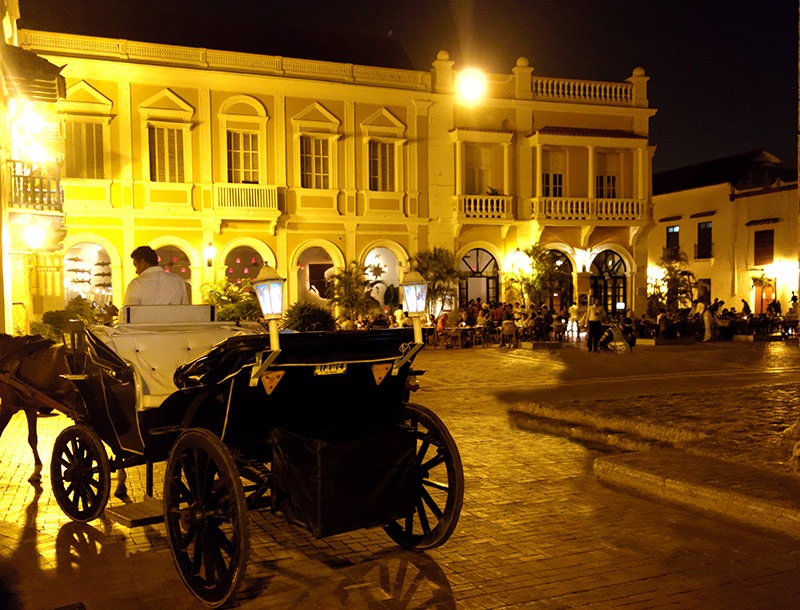 Restaurante Café San Pedro an Oasis During Your Cartagena Sightseeing Tour
If you need a little break from exploring the Old City during your vacation in Cartagena (or maybe just a few minutes in the sweet, sweet air conditioning) Café San Pedro is your best bet. This is one of the best—affordable restaurants in the heart of Cartagena's Old City district. It offers dishes, refreshing beverages, and a wonderful location—just steps away from the famous Church of San Pedro Claver (a must-see destination on your sightseeing tour of Cartagena). While it looks a little fancy on the inside, don't worry, it's not pretentious or haughty at all.
Food and Drinks Night or Day
Indeed, Café San Pedro is open during the day for lunch and is a much-needed respite from the Caribbean heat. With ice-cold beers, cocktails, and refreshing beverage options for all ages, it's a great place to pause and recuperate if you've been walking around the Old City on foot all morning.
It's also open at night for dinner and this is when the outside open-air seating becomes a prime location. Sitting in the shadow of the Church of San Pedro Claver, Café San Pedro offers amazing views of this historic city (and the colorful people who visit it). Indeed, if we were to make a recommendation of what time of day to visit this restaurant, we would recommend the evening. With the lights and the San Pedro Claver, and the cool Caribbean air Café San Pedro truly comes alive.
The Food
While the menu here isn't nearly as adventurous as some of the bistro eateries in the Old City and Getsemani, and people typically come for the outside dining and views, you'll still find offerings no matter your taste.
• Thai fish ceviche
• Calamari in coconut sauce
• Tuna tataki
• House-made Sushi
• Carpaccio de salmon
• Camarones al cafe
And even options like Pad Thai and beef dishes to satisfy heartier appetites.
The Drinks
If it's a little liquid refreshment you've come for after a hot day of sightseeing or prior to hitting city streets at night, Café San Pedro is the perfect spot for a cocktail. Indeed, their extensive drinks menu features 24 different types of martini infused with tropical flavors like passion fruit, gooseberry, tree tomato, and feijoa. This blend of potent potable and distinctive Colombian flavors is unlike any other you'll find in the walled city of Cartagena.
The Price
One of the things that make Café San Pedro one of the best restaurants in Cartagena is that it's casual. Everything from the dress code to the pricing of the small plates and entrees is unpretentious. While some of the plating is artsy and eye-catching, you can still grab an ice cold beer for under $5 USD, a signature cocktail for twice that, and choice selections from the menu between $13 USD and $30 USD.
Where to Find Café San Pedro
If you've found Ciudad Amurallada Plaza San Pedro Claver, you're almost there. Just steps away from the Church of San Pedro Claver, Café San Pedro is located at No. 30-11. Call ahead (+57 5 6645121) if you'd like to make a reservation but you'll not likely need it. This restaurant is large enough that it never feels crowded and the line at the door seems to move smoothly at any time of the day.