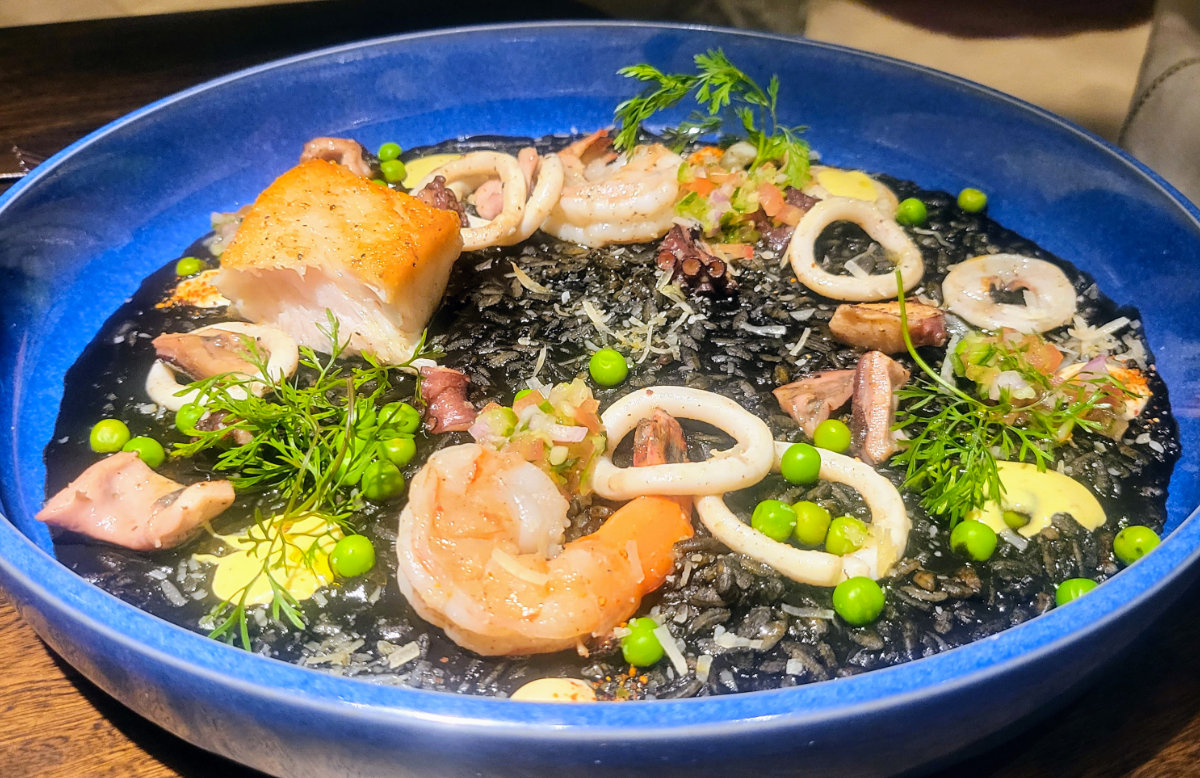 Discovering the Flavors of Cartagena: A Guide to Colombian Cuisine
The food in Cartagena differs from other parts of Colombia. While you'll find similarities in ingredients and traditional dishes, each region of Colombia has its unique spin on the culinary arts.
In Cartagena, spices and seasonings play a significant role in adding flavor to dishes, reflecting the city's Afro-Caribbean heritage. You'll also find a greater emphasis on seafood and tropical fruits compared to other regions in Colombia, where meat dishes and tubers like cassava are more prevalent.
Overall, Cartagena's cuisine is a delightful mix of coastal and Afro-Caribbean influences that make it a great destination for food lovers.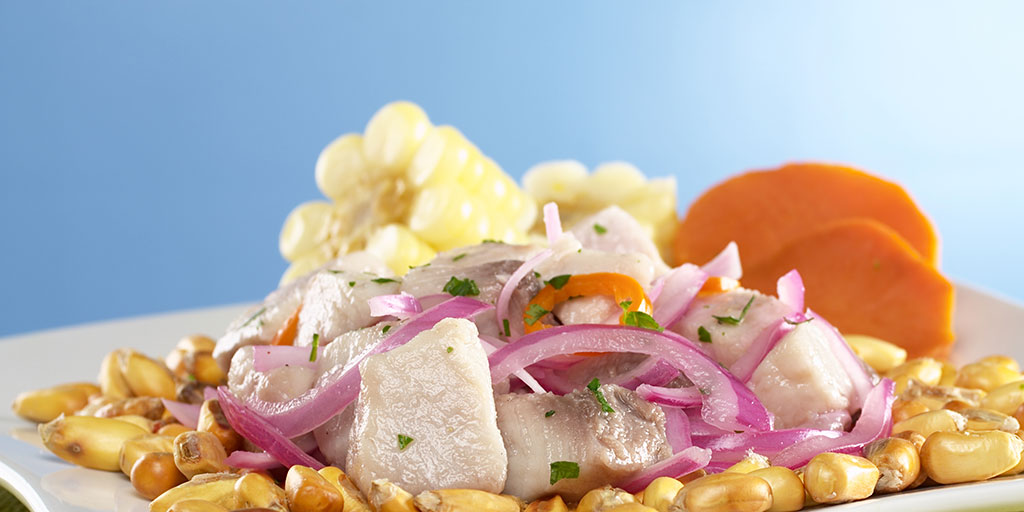 The Magic of Simplicity: Why Traditional Dishes Remain Iconic in Cartagena
As you may expect of a city that sits right atop the sea, much of Cartagena's culinary heritage comes from the ocean. Traditional dishes of freshly caught fish, locally grown fruits and veggies, and simplistic offerings like rice and plantain make up many of the staple foods you'll find across coastal Colombia. Of course being situated on the Caribbean Cartagena does add a bit of island flair to much of the tasty treats offered in fine dining restaurants and street vendor stalls but it's really the combination of simple things that makes these stylistic dishes as iconic as they are the foods of Cartagena.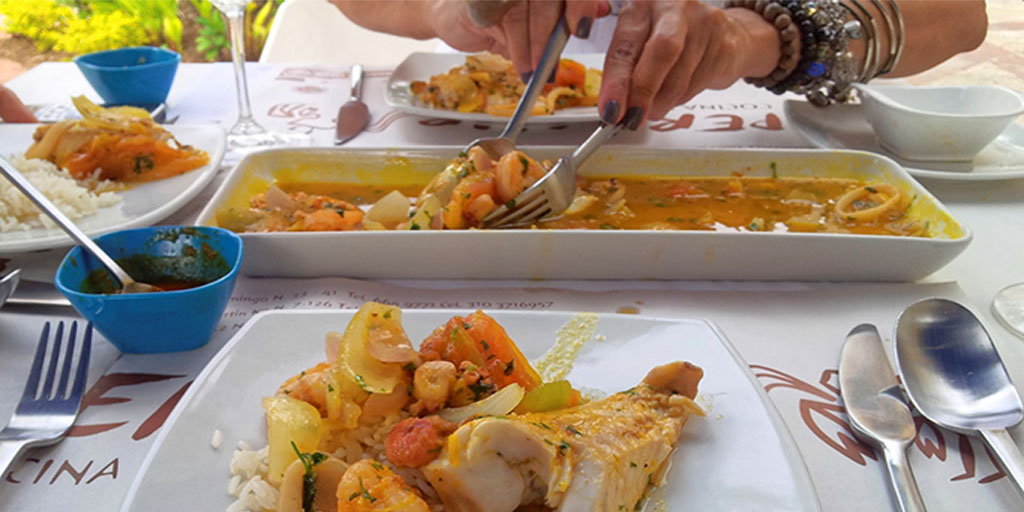 Food in Cartagena – Ceviche
Ceviche is popular all over South America and Asia. It's a simplistic "cooking" method that uses citrus juices to effectively change the texture of easily caught sea creatures including fish, certain shellfish, and even cephalopods (squid and octopus). Ceviche is so popular in Cartagena that it's becomes something of a national dish, easily found on almost any menu in the city.
The most common types of ceviche found in Cartagena are:
• Ceviche de Pulpo (Octopus ceviche)
• Ceviche de Camarones (shrimp ceviche)
• Ceviche de Pescado (fish ceviche)
Base recipes involve the fish (chopped into bite-sized bits), salt, lime juice (sometimes lemon), and maybe a few fresh veggies like onions, peppers, and cilantro. Typically this simple favorite is served with either saltine crackers or fried green plantains (often in "pancake" form).
The citric acid in the lime juice actually unravels the proteins in the fish (a process similar to what occurs when the fish is cooked over heat) producing a different mouth feel and a "fresh" essence that's often missed when seafood is baked, fried, or broiled.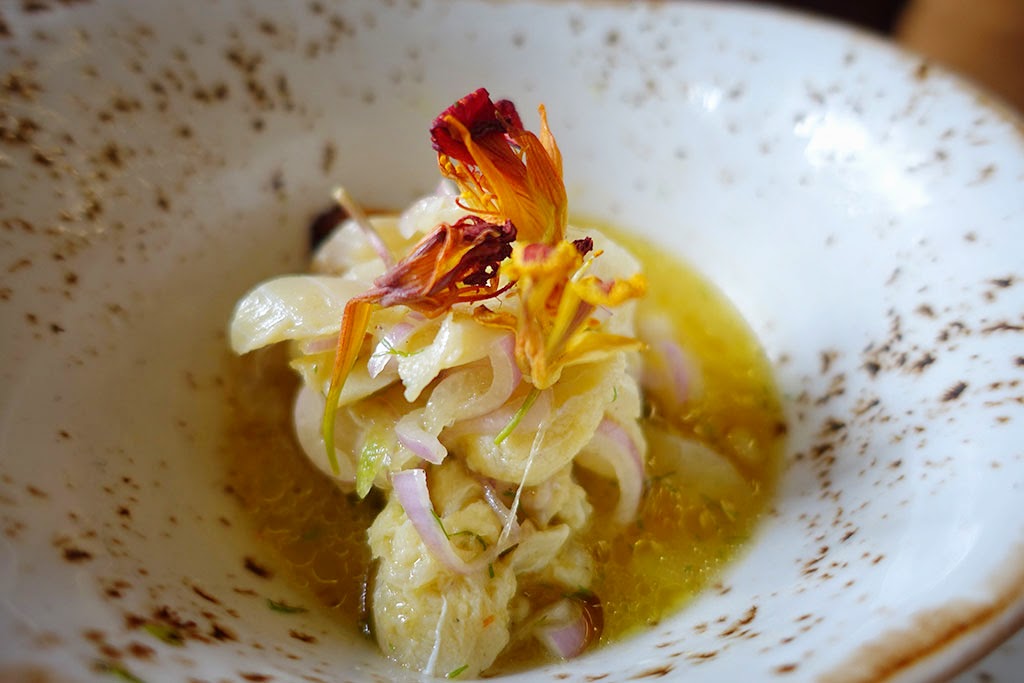 Pargo Frito (Fried Snapper)
As the name implies this dish is simply fried fish. Pargo, in Colombia anyway, can refer to the species of fish commonly known as red snapper or a local variety called Mojarra fish. The fish is fried quickly in hot oil whole with scales on. When it's finished, it's often served with coconut rice (which we'll get to a bit later), fried plantains, or some form of salad.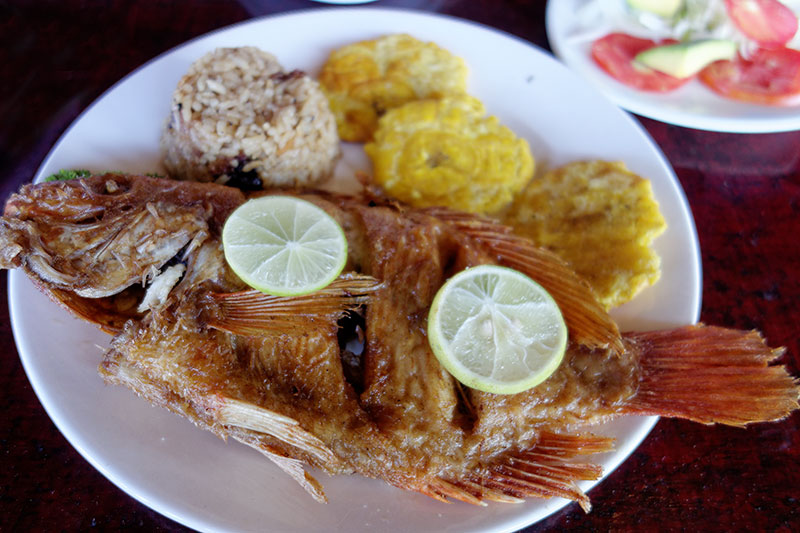 Though this dish is often simplistic without any additional spices or zest (other than a few squirts of lemon or lime juice) the frying process imparts the flesh of this ubiquitous game fish with a lovely savory flavor and a crunchy yet moist mouth feel. Sometimes you'll find a chef that tries to dress this traditional favorite up with green onions or garlic but anyway you prepare it this dish is simply delectable.
Arroz Con Coco (Coconut Rice)
Coconut rice is a Caribbean side dish as ubiquitous as the salt air and sunshine. You'll find it all over the islands as well as along the Latin American coastline. In Cartagena this side dish makes appearances on the menus of fine dining restaurants in the city's center and street vendor carts along the shoreline in vishing villages.
Of course, as with all good recipes, there are variations on the theme. Most use a base of rice, coconut milk, salt, and sugar but some people have been known to toss in raisins, butter, and even coconut meat.
You'll also find white and brown varieties of this dish—the main difference being the cooking time allotted. The white version is cooked very quickly and is sweeter and lighter. The brown variety is cooked a bit longer leaving it with a caramelized color, texture, and taste.
When it Come to Food in Cartagena Follow Your Nose
Food in Cartagena has become a foodie's destination of choice on the Colombian mainland. Chefs from all over the world have brought international cuisine and European or Asian influences with them to this tiny Caribbean city. You'll often find these traditional dishes "tweaked" to the liking of the individual chef. However, the best way to explore the city as a gourmand is to simply follow your nose and see where the crowds gather.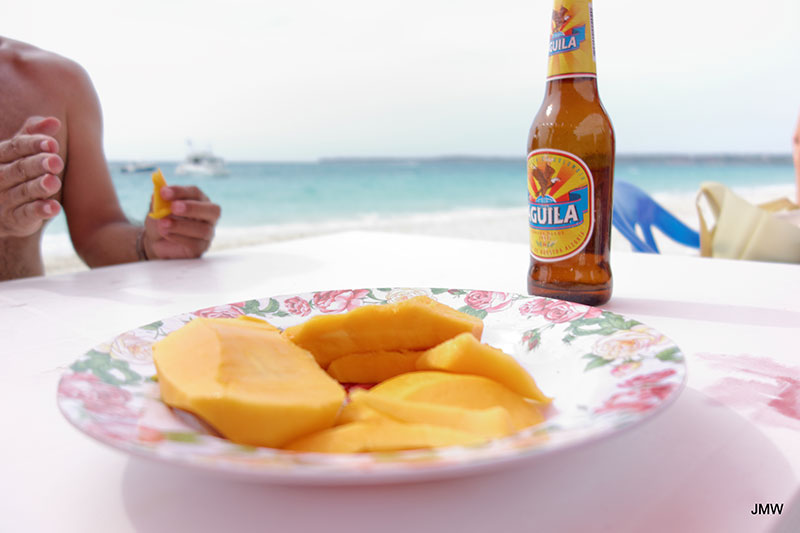 Mango and a beer on the beach at Playa Blanca. A perfect beach mix.
Whether it's an elegant fine dining establishment in the old Walled City or a little hole-in-the-wall cantina in Getsemani or even a trip out to the Rosario Islands, you're bound to find something that makes your mouth water.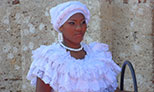 Palenquera Fruit Seller
There are plenty of places to get traditional fruits and Sweets from Vendors on the streets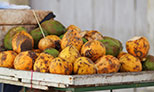 Coconuts for Sale
Vendor and Cart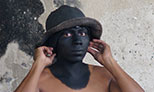 Black Faced Street Performer
A Member of the Asociacion de Artista Escemico de Cartagena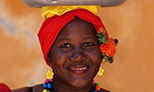 Palenquera Fruit Seller
On the streets of Cartagena