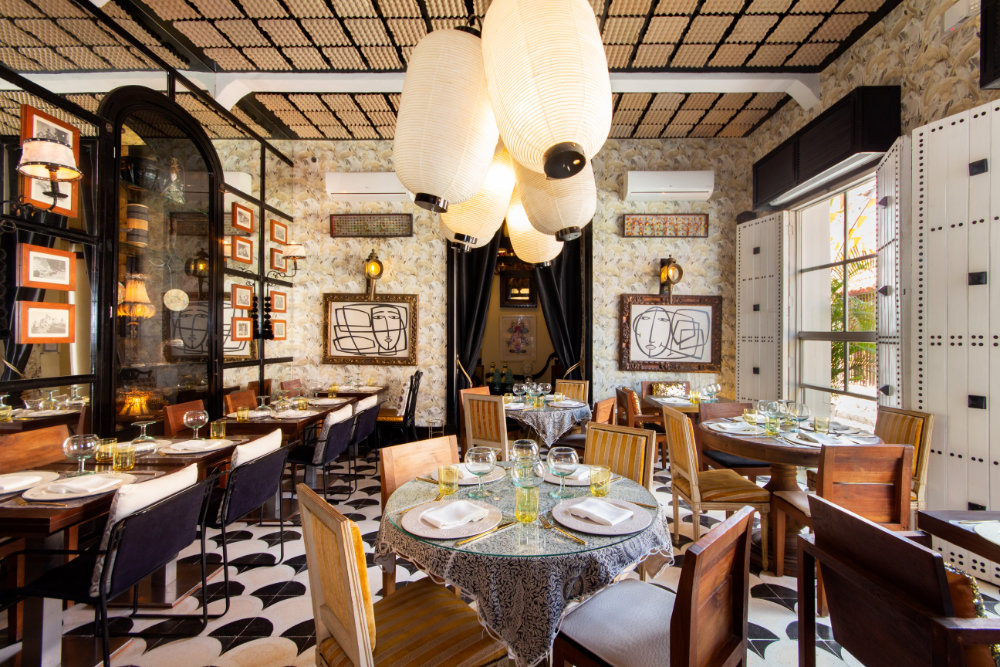 A Feast for the Eyes
They say that a meal is consumed not only by the mouth but by all senses. In this, Doña Lola is a shining example. Set in the heart of one of the most beautiful buildings in the Getsemani district of Cartagena, Doña Lola was created by designer Ignacio Garcia to wow guests before they even step through the doorway. Doña Lola has been blessed with a tasteful interior that feels more like a modern interpretation of older styles. From the fantastic Spanish Colonial architecture of this "palace" to artfully curated color schemes, decorations, and enhancements (like animated flowing water features, strategically placed windows, and high airy ceilings), the ambiance is wonderfully layered to put you in a receptive state of mind for the meal.
Doña Lola's Stellar Service
But what would a beautiful shell be without a fantastic staff to make you feel like visiting royalty? Everyone from the hosts to the servers is trained to ensure that you think you're the only patron there—even on busy evenings. From personalized recommendations for craft cocktails, appetizers, and meal options, to doting service and more-than-pleasant attitudes, it's clear that when you're eating at Doña Lola, you are the star of the show.
Culinary Delights
But a restaurant—no matter how beautiful—is only as good as the food. Doña Lola serves the traditional dishes of Cartagena inspired by Colombia's Caribbean coast lifestyle—ceviche, fresh fish dishes, octopus, and more. Doña Lola boasts a menu that is created from scratch to marry these traditional dishes with only the fresh, locally-sourced ingredients with a bit of European flare for a sense of fun and experimentation. Indeed, local Chef Gerson Guardo has crafted a unique menu that's not limited to Caribbean fare. The owner of the restaurant (Ignacio) is a native of Spain who brought his love of Tapas and wine to the other side of the world. Using this inspiration as a basis, Chef has adapted traditional Spanish small plates to fresh, locally-sourced ingredients. Imagine Colombian ceviche plated skillfully next to the highest quality Iberico ham and gazpacho de Verano! Even a cursory look at the amazing menu will show you that Doña Lola is a wonderful place for full-blown meals with family as well as quick nibbles with friends new and old between sips of well-curated wines and exciting cocktails.
Doña Lola Private Dining and More
Want an even more stunning experience? Arrive early (or stay late) for an artfully crafted cocktail in Lolita's Bar, the rooftop bar, which affords amazing views of the city as the sun sets and the night descends on Cartagena's most vibrant nightlife district. Are you planning a special event while vacationing in Cartagena? Maybe a unique experience for someone special or a group gathering? Doña Lola even offers a private dining experience that will make you feel as if you have the whole restaurant to yourself!
How to Secure a Reservation at Doña Lola
Getting reservations to Doña Lola can be a bit tricky. Typically, tables are reserved but not held, leading guests to accept the first-come/first-seated house rule for in-demand seating like the terrace. However, when you choose to stay at any of our amazing luxury vacation rental homes in Cartagena, our complimentary concierge service can handle all the details of your special dinner with just one phone call from you. Reservations and personalized recommendations as to evening entertainment are our specialties.