Old City in Cartagena, Colombia
People and Places
Cartagena is becoming one of the most luxurious destinations in the world and it is not hard to see why. This vibrant and colorful City is also known for its rich culture dating back to Colonial times. Cartagena de Indias or "Corralito de Piedas" as the locals like to call it, was founded in the 15th Century and has grown to be an ultimate vacation Caribbean destination. Near Cartagena de Indias you will find the clear blue waters of "Baru" and the "Rosario Islands"; two destinations we highly recommend you add to the visit. (Cartagena Colombia Rentals would be happy to help you arrange a trip and even a stay in a private vacation home in the islands). Cartagena's character is given by its beautiful plazas, fruit vendors and street skilled artisans that help its visitors to become instant photographers taking amazing photos of Cartagena Colombia. The entire Old City is a work of art, and therefore, in 1984 was deservedly included in the UNESCO list of Patrimonies of the World.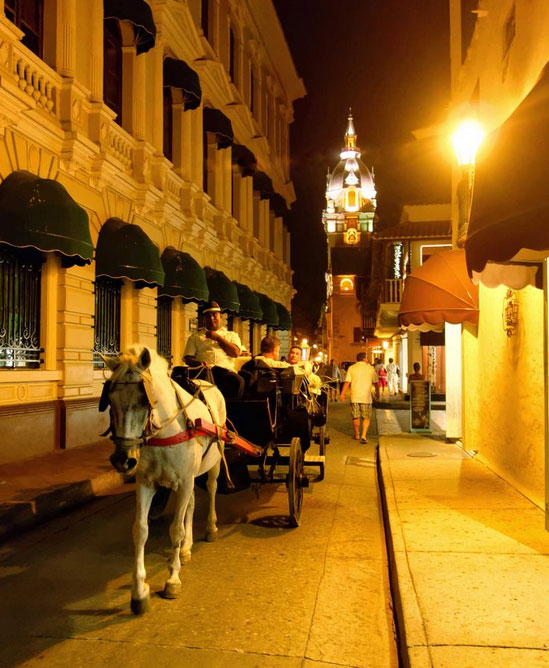 Cathedral Tower at Night
At night the tower atop the Cartagena Cathedral blazes to life with brilliant lights shining into the sky. From it, a beacon of light can easily be seen by those in its proximity, just like during the day when it serves as an easy reference point for travelers trying to find their way through the narrow streets of this historic city.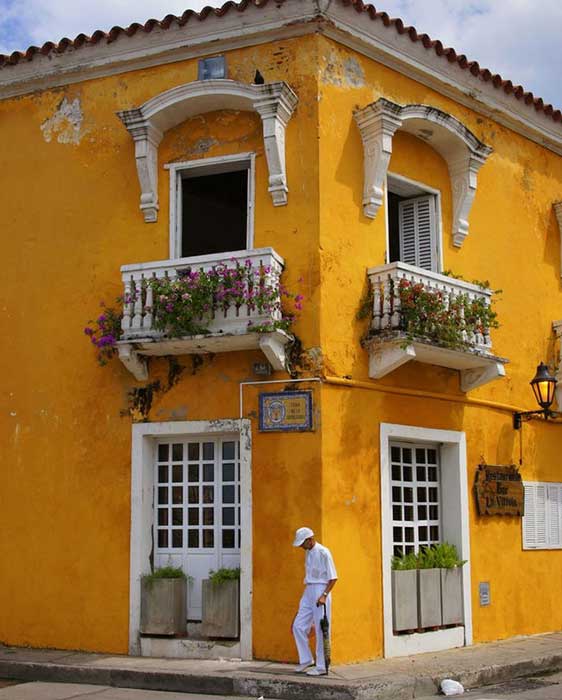 La Vitrola Restaurant in Cartagena
Visit La Vitrola, an authentic Colombian restaurant known for their grilled octopus legs, king prawns, grouper, and other local dishes that are simmered in coconut sauce – all of which is accompanied by live music by talented Latin musicians
Communion in Cartagena
The colorful little colonial balconies that decorate most of the streets in Cartagena, Colombia provide a glance into several ways that the local life can be lived. They're a great place to spend some time watching people pass by and taking in the atmosphere of this completely vibrant Caribbean city.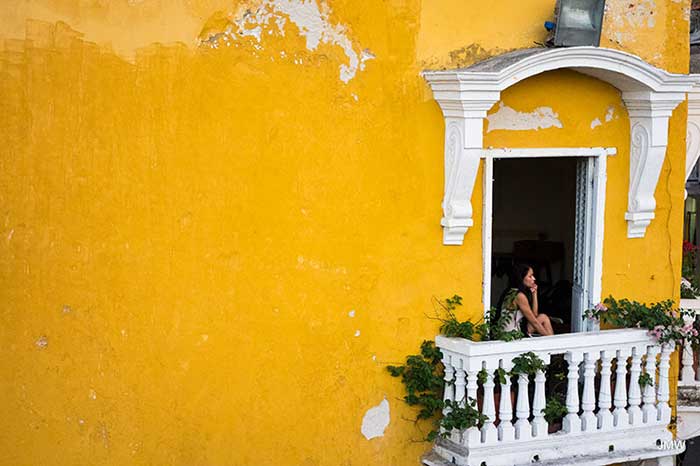 Colonial-style balconies
These little Colonial-style balconies along the narrow streets of Cartagena, Colombia offer residents and visitors a different view of life in this vibrant Caribbean city. They're the perfect spots to watch the sunrise before going out to explore or to sip a cocktail and watch the night blanket the city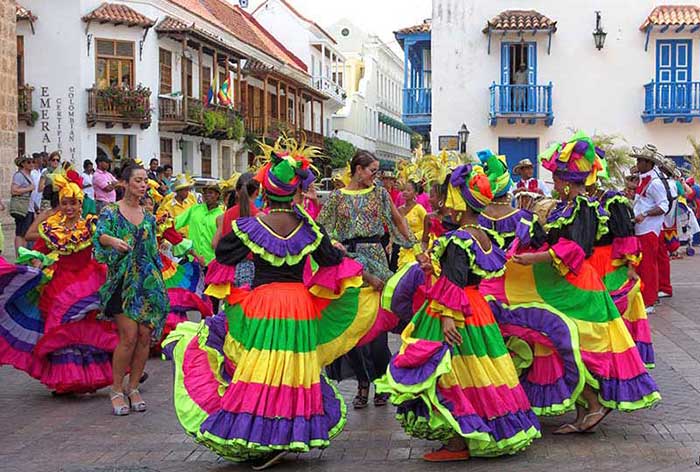 Carnival in Cartagena
Every year, in November Cartagena celebrates the declaration of independence with a carnival. Celebrating by dance to a lively Caribbean beat during one of the street parties that pop up all during the second week of Carnival. You can join in the dancing, moving along with these culture-carriers or watch them from the sidelines – whichever works best for you! Have your camera ready to capture once-in-a-lifetime shots.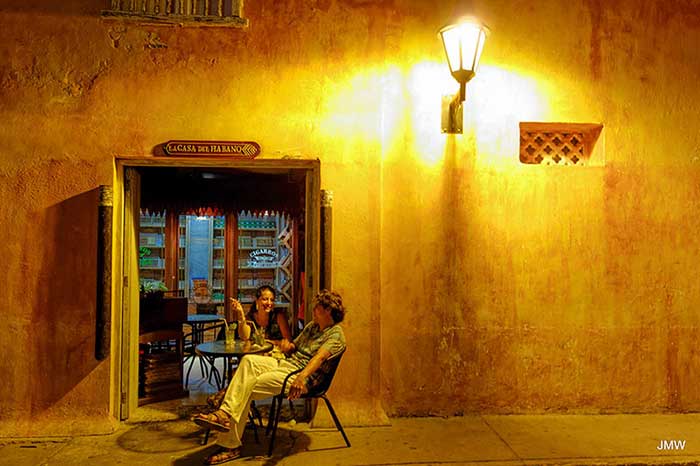 A Cocktail to End the Night in Cartagena's Old City
The Old City in Cartagena is home to any number of tiny little bars in which you can sip local cocktails, wines, and beer while relaxing after a day of exploring everything the city has to offer. Many feature live entertainment and local light fare unlike anything you'll taste anywhere else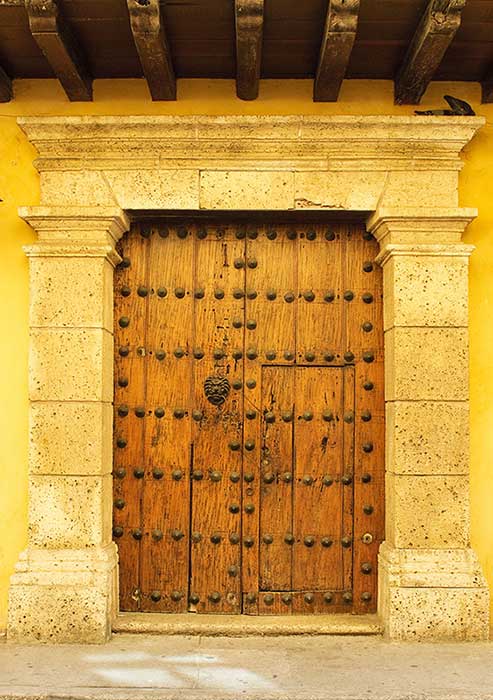 Colonial Doorway
This heavy, studded door sitting in this sturdy archway is typical of the Colonial architecture in Cartagena. The city was built to survive pirate raids at a time when much of the gold the Spanish were stealing from Colombia funneled through Cartagena. Everything is watched over by the massive Castillo San Felipe de Barajas atop the Hill of San Lázaro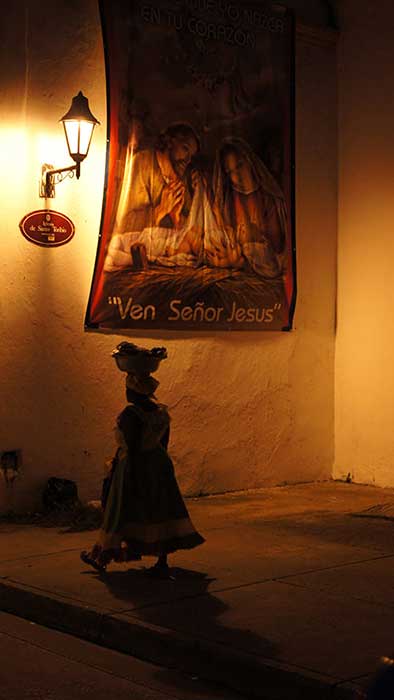 Old City at Night
When the sun goes down the streets of Cartagena, Colombia transform. The historic beauty of this Caribbean city is shrouded in starlight and exotic sounds spill from salsa bars and nightclubs that mingle with the Palenquera Fruit Sellers. To party consider the up the up-and-coming Getsemani neighborhood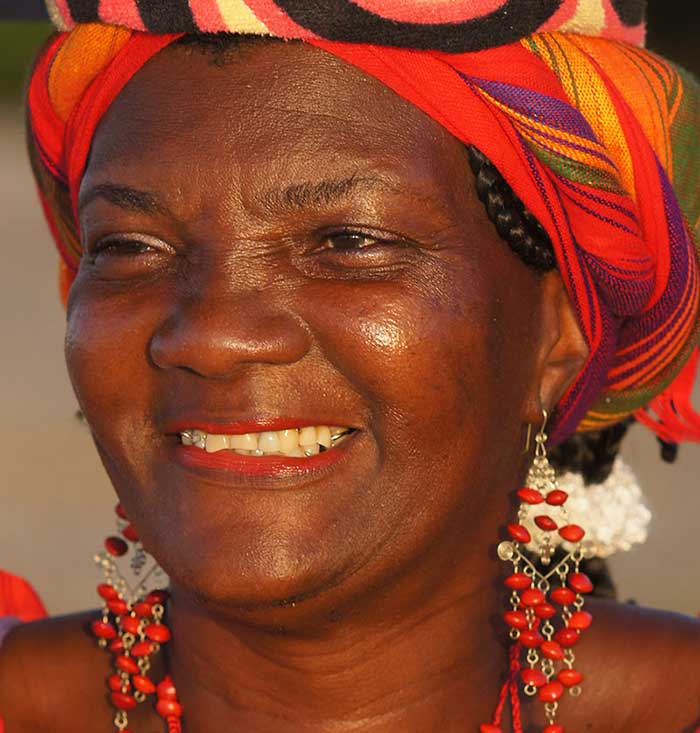 Palenquera Fruit Seller
The Ethnic Palenquero in Colombia, South America are descended from escaped Caribbean slaves (Maroons) and speak the only Spanish-based Creole language in the world. Cartagena Colombia is one of the last bastions of this vibrant culture and unique language with less than 3,000 people who can call themselves Palenquero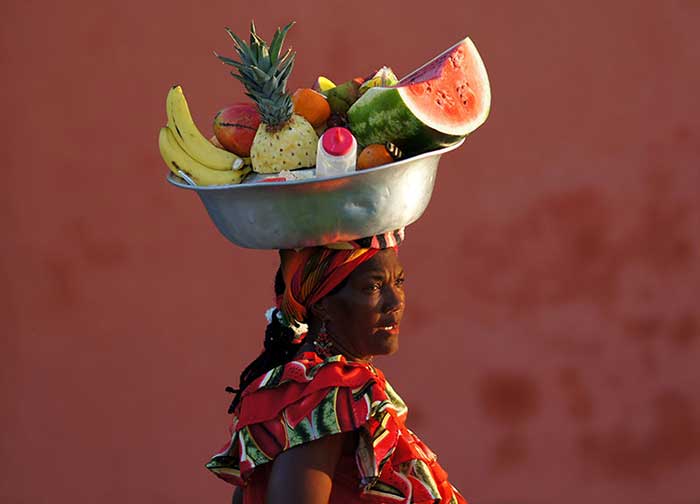 Palenquera fruit sellers
Have you heard about these Palenquera fruit sellers in Cartagena? These hard working folks walk up and down the streets, day and night, carrying nothing but fruit on their heads! They're local gems, offering up fresh fruit from the tropics to anyone who needs a little sweet fix. Some of their exotic offerings include Cherimoya, Guanabana, and Lulo fruit.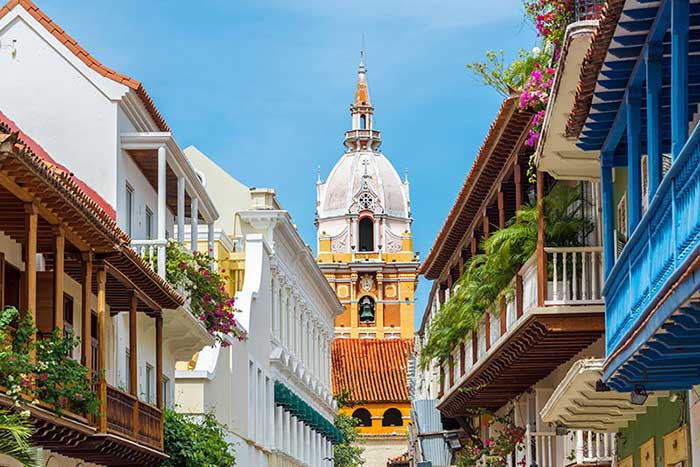 Cathedral in Cartagena
This cathedral, photographed down the historic Calle Don Sancho in Cartagena, Colombia, was designed by Simón González and modelled after basilicas in Andalusia and the Canary Islands. Though the building was finished in 1612, the inspiring tower that stretches high above the Centro neighborhood was designed by French architect Gastón Lelarge as part of a modern renovation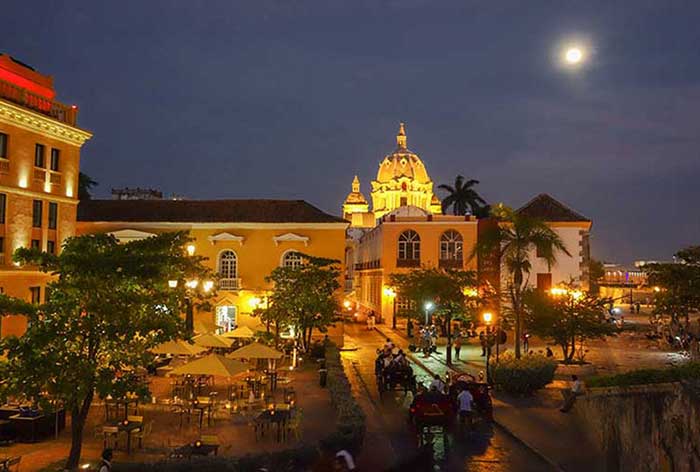 San Pedro Dome
The Dome atop the Church of San Pedro Claver sits in the heart of Cartagena, Colombia. Under the dome rests the mortal remains of San Pedro Claver, a Jesuit priest who obtained Sainthood for his great acts of charity involving the African slaves in the markets of Cartagena. It is said that he personally baptized 300,000 individuals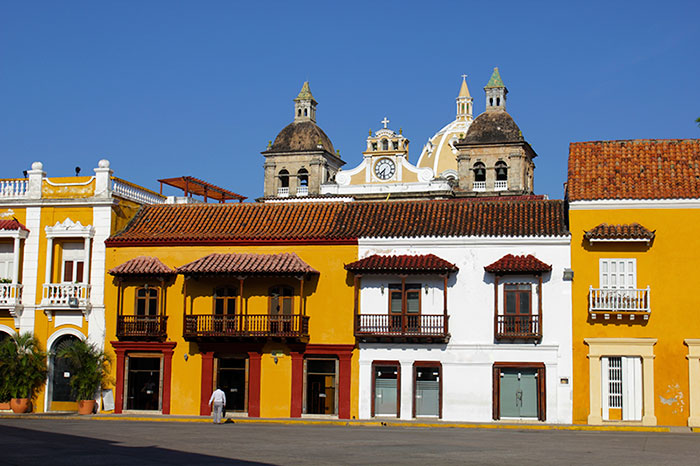 Plaza de la Aduana in Cartagena
This plaza was once home to all of the royal Spanish offices in Cartagena during the Colonial era. It is famous for the massive statue of Christopher Columbus created by Italian sculptor Lorenzo Bartolini. The sculpture was privately owned by Juan Bautista Mainero y Trucco who donated it at the end of the 19th century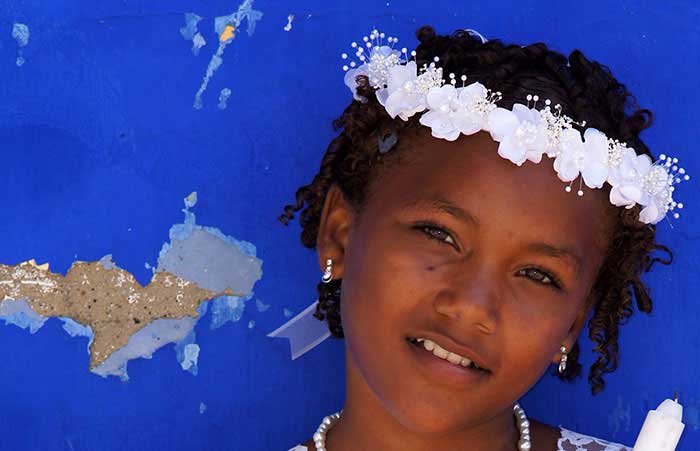 Holy Communion day for this girl
This young girl wears her Sunday Best as she prepares to attend Holy Communion at church in Cartagena Colombia. Cartagena (and Colombia in general) is majority Catholic thanks to the heavy influence of the Spanish Colonial period (as noted by the stunning architecture of the churches dotted throughout the city). Nearly 80% of those native to Cartagena are Catholic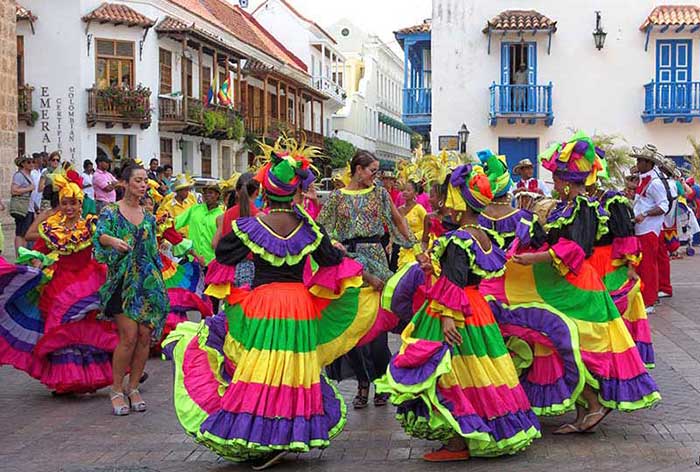 Carnival Dancers on Parade
Carnival was brought to Colombia by the Spanish and Carnival in Cartagena has retained many of the European trappings whereas other Caribbean Carnivals more closely reflect local and indigenous traditions. This is partly due to the fact that Cartagena was a major urban center for the Spanish and the ruling elite didn't allow native peoples to celebrate as raucously as they would have otherwise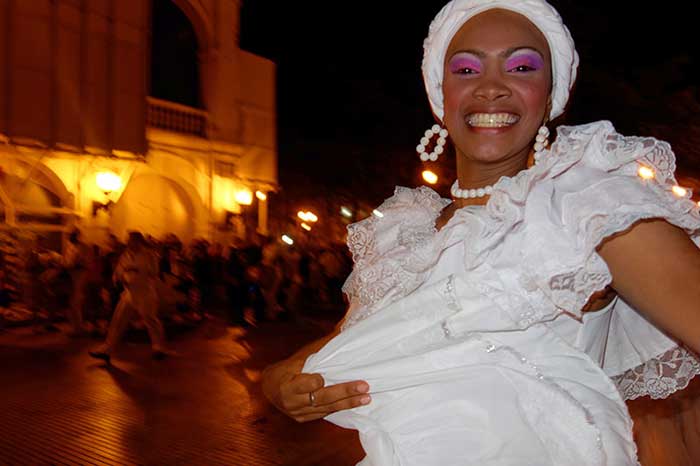 Street Wedding
Romantic destination weddings in Cartagena, Colombia cast a sense of Old World charm over Caribbean/Spanish flair. It's not uncommon for the traditional Catholic weddings of locals to spill joyously out into the streets and turn Cartagena into one big wedding reception under the stars.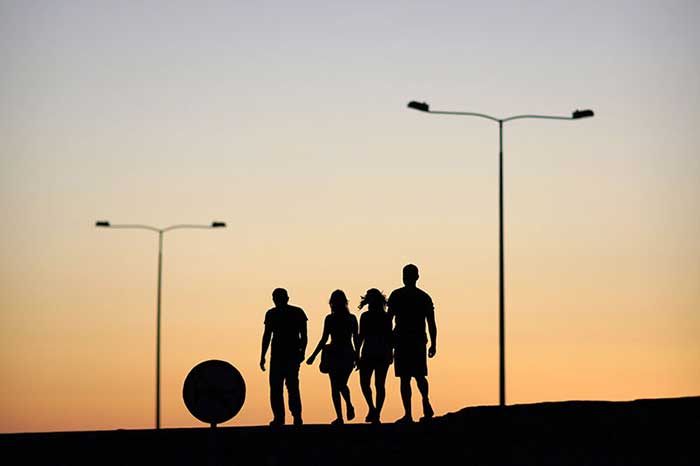 Walking to Cartagena's Old Walled City
Cartagena's Walled City is a living monument to Spanish Colonial times when the gold of Colombia flowed through the port of Cartagena and the Caribbean Sea was prowled by pirates. Designated a UNESCO World Heritage Site in 1984, the Walled City comes alive at night, cast in golden sunsets and glimmering streetlamps, giving tourists and travelers a glimpse into the past just steps from a modern urban conveniences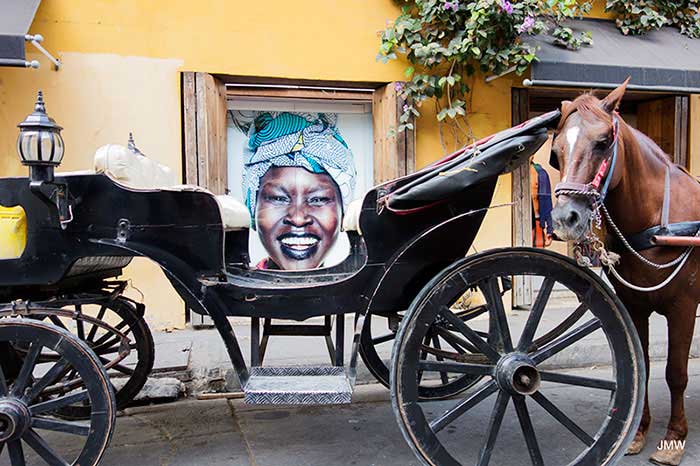 Horse Drawn Carriage in Cartagena's Old City
Those wishing to experience Cartagena, Colombia in an authentically romantic way can take horse drawn carriages through the narrow colonial streets of the Walled City for just a few dollars, and—even if for just a minute—forget that their living in the 21st century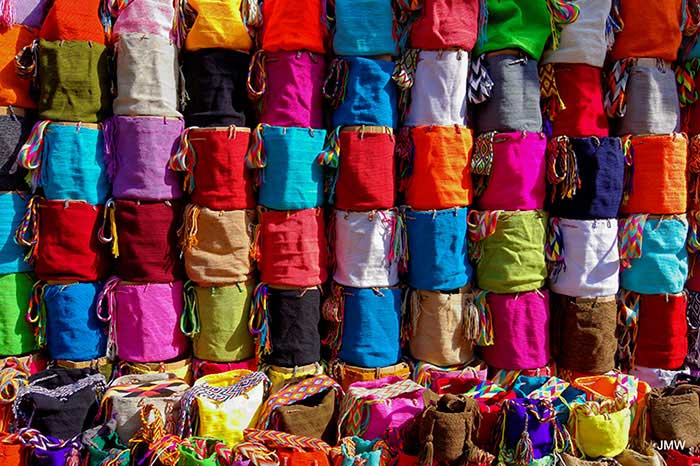 Colorful Mochila Bags
The stalls of street vendors in Cartagena are full of cultural gems like these traditional Mochila bags. These bags were originally used on a daily basis by various native peoples in Northern Colombia. Made from colorful fabrics and leather, these bags have become the cultural symbol of Colombia and are still as functional as they were centuries ago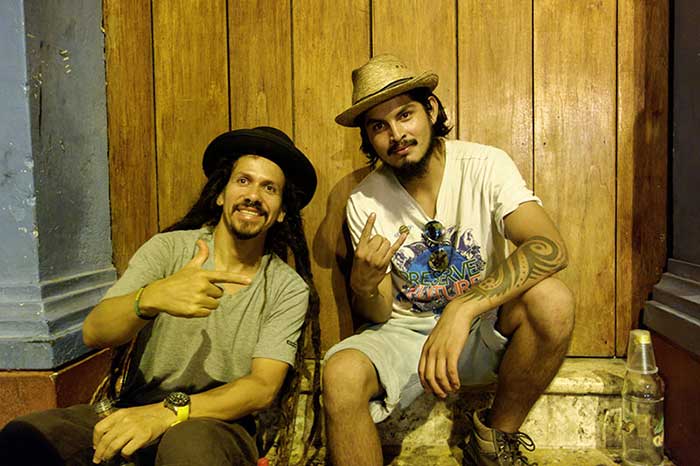 The Night Life in Getsemani
The Getsemani neighborhood of Cartagena, Colombia has reinvented itself in the past decade to become the entertainment center of the city. With exotic restaurants, salsa bars, and nightclubs open to locals and travelers alike this neighborhood has something to offer night and day
Cartagena's Beautiful Colonial Architecture

Cartagena boasts some of the best examples of Spanish Colonial architecture in Colombia. The city was a major hub for the Spanish Empire through which gold, emeralds, and other valuables were funneled in the 1600s through the 1700s. Many of those contemporary buildings are still standing today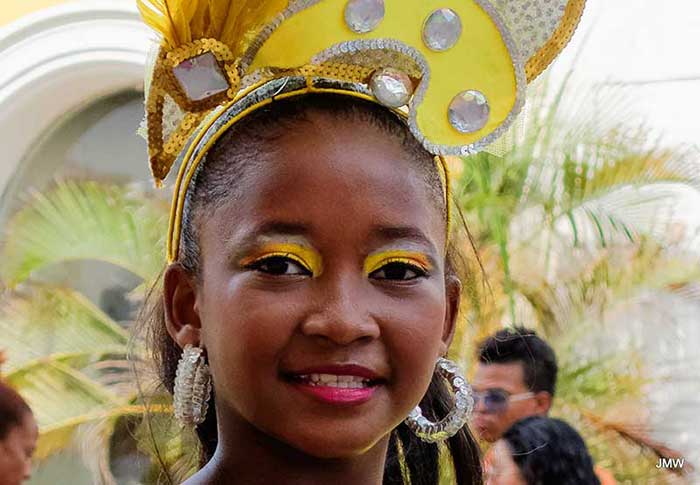 Carnival Dancer in Cartagena
Cartagena comes alive with colorful costumes in November as Carnival ramps up. Most of the celebration takes place during the second week of the month and it all culminates when the Carnival Queen is crowned. A mix of Spanish and indigenous cultures, Cartagena's Carnival is unlike any other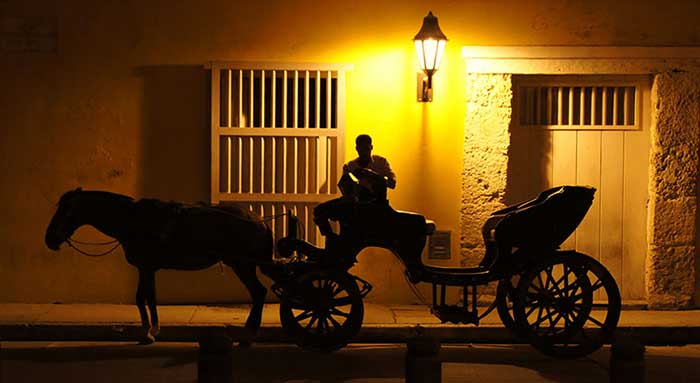 Horse and Carriage Driver in Cartagena
The horse and carriage drivers in Cartagena's Old City operate throughout most of the night. If you've seen the city by day, you owe it to yourself to see it after the sun goes down. The golden lights bring the colorful architecture a whole new life and the gentle swaying of the carriage is the perfect way to relax after a wonderful dinner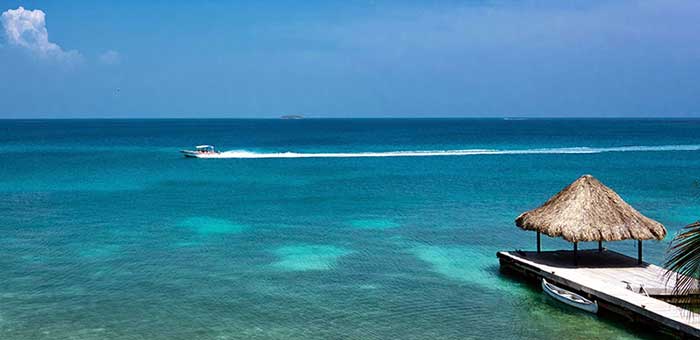 The Rosario Islands
The Rosario Islands are just a short boat ride away from the heart of Cartagena and feature some of the best fishing, snorkeling, and scuba in the entire area. The islands are surrounded by a protected coral reef and are the perfect place to experience the life of a beach bum during your stay in Colombia
Hire a Boat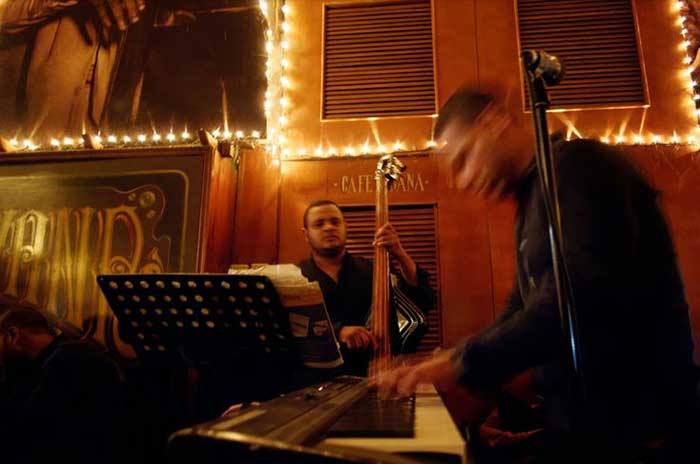 Café Havana in Cartagena
Café Havana, in the heart of Getsamni, is one of the best places in Cartagena to experience local nightlife. Each night the club brings in live entertainers from around Colombia and also schedules special performances for special occasions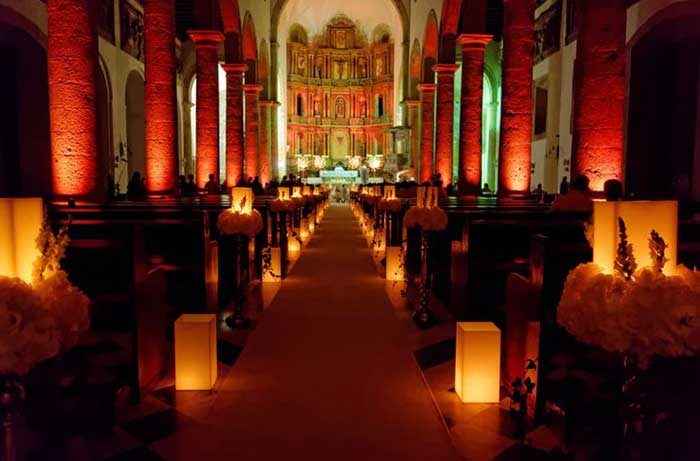 Cartagena Cathedral
Not only is the architectural icon gorgeous on the outside, the inside is breathtaking as well. With sculpted pillars, high vaulted ceilings, and wooden artwork in bas relief the Cartagena Cathedral truly is one of the most stunning 17th Century buildings in the city. It's a marvel built with simple hand tools hundreds of years ago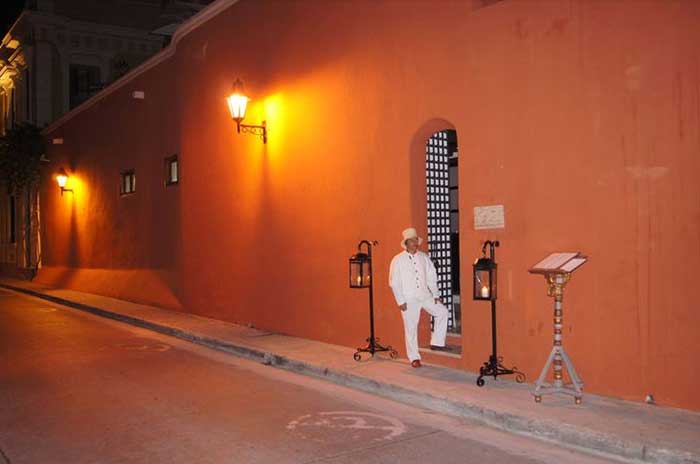 The Streets of Cartagena
Even the more modern buildings in Cartagena have been structured with that authentic Colonial and indigenous vibe that makes this city one of the most beautiful in all of Colombia. Local materials are used wherever possible and make even modern mansions and hotels looks as if they've stood on these narrow streets for hundreds of years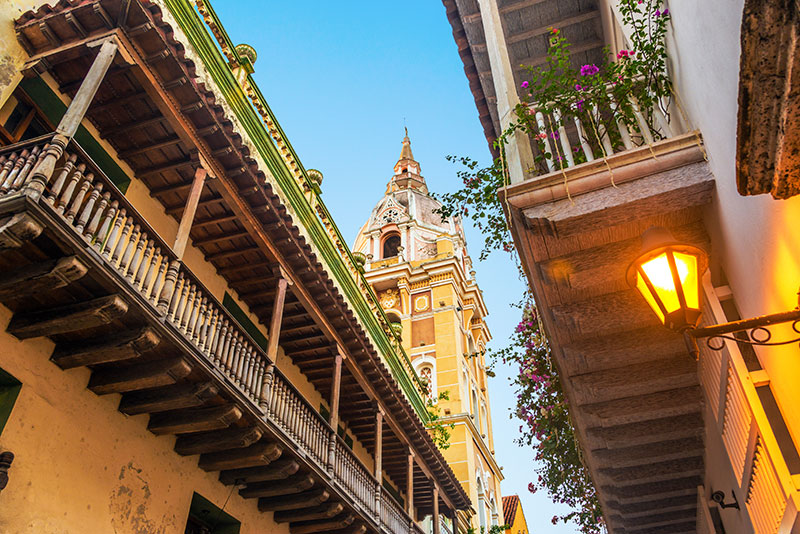 The Cartagena Cathedral Tower

This tower that sits atop the Cartagena Cathedral was actually a modern addition to the Colonial structure designed by a French architect to reflect the contemporary style and elegance of a bygone era. The tower can be seen across most of the city and provides a handy landmark for those who want to explore Cartagena on foot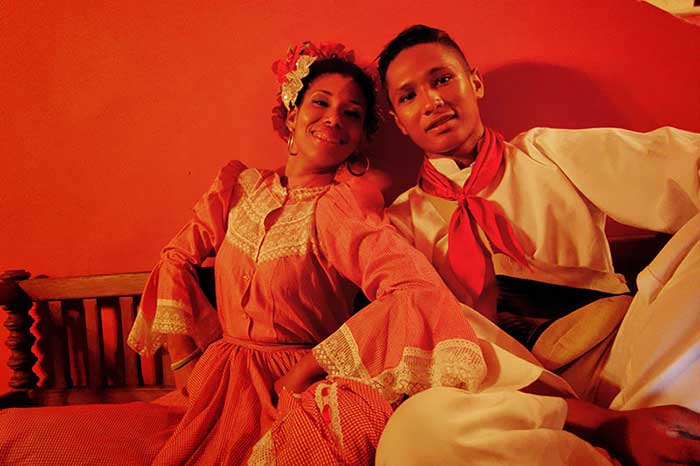 Traditional Colombian Dancers
Latin Dance and music are central to the cultural life in Cartagena. While modern pop music and the nightclub scene are very strong in Cartagena, there are also plenty of opportunities for the traveler to see traditional Colombian dance and music as well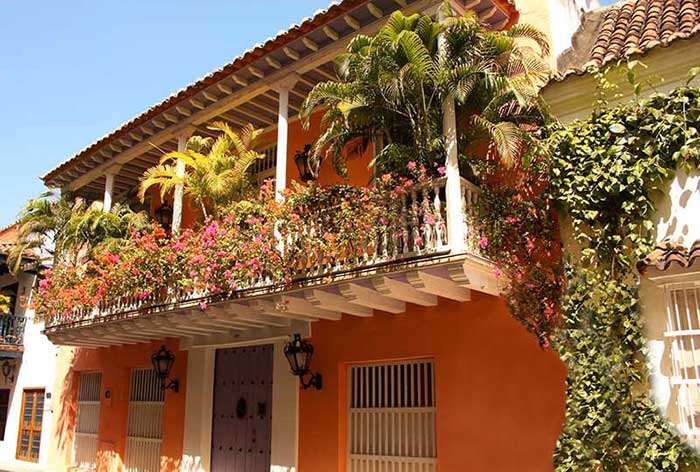 Colonial house in Cartagena
The Colonial architecture left by the Spanish during the 1700s is accentuated by Cartagena's tropical climate and Caribbean sea breezes. Native and imported flowering plants bring bright bursts of color to buildings bathed in golds, oranges, and blues. And everywhere you go the scents of those flowers reminds you that you are someplace exotic