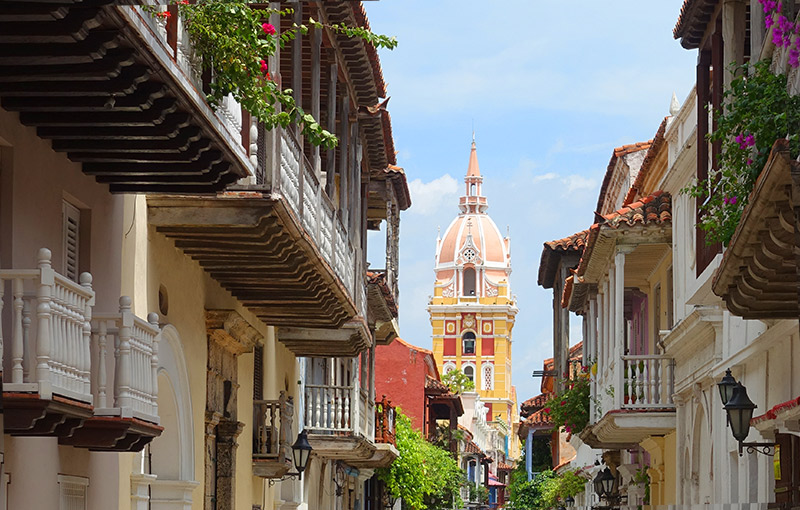 When is the perfect time to visit Cartagena? A Detailed Look
Ah, sounds like you're drawn to the allure of our breathtaking Cartagena! This is a popular destination among tourists, exuding an irresistible charm with its rich history, captivating beaches, and ever-glowing sunshine.
The optimal months to visit Cartagena, taking into consideration both climate and crowd levels, extend from December through to September. However, even in October and November, despite being marked by the warm showers of the rainy season, the city has its own charm and accommodation becomes significantly more affordable (please contact us for hidden specials). So, the golden question remains, when is the best time to visit Cartagena? The answer is delightfully simple – Anytime!
Let's delve a bit deeper into what each season holds for you. During the spring, it's pleasantly warm with a temperature range from 21°C to 30°C. This season offers a blissful blend of mild warmth that makes exploring the city comfortable and enjoyable. Summer, with temperatures ranging from 27°C to 34°C, welcomes you with wide-open arms to indulge in all the water-based activities Cartagena has to offer.
During the Fall in Cartagena, Colombia, you can expect a comfortable climate with temperatures ranging from 18°C to 26°C. As this is the rainy season, do prepare for periods of rain in October and early November. Yet, it brings with it a unique beauty that makes Cartagena all the more charming. Lastly, spending Xmas and New Year in Cartagena is truly a sight to behold with beautiful blue skies and uninterrupted sunshine adding a vibrant touch to your celebrations.
Great Weather and a Beautiful Blend of Cultures Make Cartagena Attractive Anytime
In essence, Cartagena boasts fantastic weather all year round—high temperatures that stay in the 80s and an abundance of sunny days. Thanks to its unique location on the northern tip of Colombia—nestled right in the vibrant heart of the Caribbean—Cartagena truly is a piece of paradise!
Yet, it's not just about the weather, Cartagena also presents a tropical vacation destination unlike any other. Our magical city offers the best of both worlds—the glorious Caribbean weather and the rich, vibrant Colombian culture. Here, you have the luxury to spend your days soaking up the sun on the beach, snorkeling and scuba diving in the crystalline waters of the Rosario Islands, and your nights feasting on gourmet meals at some of the finest restaurants in the world. Don't forget to allocate some time to visit awe-inspiring historical sites and be part of the myriad cultural events that dot the calendar throughout the year.





Holidays are Peak Tourist Times in Cartagena
For those who prefer a quieter, less crowded atmosphere, planning your visit to Cartagena around the extended holiday season could be a good idea. While Cartagena has steadily established itself as a year-round vacation destination, there are a number of religious and cultural events taking place during the holidays that make these times significantly more attractive to travelers from other cities in Colombia and the world.
Christmas is Cartagena's Time to Shine
In the weeks leading up to Christmas, right through to New Year's Day, Cartagena comes alive with religious and cultural celebrations that draw vacationers from all corners of the world. In fact, the population of the city swells by two or three times during this peak travel period, attracting vacationers from across Colombia, Europe, The United States, and even Asia.
Exuberant celebrations like music and film festivals, parades, flotillas, and religious feasts infuse the city with an infectious spirit of joy and celebration from early November right through the first two weeks of January.
Experiencing Cartagena during Easter
Easter marks the symbolic end of the holiday season in Cartagena and signifies the transition from the peak travel times to the slightly less crowded, albeit hotter off-peak season. This period is really the last major festivity of the year (until next November) and sees Cartagena filled with Colombian celebrities and affluent vacationers who arrive to enjoy the excellent weather and immerse themselves in the city's cultural kaleidoscope.
Rainy Season Makes Travel More Affordable
If you're hunting for a more budget-friendly time to vacation in Cartagena, the "Rainy Season" between October and November is your best bet. During this time, you can secure much better rates on vacation rentals in Cartagena. While the moniker of the season might deter some, those familiar with Caribbean travel know that it's rare for any single day to be a complete washout. Indeed, when the rains do come, they're typically brief but intense… and they vanish just as quickly, leaving you free to experience everything Cartagena has to offer until the next shower rolls in.
Savvy travelers to our city know that these little respites from the heat provide a wonderful opportunity to stop off for a light lunch, enjoy a refreshing cocktail, or perhaps take a leisurely stroll through one of the many architectural marvels scattered across nearly every corner in Cartagena.
Concierge Services: Your Key to an Unforgettable Vacation
Let us help you plan your perfect vacation in Cartagena at any time of the year. There are several ways to get to Cartagena, either by domestic or international flight. If you're flying in from nearby countries like the United States, Canada, Mexico, or Central America, you can easily book a direct flight to Cartagena. For more detailed information on flights, please feel free to reach out to us.
Planning a trip to Cartagena but need some inspiration? Curious about when all the spectacular international attractions and festivals take place? Our blog is bursting with valuable information about the seasonal attractions and events Cartagena has to offer such as:
• The International Film Festival of Cartagena de Indias (FICCI)
• New Year's Celebrations
• The Annual Hay Festival
• Christmas Celebrations
• The Cartagena International Music Festival
• Feria Internacional Colombia Nautica Boat Show
Whether you're traveling for business or pleasure, we provide complimentary concierge services before and during your trip to our stunning city if you book accommodation through us.
Ready to secure a reservation at one of our luxury vacation rental homes in Cartagena's Walled city? Don't hesitate to get in touch today. Together, let's make your dream vacation a reality.