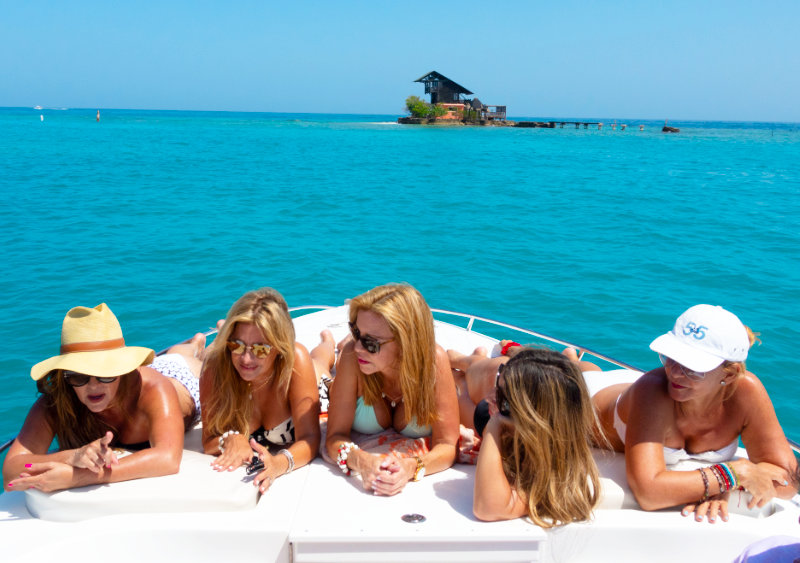 75 Miles of Beaches
What would a trip to a Caribbean Paradise be without a day (or more) at the beach? Sun, sand, surf, and maybe even a few tropical drinks thrown in for good measure—it's the perfect way to "waste" a day while vacationing in Cartagena. And with nearly 75 miles of beaches within easy travelling distance of the urban heart of Cartagena, visitors have their choice of where to stick their toes in the sand. However, finding the best beaches in Cartagena isn't as easy as walking to the shore.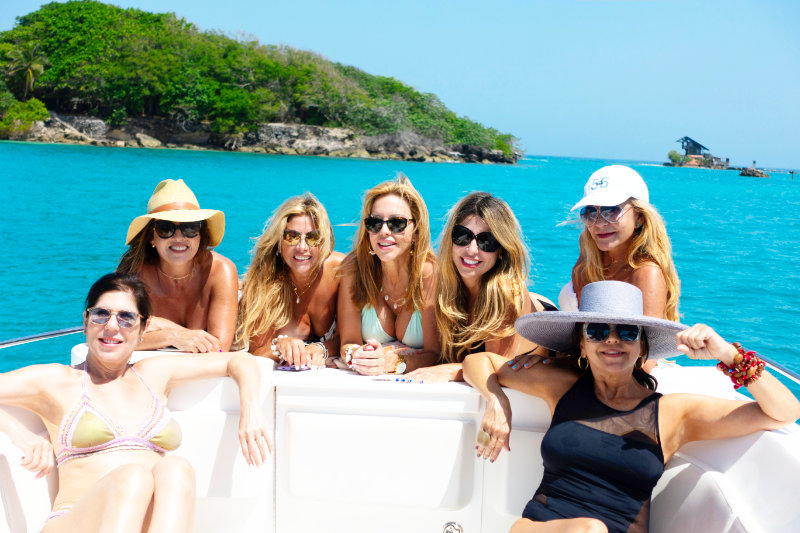 Bocagrande is the busiest of the touristy beaches in Cartagena—and also the easiest to get to—but many people think that's their only option. Far from it! In fact, a short boat ride from the city will put you on some of the most beautiful (and isolated) beaches in the world!
So whether you're looking for a convenient sandy stopover nearby or want to get away from the crowds for a more intimate escape, we've got a list of some of the best beaches in Cartagena for you.
Tierra Bomba
This island is just a short boat ride from Cartagena's main harbor and provides vacationers an excellent view of the city's growing skyline. Here you'll find several opportunities to take guided tours, sip cocktails in the sand, or simply enjoy the sun. It's far less crowded than Bocagrande with fewer vendors hawking their wares.
Eteka Slow Beach Lounge is located on the beautiful Tierra Bomba Island—This secluded beach lounge offers a range of services including a tiki bar and a variety of water sports.
If you'd like a more VIP experience, our complimentary concierge service can arrange a day at one of the exclusive beach clubs on Tierra Bomba for you and yours.
The Rosario Islands
While you will need to take a short boat ride out of the city to visit the Rosario Islands (which our concierge service can easily arrange for you) this cluster of 30+ islands is located in one of Colombia's most prestigious natural parks and provides visitors with that laid back vibe and golden white sand they've always wanted. A trip to Cartagena without visiting the Rosario islands is a missed opportunity. Of all the highlights people give when visiting Cartagena is the Old City and the Rosario Islands. They simply go hand in hand and you will not be disappointed.
If looking for an authentic clubbing experience in the golden Caribbean sun, look no further than the Bora Bora Beach Club in the Rosario Islands. This chic beach club has all the amenities you could want and more, making it a hot destination for globally touring DJs and EDM fans.
Map of Rosario Islands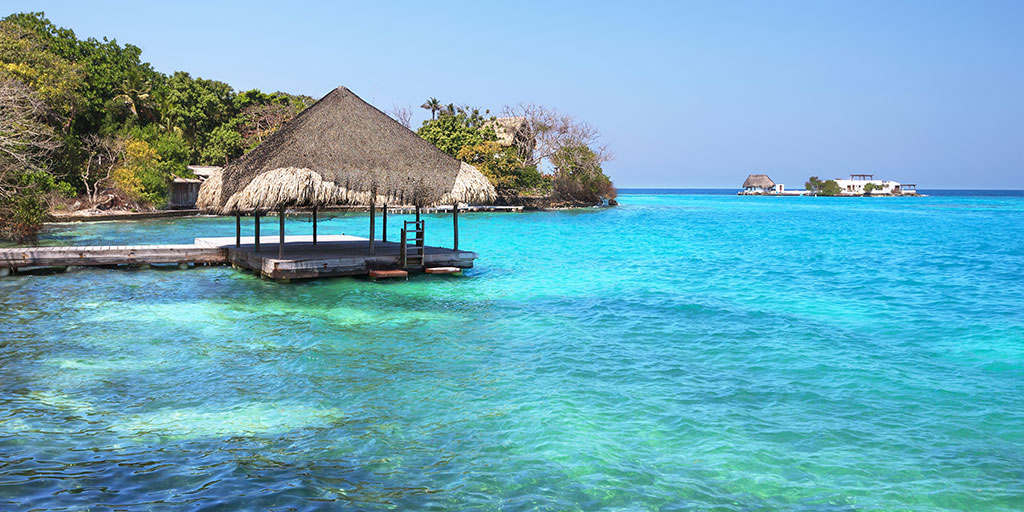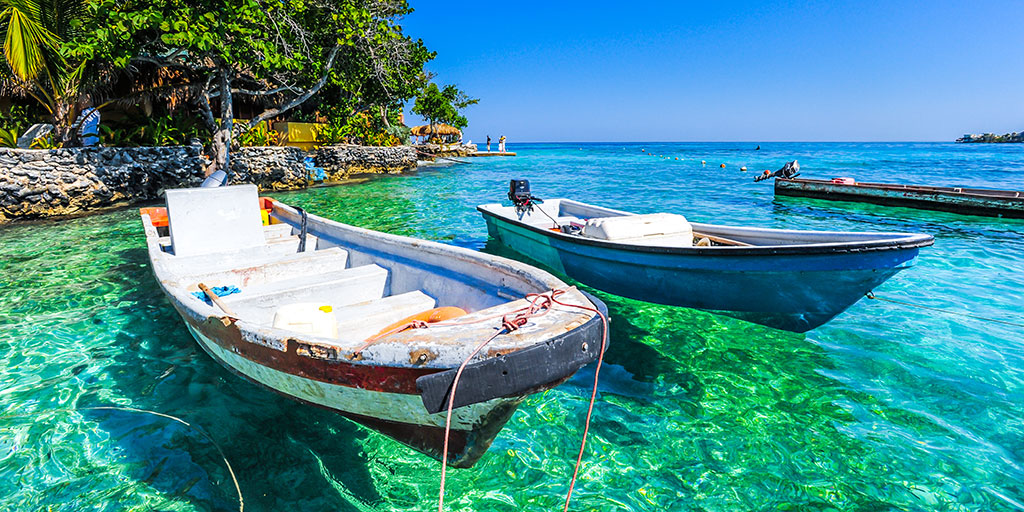 Playa Blanca
This stretch of brilliant white sand of Playa Blanca on Isla Baru is the epitome of tropical beaches and is one of the best beaches near Cartagena because of it's white sands. Here you can sit in the sand, swim in the gorgeous blue waters, and sample local delicacies caught fresh from the Caribbean every day. There are also a number of places at which you can quench your thirst, meet up with friends, or catch live performances from local artists if the mood strikes you. This is truly the epitome of Caribbean beaches in Cartagena.
Nena Beach Club is Playa Blanca's newest hotspot, featuring a wide variety of lively daytime activities, as well as the perfect venue to party the night away. The club features a large dance floor and stage, a lounge area with VIP seating, and two swimming pools. It has become a great addition to the food scene at Playa Blanca. It has a trendy yet hip rustic feel where bohemian meets cool and a great spot for lunch.
Cholon
If you're looking to party (or any sort of group getaway) Cholon is that unbelievable event. Tie your boat in the Crystal clear waters and make sure you have plenty of suntan oil. There's plenty to eat and drink and more than enough people to watch and party with. You can dance with the music blasting from everywhere and the sun beating down. It's an amazing day of partying Colombian style that you wont find anywhere else.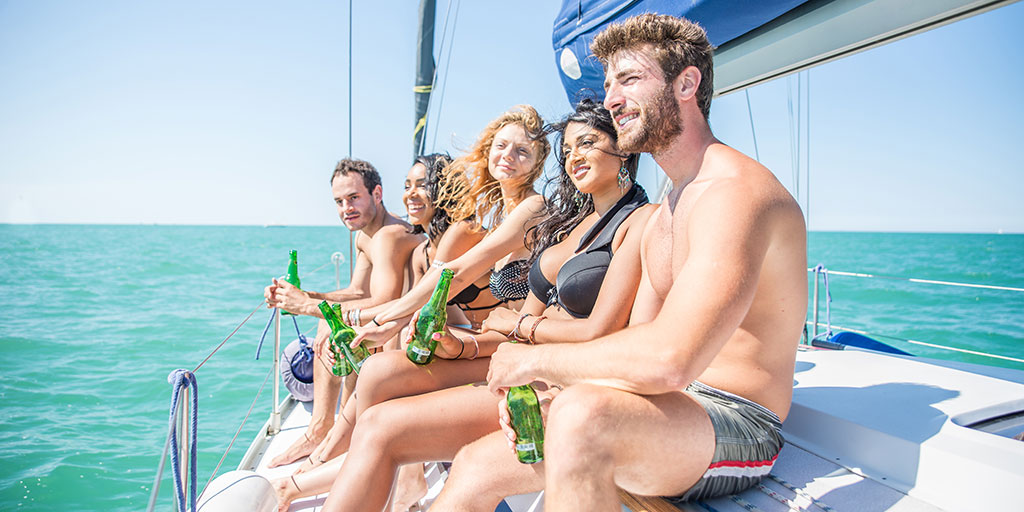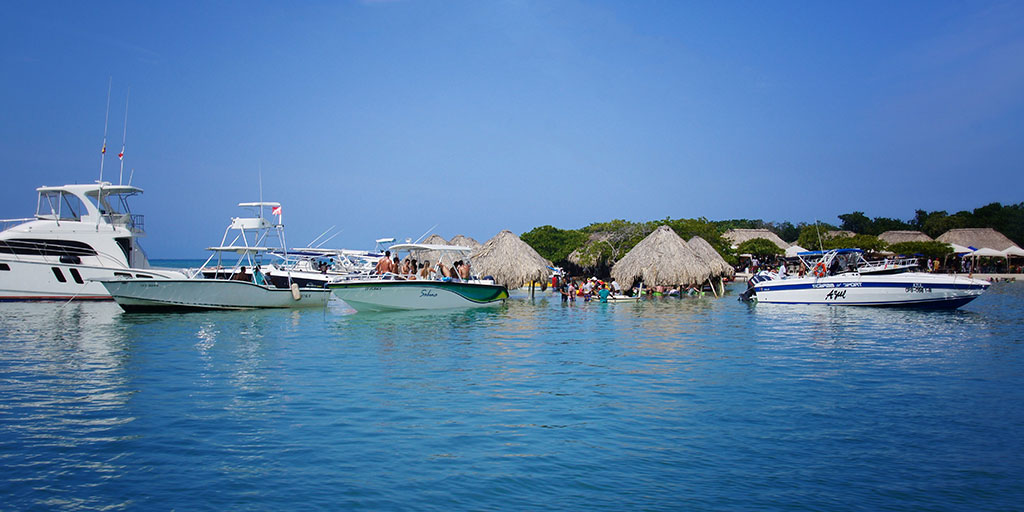 Bocagrande
This is the largest and most easily accessible beach in Cartagena. It stretches for miles and is within walking distance of the touristy resort-filled section of town (just minutes from high-end international shopping as well). And while this is a great beach on which to see and be seen, it can be a bit crowded at times. Plus, because it's so close to the city, the number of vendors selling everything from inexpensive jewelry to Mochila bags can be overwhelming. And the surf is not that crystal blue that you may be expecting when daydreaming of the Caribbean.
Playa Laguito
This beach is very similar to Bocagrande though it sits on the opposite side of the little strip of land which guards Cartagena from the Caribbean. This means that the sea is often calmer over here but don't' expect to get away from the crowds. Just a few minutes' walk (or a short taxi ride) from the heart of the city, Laguito is very popular with the young laid back travelers who come to "couch surf" in Cartagena. It is fun to see if you're only in Cartagena for a short time and don't want to hassle with a boat ride, but there are much better beaches to be experienced.
La Boquilla
This stretch of beach along the northwestern shore of Cartagena provides visitors a break from the over-populated and touristy beaches farther south (including Bocagrande). This beach is known for its local flavor and features a number of quaint little shacks at which you can dine on some of the freshest seafood around. It is, after all, really a fishing village at heart.
Manzanillo del Mar
This is another local treasure located next to a village that was actually purchased by a dozen or so Afro Colombians in the 1950's a place where they could bring their extended families and live in relative peace and quiet just minutes from bustling Cartagena. Now this stretch of beach is one of the last truly tranquil places within Cartagena's ever-growing orbit. It's not the pristine white sand most people think of (indeed, the sand is brown and the beach is not commercially owned—thus not groomed) but it is a wonderful place to truly get away and experience Cartagena like a local.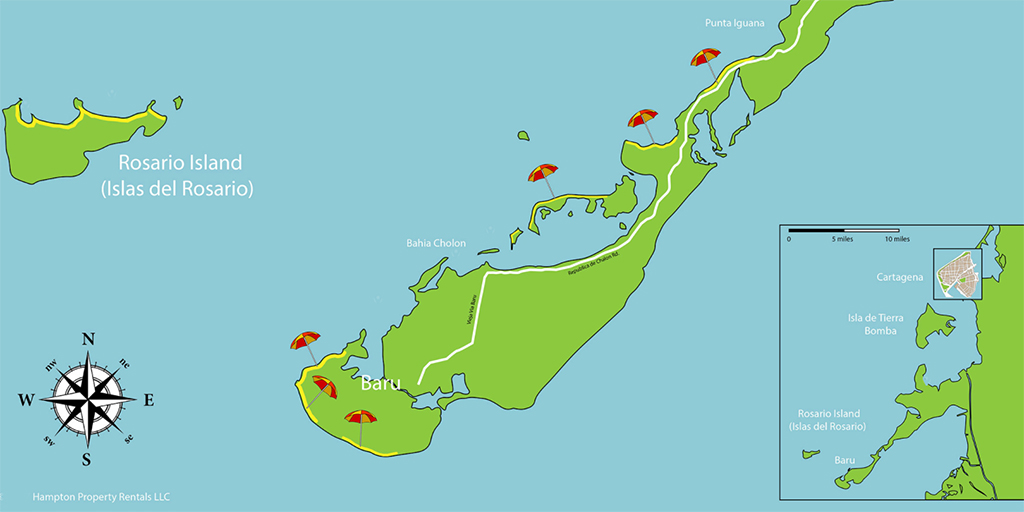 Not sure which beach is the best beaches near Cartagena for you? Our concierge service can hook you up with tips and travel information for any destination in or around Cartagena. We can also provide transportation to and from your chosen escape and even arrange extras like meals or restaurant reservations with one phone call. And all of these services are complimentary when you stay at one of our luxury vacation rental homes in Cartagena.
Get in touch to learn more.