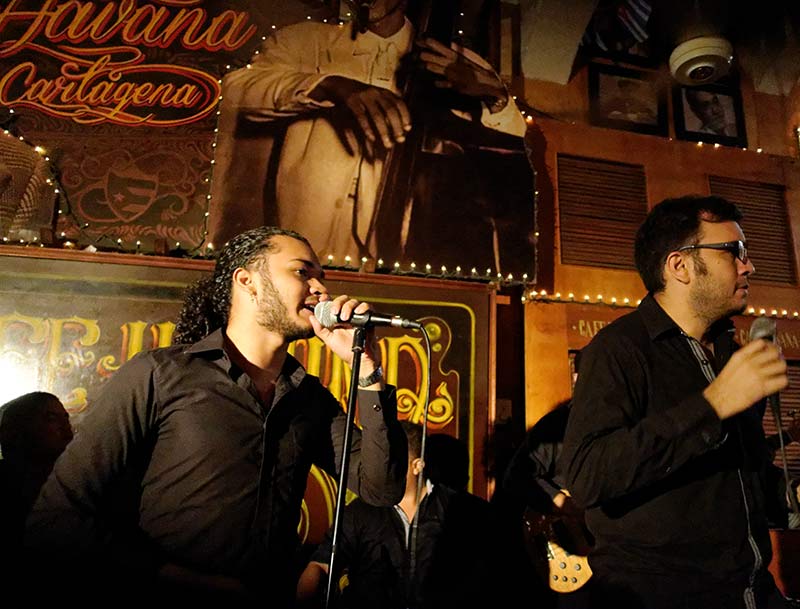 The Best Bars in Cartagena, Colombia
Whether you're in search of the perfect cocktail to put the end to a perfect day of exploring the cultural and historic landmarks in Cartagena's Old City or feel the need to put your dancing shoes on and enjoy the nightlife, there's a bar or nightclub for you just around the corner. With dozens of "watering holes" throughout the city (each with their own unique vibe, ambiance, and clientele) you'd be hard pressed to try them all in just a few days. So we're here to help you sort through the list and find the best bars in Cartagena just for you. Laid back or lit—there's something for everyone.
Café Del Mar
Café Del Mar is perched atop the Baluarte Santo Domingo, the open air bar takes full advantage of its location atop the old wall that protected Cartagena from pirates and cutthroats. People come here for the ocean vistas, the sunsets, and the signature cocktails. It's a great place to stopover during a foot tour of the city's historic sites and features live music most nights. This gorgeous venue can also be rented out for private functions like wedding receptions and private parties. However, in Cartagena location is everything and because Café Del Mar enjoys prime real estate, you will pay a premium for the food and drink.
La Movida
Directly across from La Vitrola Restaurant (one of the best and most exclusive in the city) La Movida has become a hotspot for young locals in Cartagena. It's here that you'll find all the young beautiful people mingling in the chic atmosphere. This upscale bar offers a more refined experience for travelers who want a taste of local life but who don't want to sacrifice the luxury they've become accustomed to while staying in their exclusive vacation rental homes in Cartagena.
La Jugada
Just across Calle del Colegio from the Restaurant Don Juan, La Jugada boast two amazing outdoor open air terraces on the third and fourth floor of the building. These make La Jugada a great place to unwind with friends after a long day on the Rosario Islands or shopping at the plazas around Cartagena. After the sun goes down you can sit and sip or mix and mingle with friends old and new. La Jugada features live music certain days of the week but be prepared—there's no VIP area so it can be a little crowded at times.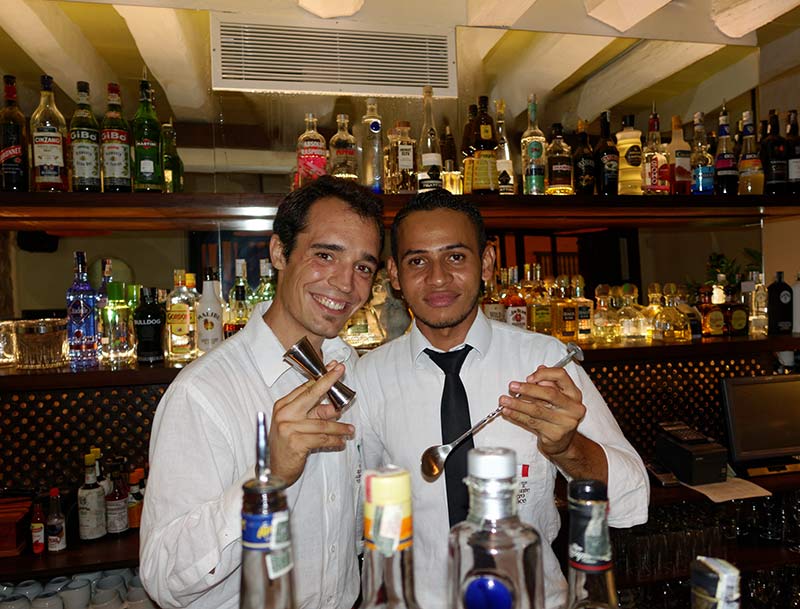 Demente
This place is just plain cool and one of our favorites on our list of the best bars in Cartagena. The stripped-down, laid back vibe is complemented by the bare brick walls and no-nonsense drink menu. Demente's claim to fame is their food which is a play on traditional pub fare. You can get great pizza, tapas, and other snacks to tide you over while discussing the day over a cocktail or two. They do offer music on certain days of the week and even feature theme nights with Groove and Funk days thrown into the mix.
Alquimico
If you're in the mood for a unique signature drink that will make your vacation in Cartagena more memorable, come to Alquimico. This chic bar features a certified mixologist behind the bar who can whip you up something special based on your tastes that will leave you wanting more. The ambiance is dark and close but the vibe is laid back and chill. You won't find thumping bass beats and hip hop lyrics here, the music is understated and designed to provide a background for conversation and getting to know new friends.
El Baron
This chic little bar is a wonderful place to get together with friends. It's elegant and low key at the same time, featuring amazing drinks made with hand-selected liquors and fresh ingredients. The food menu is also exceptional and they provide what many consider to be the best coffee in Cartagena. The interior is a bit small but El Baron features open air seating that's at once inviting and exclusive.
Babar
This hip nightclub offers the young and the young at heart a chance to dress to impress. One of the few nightclubs in Cartagena that still has a dress code, Babar has worked hard to create an upscale vibe that you won't find in many of the salsa clubs in Getsemani. In fact, most of the music you'll hear here is fresh and new—just like the crowd.
El Baluarte Francisco Jose
This gorgeous restaurant and tapas bar is another of our absolute favorites when it comes to the best bars in Cartagena. It is located right in front of the Santa Teresa Hotel and features some of the most amazing sunsets you'll see in Cartagena. This an absolutely great place to sit and sip while the day fades into night and justly deserves its spot on our list of the best bars in Cartagena. You won't find flashy dancers and obnoxiously loud music here—just an amazing ambiance and great drinks and tapas.
El Coro
Located inside the Santa Clara Hotel, El Coro is famous for their mojitos and their classy ambiance. This tidy little bar is quite a change from the crowded, sweaty salsa clubs in Getsemani but never fear—if it's music you want they have a live band that plays most days of the week. Whether you want to dance where you won't be elbowed and stepped on or simply want to sit and sip a cool drink before or after dinner, El Coro is that place.
Café Havana
This is probably the most famous nightclub in Cartagena. It features a Cuban theme and is very reminiscent of the clubs one could have seen on that island back in the day. It really feels like the Spanish/Caribbean heart of Cartagena. If you're only in Cartagena once, it's a must-see. A few things to note if you're heading to the Café Havana: get there early (it fills up fast), be prepared for the crowd, and don't be surprised that the drinks are pricier than most of the cocktail joints throughout Getsemani.
Staying in one of our luxury vacation rental homes in Cartagena now or in the future? Our complimentary concierge services will help you plan the perfect vacation in Cartagena