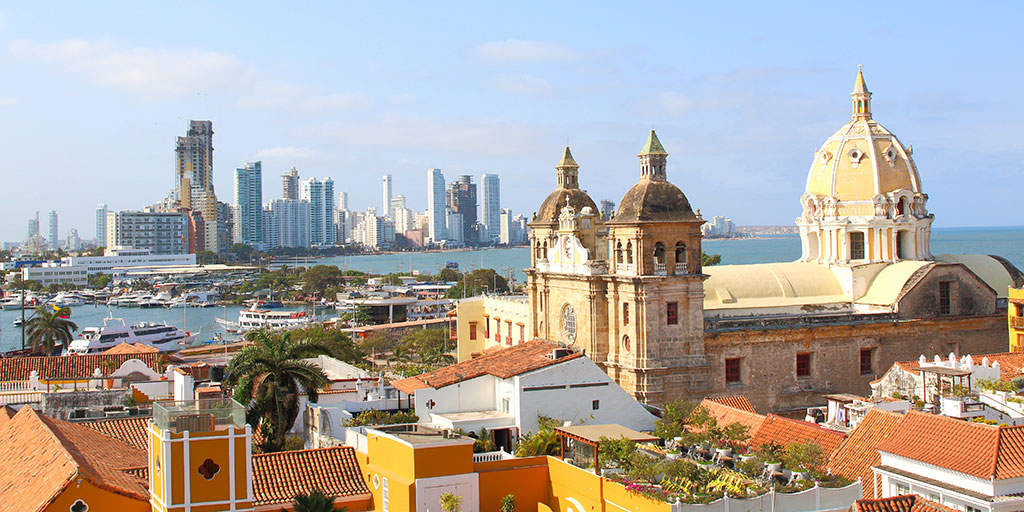 The Old City is the Place to Be
Planning a vacation to Cartagena? Cartagena's Old City is the place to stay. Why? It offers a unique vacation experience unlike anything you'll find anywhere else! Sure, the beach high-rises in the Boca Grande area are nice but you can book four walls and an air conditioner anywhere. Don't you want something with a little more luxury and a lot more charm?
Experience Cartagena Like a Native!
Cartagena's Old City, is a tremendously vibrant and historic location that perfectly marries historic Cartagena with the new world-centric social scene Colombia has cultivated over the past decade or so.
Where else can you wander through the hallowed halls of some of the oldest and most significant Spanish Colonial buildings in The New World before breakfast and while away the night in one of the hottest nightclubs in South America?
Spend the day strolling through the narrow streets of the heart of 17th century Spain's prized colonial seaport, taking in the sites, the tropical scents, the handicrafts and street performances then sit down for dinner at one of the up and coming bistro eateries in the radically revamped art haven of Getsemani.
Everything You Want Within Walking Distance
Our luxury vacation rental homes in Cartagena are located either inside the Wall which surrounds the heart of Cartagena's Old City or within feet of it. This places you in the perfect location to experience the real Cartagena first-hand.
You'll be within walking distance of all the historic sights (The Cathedral Saint Pedro Claver, the Plaza de Bolivar, Iglesia Santo Domingo, Plaza de los Coches, and more).
You'll also be within twenty minutes of amazing shops and restaurants including some of the most adventurous eateries in the Caribbean. Luxury goods, handmade crafts from local artisans, gifts for the family and friends back home, Caribbean, Colombian, Peruvian, Asian cuisine and the best ceviche in the Colombian coast—it's all waiting for you!
Into art? Not only will you find museums featuring traditional Colombian and Caribbean art (some of it preserved from pre-European contact) in the Centro district but you'll also find edgy modern art on display (sometimes literally) on nearly every street corner in Getsemani.
Imagined being bathed in all the quaint charm of this ancient city from dawn 'till dusk (and even later) but just minutes from your own private luxury oasis. Plus all of our accommodations are richly renovated classics—modern amenities fused with Old World architecture and character.
Many people never feel the need to leave Cartagena's Old City unless they're exploring the gorgeous Rosario Islands or to Colombia's Lost City.
One-of-a-Kind Vacations in Cartagena
Enjoy waking up to the hustle and bustle of a thriving Caribbean getaway right outside your patio door every morning? How about sharing an evening meal on your own private rooftop terrace with friends you met the night before? Want to step right out your door and onto the historic cobbled streets that bask in the bright Caribbean colors and the tropical scents of the bougainvillea?
If you answered "yes" to any of those questions, our luxury vacation rental homes in Cartagena are the perfect getaway for you. You owe it to yourself to experience this historic city like a local. Vacation like you live here.
Contact us today to reserve your home away from home in our beautiful Old City in Cartagena.