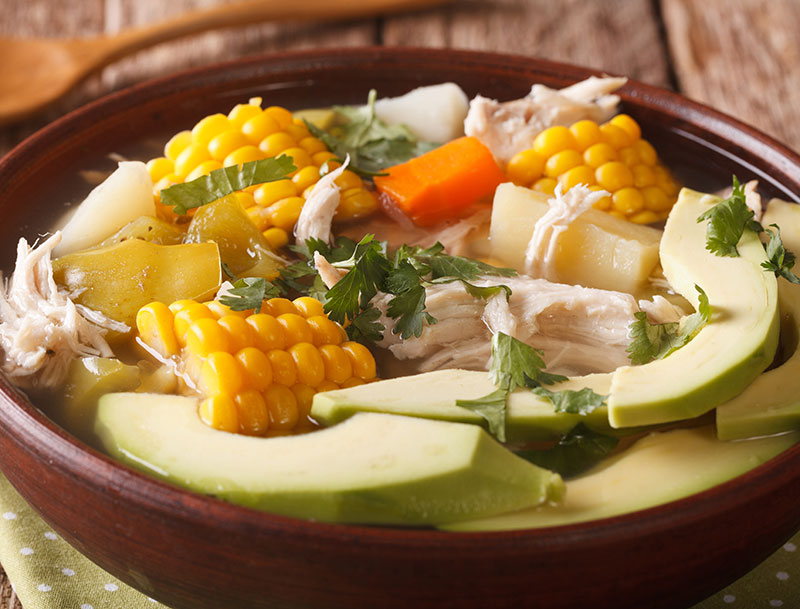 Unique Blend of Influences Featured in the Traditional Foods
Food is an absolutely essential part of any Spanish culture. And because Cartagena is in the heart of the Caribbean along the Colombia coast, the unique blend of influences featured in the traditional foods of the region make dining here an experience unlike anything you'll find anywhere else. Of course there is the ceviche. You can find it almost anywhere in Cartagena from the fanciest of restaurants to the "homiest" of food stalls at the beach. But there's so much more to local food in Cartagena with the cuisine here that you'd be doing yourself an injustice if you don't get a little adventurous and explore the gustatory landscape while vacationing in Cartagena.
So what's good to eat here in the sunny Caribbean coast of Colombia?
Sancocho
Nothing says "home cooking" like a good hearty stew and in Cartagena that means Sancocho.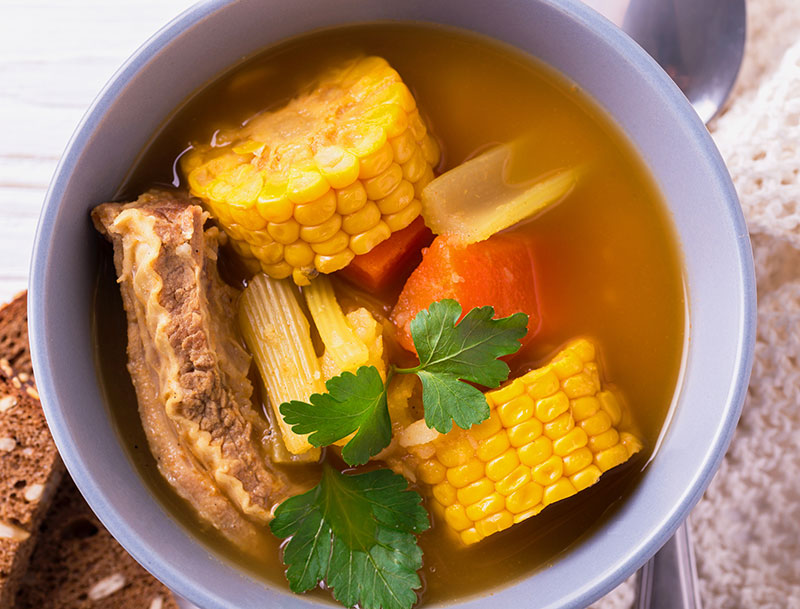 Sancocho is a traditional stew that has been adapted here in Cartagena to take full advantage of the fresh ingredients found along the coastline. Cooked with chicken (or more often fish), sancocho is typically on the sweeter side with fresh veggies, tubers, and herbs like yucca, plantains, and cilantro blended well and simmered to perfection. Some recipes call for beef but that's one ingredient that is often hard to find in Cartagena simply because there's an abundance of fresh fish literally within walking distance of any restaurant in the city.
The Caribbean version of Sancocho actually evolved from recipes transported to the region from the Canary Islands and is influenced by earthier recipes from the Colombian interior featuring potatoes and cassava.
Sancocho is often served with rice (which is usually dipped in every spoonful).
Unlike heavy English stews which tend to be earthy and thick, sancocho offers a lighter, fresher experience (more like a soup) that blends Caribbean flavors with hearty home cooking. Depending on where you get your sancocho in Cartagena, a typical plate can cost a few peso up to around $25 US.
If you're looking for the best sancocho in Cartagena, try the Mar de las Antillas in Getsemani. It's known for its proprietary sancocho recipe that features extra creamy coconut milk. (Just be prepared for the price tag—Mar de las Antillas is a little on the expensive side.)
Empanadas
Empanadas are a staple of Spanish cuisine and local food in Cartagena and typically crafted from readily available (and affordable) ingredients like cornmeal, egg, chicken, and fresh veggies. The original recipe dates back to 1520 from the Catalan region of Spain but multiple countries around the world have added their own swag to the base model to create regional delicacies.
Local food in Cartagena – Fritanga
What is fritanga? It's not just one thing. Fritanga is a blanket term that encompasses any number of deliciously fried foods you can find around Cartagena. Typical fritanga ingredients include:
• Sausage
• Pork Belly
• Plantains
• Pig's Feet
• Potatoes
• Cheese
• And Arepas (ground maize)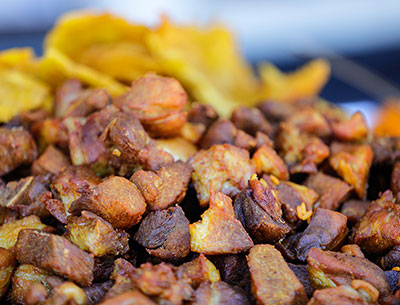 Needless to say, you can find just about anything you'd ever want fried in Cartagena depending on where you stop off for a bite. It's up to you whether you stay on the safer side with ingredients you know or get a little wilder and try something you'd never thought you'd have an opportunity to taste.
How much you'll have to pay to sample this local staple depends on where you get it and what's fried up for dinner!
Dinner Reservations Made Easy
Hungry yet? When you stay at any of our exclusive luxury vacation rental homes in Cartagena, you can take full advantage of our complimentary concierge service. This exclusive perk allows you to easily get dinning recommendations, reserve tables, and arrange for transportation with one phone call. So come to Cartagena hungry and try some of the most unique cuisine you'll find anywhere in the world!