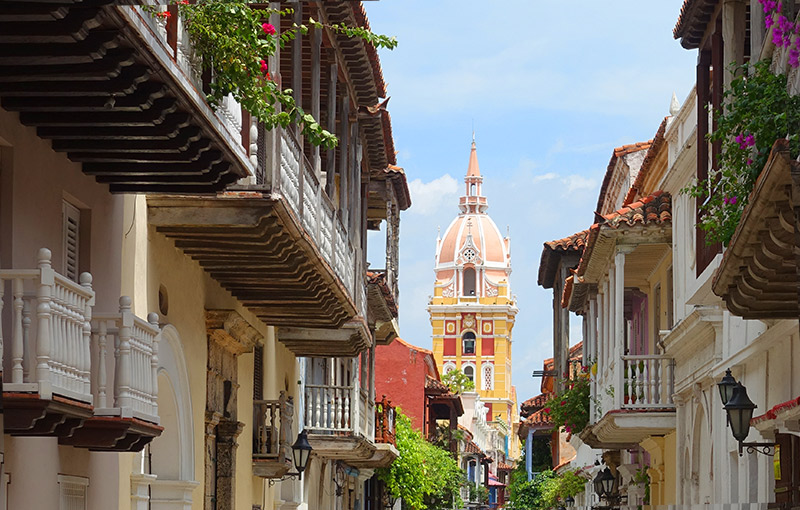 When is perfect time to visit Cartagena?
Sounds like you're interested in our beautiful Cartagena! – It's a popular destination among tourists because of its history, charm, beaches and sunshine.
The best months to visit Cartagena are December through to September. In October and November, accommodation is greatly reduced due to the warm showers of the rainy season . So, when is the best time to go? Anytime!
During the spring, it's nice and warm with a temperature range from 21°C to 30°C. Summer is also very attractive with a temperature range from 27°C to 34°C. During the Fall in Cartagena, Colombia, expect a pleasant climate with temperatures ranging from 18°C to 26°C. The Fall season is the rainy one so expect periods of rain in October and early November. Xmas and New Year are spectacular with beautiful blue skies and days of interrupted sunshine.
Great Weather and a Beautiful Blend of Cultures Make Cartagena Attractive Anytime
Ultimately, Cartagena enjoys great weather all year round—temps in the high 80s and sun more days than not. Thanks to its unique location on the northern tip of Colombia—right in the heart of the Caribbean—Cartagena really is a paradise!
But Cartagena is also a tropical vacation destination unlike any other. Here you get the best of both worlds—the glorious Caribbean weather and a rich Colombian culture! You can spend your days on the beach or snorkeling and scuba diving in the Rosario Islands and your nights dining at some of the finest restaurants in the world. Save time to take in awe-inspiring historical sites and keep an eye on the cultural events that dot the calendar throughout the year.





Holidays are Peak Tourist Times in Cartagena
If you don't like crowds, you may want to plan your visit to Cartagena around the extended holiday season. While Cartagena has become a vacation destination all year round, there are a number of religious and cultural events that take place in the city that make the holidays much more attractive to travelers from other cities in Colombia and the world.
Christmas is Cartagena's Time to Shine
In the month or so prior to Christmas right through New Year's Day Cartagena comes alive with religious and cultural celebrations that draw vacationers from all over the world. Indeed, the population of the city swells by two or three times during this peak travel time bringing vacationers from every corner of Colombia, Europe, The United States, and even Asia.
Celebrations like music and film festivals, parades, flotillas, and religious feasts fill the days and nights with celebration from early November right through the first two weeks of January.
Visit Cartagena during Easter
Easter is really the tail end of the holiday season in Cartagena that marks the transition from the peak travel times to off peak (when the temps climb into the 90s almost every day). This is really the last big hurrah of the year (until next November) and Cartagena fills with Colombian celebrities and wealthy vacationers who come for the excellent weather and to experience this amazing melting pot of a city.
It's also a great time to visit Cartagena if you're into people watching as you might spot a celebrity or two yourself bobbing along between the Rosario Islands or dining at one of the best restaurants in Cartagena.
Rainy Season Makes Travel More Affordable
Looking for a more affordable season in which to vacation in Cartagena? The "Rainy Season" between October and November is the perfect time to get much better rates on vacation rentals in Cartagena. While the name of the season scares a lot of people away, anyone who has ever vacationed in the Caribbean in the rainy season knows that there's hardly ever any single day that's a wash out. Indeed, when the rains come they come hard and fast . . . but they disappear just as fast leaving you free to enjoy everything Cartagena has to offer until the next shower rolls through.
And, savvy travelers to our city know that these little respites from the heat offer a wonderful opportunity to stop off for a light lunch, a cocktail, or maybe a stroll through one of the amazing architectural gems you'll find on almost every street corner in Cartagena.
Conceirge services
Let Us Help You Plan your Perfect Vacation in Cartagena Anytime of the Year
There are many ways to get to Cartagena colombia by plane, either by taking your domestic flight or your international flight. If you're coming from one of the nearby countries like the United States, Canada, Mexico or Central America, then you can easily take an international flight straight to Cartagena. For more information on flights
Planning a trip to Cartagena? Need ideas for what to do? Want to know when all of the amazing international attractions and festivals are scheduled? Our blog is full of great information about the seasonal attractions Cartagena has to offer like:
• The International Film Festival of Cartagena de Indias (FICCI)
• New Year's Celebrations
• The Annual Hay Festival
• Christmas Celebrations
• The Cartagena International Music Festival
• Feria Internacional Colombia Nautica Boat Show
Whether you're travelling for business or pleasure, we offer free concierge services before and during your trip to our beautiful city if you book accommodation through us.
Make a reservation at one of our luxury vacation rental homes in Cartagena's Walled city? Get in touch today.