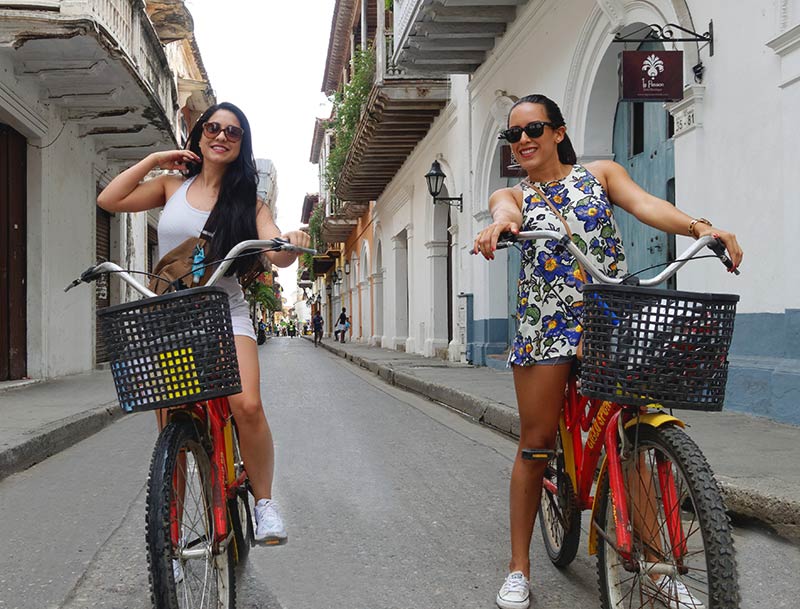 Activities in Cartagena
The best part about vacationing in Cartagena is that there's so much to do here. You can come for a week and live life to the fullest—eating, drinking, and dancing all night long—or you can sit in the sand and relax while the world slips away for a little while. The best vacations here in this tropical Caribbean escape are a blend of excitement and downtime with a splash of authentic Colombian flavor thrown in to make it all memorable. Below you'll find a hand-crafted list of some of the best activities in Cartagena put together by folks who live right here especially for you.
Walking Tours
The best way to see Cartagena's historic Old City is a walking tour by foot. You never know what you're going to find as you stroll along these Colonial Era cobbled ways and winding little streets. From historic architectural icons to hidden bistros and artist galleries, every turn holds a surprise that you would have missed had you not taken the time to see Cartagena on foot. But, if you have a limited amount of time and don't want to miss anything, a walking tour of our great city is a wonderful way to see it all. You can choose from a variety of companies, a variety of itineraries (focusing on varied interests from, historical locations to foodie hotspots), or even choose a self-guided tour so you can take things at your own pace. After a day of wandering through the hidden treasures you'll find, you're bound to feel like a true Cartagenan for the rest of your stay.
Bike Rentals
Want to see more of the city in less time than it would take on foot? Bike rentals in Cartagena are a great way to get around the narrow streets and still be able to see everything first-hand. There are many rental options to choose from (from chain rental spots to mom-and-pop bike rentals) but if you've never been to the city before, the best option may be a bike rental in Cartagena that also offers group tours. Either way (with a group or by yourself) hopping on a bicycle is one of the easiest ways to get around the best part of Cartagena and experience our seaside paradise like a local. Combine activities in Cartagena with an exercise workout before you go for that 'more than you should' dinner.
Segway's
Want a fun and exciting way to see the city that perhaps you'd never thought you'd get to try? Segway tours are a fun way for the whole family to get around. These amazing little electric vehicles respond to your every whim and take you wherever you want to go with ease. They do take a bit of getting used to but any Segway rental company in Cartagena will give you a few minutes of instruction and let you get the feel for these fun little locomotors before sending you out on the streets. When you're on a Segway you get the first-hand experienced of seeing everything up close but without the added workout of hiking through the Caribbean heat.
Latin Dance Classes
The culture of Cartagena (and any of the former Spanish colonies in the Americas) is firmly rooted in dance. Music and movement are such an integral part of Latin life that vacationing in Cartagena without learning a little would almost be sacrilegious. We can arrange for private or group dance classes in a variety of Latin styles including Salsa, Cha-Cha, Rumba, Merengue, and Bachata. What better way to take a little bit of Cartagena home with you (and to impress your friends) than learning a little bit of that famous Latin flair?
Visit Rosario Islands
The Rosario Islands are simply a must-see while you're in Cartagena. Just a short boat ride from shore, these gorgeous tropical islands offer everything you'd expect from a vacation getaway—sun, sand, surf, and plenty of gorgeous people and one of our favorite activities in Cartagena. We can arrange for travel to and from any of the Rosario Islands (including Baru, home of Playa Blanca—Cartagena's most famous beach). Additionally, we can arrange day trips to any of the secluded little hideaways within the Rosario Islands from something a little more private (or romantic). Swimming, sunbathing, snorkeling, scuba, or simply bobbing on the waves—your ultimate beach day awaits.
Snorkel in the Islands of Cartagena
Experience the Caribbean like never before—snorkel with the beautiful sea creatures. The Rosario Islands are part of one of the largest marine wildlife preserves in South America and home to thousands of species of gorgeous fish, coral, and other sea creatures. You can experience them all up close and personal with a snorkeling trip in the Rosario Islands off the coast of Cartagena. Our complimentary concierge service can arrange for everything from the boat ride to and from your chosen location to staffing your craft with experienced divers, instructors, and seamen. Whether you want a quick dive on a coral reef or a daylong tour of some of the most pristine sea beds in the entire Caribbean, we can arrange that for you and yours.