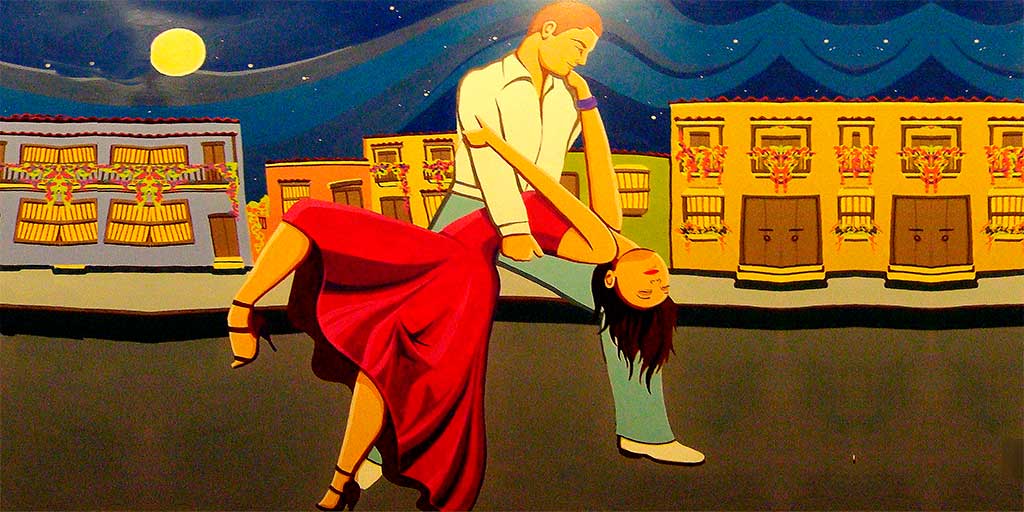 Passionate Latin History Told Through Dance
Music and dance are such an integral part of Latin Culture that it's almost impossible to separate one from the other. When you set foot in the tropics you can feel the syncopated rhythms and the exotic beats running through you. And there's nowhere better to immerse yourself in the joyous expression of Latin Dance than in Cartagena.
The rich and varied history of Central and South America blend with the unique flavor of the Caribbean to create a completely unique mix of passion, expression, and motion joined at the hip with Cartagena. You can see this vibrant explosion of pride and witness the celebration of life across the city—street artists perform on the corners, dance troupes put on staged exhibitions, salsa clubs spill their energetic patrons onto the streets.
Cartagena is truly a city in motion!
Here traditional Latin Dances like salsa, cumbia, and champeta tell the story of the peoples and cultures that came before. With elegance and precise movements these dances harken back to simpler times when the celebration of life was delicately woven into the fabric of a physical history. But modern dance has come to Latin America including hip-hop, reggaeton, and salsa cali. These blend effortlessly with old styles in a melting pot of motion. Their sensual moves and high energy compliment a lust for life that is an essential part of Latin Culture.
Latin Dance Lessons in Cartagena with Crazy Salsa
When the music calls to you, it's your turn to heed the centuries old tradition and dance! And there's no better way to truly experience Latin Culture during your travels than to learn Latin Dance in Cartagena. Whether you want to take that knowledge back to friends and family at home or keep this passionate secret for yourself, Latin Dance lessons in Cartagena will make a souvenir you'll remember for a lifetime.
Crazy Salsa offers a variety of Latin Dance classes, specializing in salsa, merengue, rumba, and bachata. Located in the heart of Old Town, Crazy Salsa channels the spirit of Latin Dance to infuse even beginners with the rhythms they need to survive a night at any of Cartagena's many dance clubs.
Introductory drop-in classes throughout the week for just $30.000 (COP) (about $10) allow travelers of any skill level to get their feet wet and taste the joy first-hand with other newcomers. If you'd prefer private lessons, the instructors at Crazy Salsa offer individual tutelage for just $70.000 (COP).
And if you already have some Latin dance experience, Crazy Salsa's advanced classes and intensive workshops will help you bring your skills to the next level.
So next time you're in Cartagena, don't be content to stay a wallflower. Learn to move your body to the Caribbean beats and get out on that dance floor.
For more information, visit crazysalsa.net
Centro Cr 7 Calle de las Carretas #34-23
Phone: +57 (5) 660.1809
Mobile: +57 300.561.9428
E-mail: [email protected]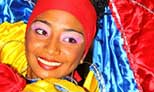 Colombia's Traditional Costumes
Reflect a rich blend of Spanish, Caribbean, Amerindian, and African influences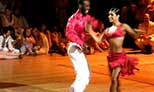 Latin Dance Couple
Popular dance styles Salsa, Merengue, Vallenato, Cumbia and Bambuco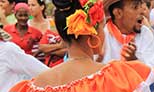 Colombian Dancers
Cartagena's Independence Celebration and National Beauty Pageant brings people onto the streets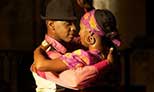 Salsa Dancing
Couple Salsa Dancing. Salsa originated in Cuba and Puerto Rico