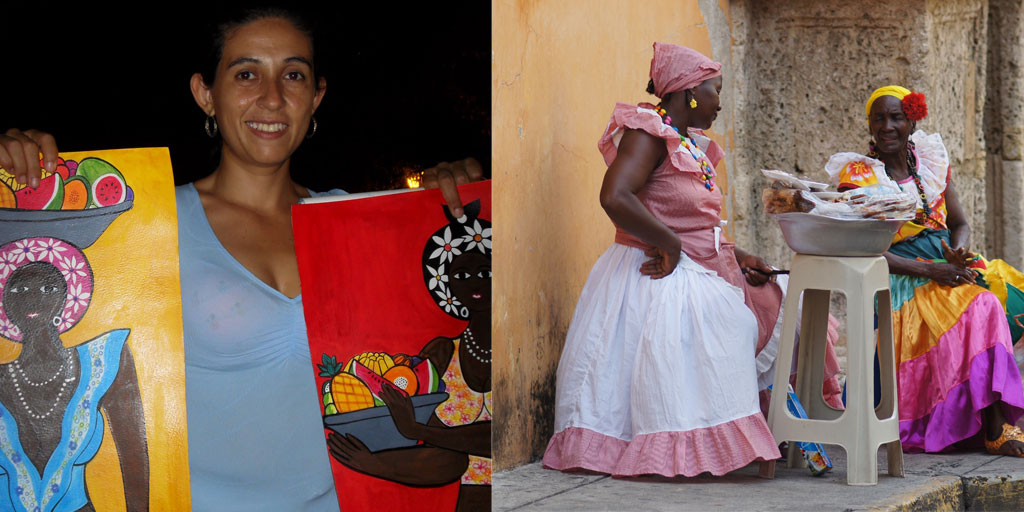 Walking Tours in Cartagena
Looking for the perfectly authentic way to experience the vibrant culture and rich history, delectable dishes, and colorful characters Cartagena has to offer? A walking tour of the city lets you experience this Caribbean gem in a completely uncensored way. Walking tours in Cartagena put you in the heart of the city right at street level—see and smell the exotic food and tropical blossoms, feel the rhythmic salsa and champeta music, touch the outstanding Spanish colonial architecture! Walking tours of Cartagena help you make very real memories you'll not soon forget.
Cartagena is built for walking. Because the old city and Getsemani district is so small you can take it all in at a relatively leisurely pace without the rushing and the on-and-off-again of typical bus tours. And because the city is so compact, you'll see historic and cultural sites around every corner from Catholic cathedrals to restored Spanish Colonial masterpieces and even centuries-old military fortifications.
Of course there are plenty of newer attractions like street food vendors, musicians, and street art (both performance and pictorial) to peep along the way so be sure to pack your camera and a sense of adventure.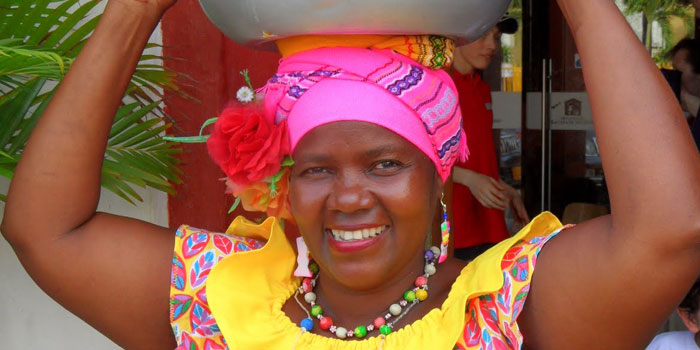 Where Will Walking Tours of Cartagena Take You?
To call Cartagena a melting pot is an understatement. Even today you can still see bits and pieces of a rich history and cultural heritage that combines that of indigenous tribespeople, Spanish Colonial gold and cash crop harvesting, African slavery, pirates of the Caribbean, Catholicism, the Spanish Inquisition, and much more!
All of this diverse blend is reflected in everything you'll see from the art and architecture to the music and even the food of Cartagena.
History buffs and old souls will love experience historical walking tours of Cartagena and learning about the layers of indigenous, Caribbean, Spanish, and Colombian cultures which built Cartagena into one of the most exciting cities in the Caribbean.
These historical foot tours of Cartagena will no doubt take you through the Old Walled City and put you face to face with fortifications built centuries ago to repel pirates, privateers, and marauding armies from enemy empires. You'll also see gorgeous Catholic cathedrals, ornate Colonial government buildings, and even the seat of the Spanish Inquisition in the New World.
Foodies will love the amazing diversity and local specialties you can find on just about any street corner. Foodie walking tours of Cartagena will invariably end up in Getsemani. This up and coming neighborhood was once a rundown area but has been reborn as the cultural heart of the city. And nowhere is that culture more apparent than in the food Cartagenans eat.
Getsamani is full of street vendors and lovely little eateries offering a unique sampling of the diverse culinary culture that's arisen in the past decade or so. Enjoy the mix of Spanish and Caribbean cuisine with a healthy dose of delicacies fresh from the sea.
Group Walking Tours of Cartagena or Solo Guided Adventures
Group tours are an affordable way to see the city. You'll often receive a considerable discount when booking an existing group tour and they allow you to experience Cartagena while mingling with fellow travelers like yourself. What to expect Cartagena Connections
But if the "group thing" isn't your bag, personal private tours can be arranged to a variety of destinations including those outside the old city center and Getsemani. Private walking tours of Cartagena can take in any of the sites you want to see from the historic Castillo San Felipe de Barajas which rises imposingly above to the mangrove forests and fishing villages which lay just outside the city itself. Private guided walking tours of Cartagena are the perfectly intimate way to experience this beautiful city on your own terms.
When you book a rental property with us, our exclusive complementary concierge service can put you in touch with expert guides to help plan the perfect walking tour of Cartagena for two people or twenty.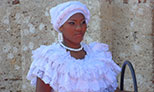 Palenquera Fruit Seller
There are plenty of places to get traditional fruits and Sweets from Vendors on the streets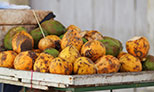 Coconuts for Sale
Vendor and Cart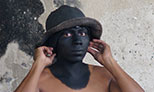 Black Faced Street Performer
A Member of the Asociacion de Artista Escemico de Cartagena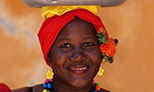 Palenquera Fruit Seller
On the streets of Cartagena