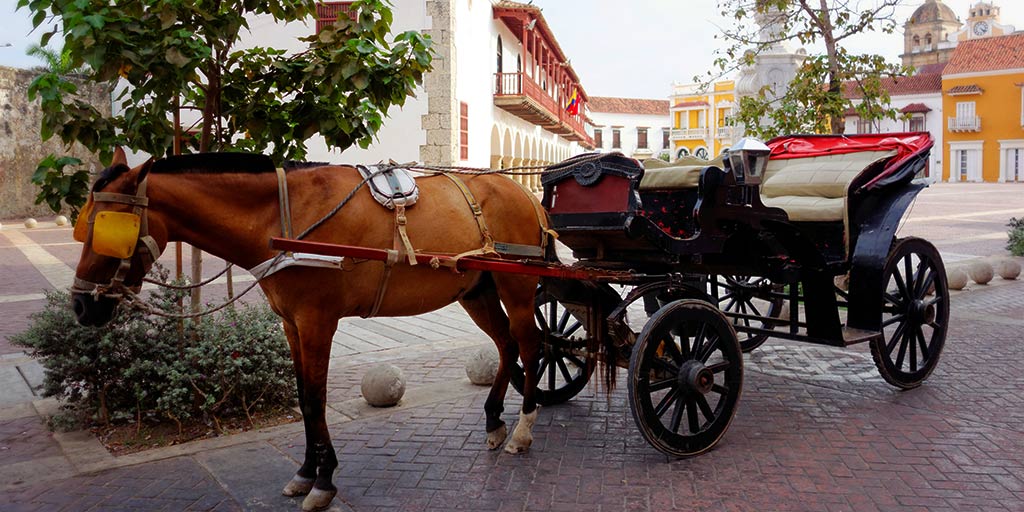 The Districts of Cartagena
With a deep history reaching far back past the Spanish Colonial occupation and a new and vibrant metropolitan outlook, travelers can find something to delight in no matter their interests. Cartagena Colombia is a city of wonders. Throughout the districts of Cartagena you'll find unique and interesting attractions that will make your stay in this Caribbean gem unforgettable. Below is a quick peak into what each of the districts of Cartagena offer and some highlights for each to make planning daytrips and explorations easier.
The Old City
This Old City district in the city's center is truly the heart of Cartagena. The oldest part of Cartagena was walled in during colonial times by stone and masonry fortifications to keep pirates, privateers, and rival nations out of this thriving seaport. Many of these fortifications remain in excellent condition, encircling winding Colonial streets lined with amazing buildings that are hundreds of years old.
Here you'll get the most authentic representation of where Cartagena came from. You'll find museums, centuries' old cathedrals, lovingly restored Spanish Colonial mansions and government buildings in bright Caribbean colors, and cultural displays of art, music, and dance on nearly every street corner. The Old City is a photographer's dream destination with amazing architecture and colorful faces everywhere you look.
When it's time to rest and recharge, you'll find many boutique eateries serving local specialties to tempt your taste buds and fine dining options available for special occasions.
Getsemani
Getsemani is truly a sight to behold. This new and vibrantly reimagined district has carved out a place for itself as the entertainment district in Cartagena. Just a few minutes' walk from the Old City, Getsemani is home to some of the best restaurants and nightclubs in Cartagena including those famous enough to bring travelers from all over the world—like Café Havana.
During the day Getsemani can appear a bit sleepy. However, you will find some extraordinary artists' exhibitions and galleries here. Many in-your-face pieces are installed right along the street where graffiti has been turned into high art.
When the sun goes down this district really heats up. Get to Getsemani early for some of the best food you'll find anywhere in Cartagena and stay late for the music and dancing!
A number of eateries specialize in local dishes but Getsemani is also home to a unique mix of world cuisine as its reputation has drawn chefs and restauranteurs from around the world. After dinner stroll through the narrow streets and listen to the beat of salsa music spilling into the streets. Relax with a few icy cocktails and cool down from the heat of the day.
Rosario Islands
The Rosaria Islands are a chain of small spits of land just minutes by boat from the center of Cartagena. One of the most popular of these is Isla de Baru, or Baru Island. Here you'll find Playa Blanca, hands-down the best beach in Cartagena and maybe the best beach in all of Colombia. With crystal blue waters and white sandy beaches Playa Blanca is definitely what most travelers dream of when someone mentions a tropical getaway.
Relax on the beaches, indulge in watersports of all sorts, eat local delicacies served fresh from the ocean, drink frozen cocktails and be merry.
If you're looking for something a little more adventurous, snorkel and scuba excursions can be booked so you can get an up close and personal look at the sea life—including one of the largest and most important coral reefs in Colombia.
You can easily arrange a day trip to any of the island or reserve accommodations for overnight and multi-night stays. Regardless of how long you're in Colombia, the Rosario Islands are a must see.
Bocagrande
Bocagrande is a monument to the modernization of Cartagena. Located along the beach, a forty minute walk or ten minute taxi ride from the Old City, this region became home for many of the prosperous families which lived in the old city during the 1950s. They moved to the beach, creating high-rise hotels and condos along the southern edge of the city. Commercialization followed and Bocagrande became the sort of high-end tourist trap in this historic city by the sea. With plenty of excellent restaurants and shopping along the shore, Bocagrande offers cosmopolitan travelers an escape from the bohemian feel of Cartagena's more authentic districts.
The beaches along this stretch of Cartagena are as good as they get inside the city (though by no means white sand and crystal water). However, they are a mix of public and private stretches that are often crowded with tourists and vendors of all sorts.
La Boquilla
La Boquilla is one of the most artificial districts of Cartagena. Reimagined as a sort of luxury resort right in the middle of a deserted beach, this stretch of mediocre shoreline to the north of the Old City (10-15 minutes by taxi) is home to rows upon rows of modern luxury condominiums. While there is no denying the beauty of Cartagena (no matter which district you find yourself in) La Boquilla has a sort of carbon copy feel to it, as if you might find these whitewashed buildings with red roofs anywhere in the world.
These stand in stark contrast to the buildings owned by locals (often just tin roof shacks) that fill the voids between these luxury accommodations.
The dark sand and water you'll find here aren't what travelers expect when they think of Caribbean beaches but the seafood restaurants are truly amazing though far from fine dining. These "quaint" and low-key shacks (sometimes just canvas roofs) they serve ceviche, grilled fish with coconut rice, and other delicacies native to the region right on the beach.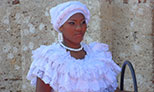 Palenquera Fruit Seller
There are plenty of places to get traditional fruits and Sweets from Vendors on the streets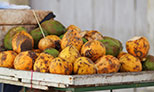 Coconuts for Sale
Vendor and Cart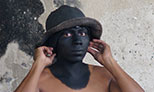 Black Faced Street Performer
A Member of the Asociacion de Artista Escemico de Cartagena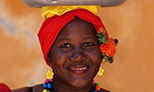 Palenquera Fruit Seller
On the streets of Cartagena