Experience the Rebirth of Getsemani Cartagena Firsthand
Cartagena's Old City offers travelers authentic Spanish Colonial charm but if you're looking to mingle with locals and travelers "in the know" then you'll want to take time to visit Getsemani. This neighborhood has quickly turned into something of a cultural hub for this historic city and has jumped onto the international travel scene attracting visitors from all over the world who have come to soak up local culture while sipping mojitos. In fact, one such travel writer knighted the Getsemani district as the "hippest" new neighborhood in Cartagena.
Getsemani's Renaissance
Just outside the walls of Cartagena's Old City, Getsemani was once a barrio (ghetto) home to servants who catered to the rich upper class. The neighborhood descended into poverty, prostitution, and drugs in the 1980s and 90s (not unlike New York in the 1970s). However, the neighborhood has undergone an extensive Renaissance in the past decade and locals have reclaimed the neighborhood as the true heart of Cartagena. Not only is Getsemani becoming one of Cartagena's fastest growing entertainment hotspots (featuring jazz and salsa clubs), it's also become iconic in the Caribbean circuit for foodies.
Colonial Streets
When you slip into these narrow colonial streets you'll be enthralled by the architecture (dating back hundreds of years) and it's easy to get overwhelmed by the sights, sounds, and smells. One of the first things you'll notice is the beautiful street art (too good to be called graffiti) created by dozens of exceptionally talented local artists. One visitor compared these bright and colorful pieces to an open air art gallery through which you can stroll.
And the smell of exotic and wonderful foods cooking will surely help you work up an appetite. For the foodie in you Donde Pepina brings an exotic blend of traditional Caribbean fare and Colombian specialties. You'll find the freshest of fish ceviche (a local favorite), empanadas, stuffed peppers, and fried plantains. But feel free to explore as there are dozens of tapas bars and places you can sample small plates all along your journey. You never know where your taste buds will take you.
Stick around after the sun goes down and you'll hear some of the best jazz and salsa music spilling into the streets from dance clubs like, Café Havana or Quiebra Canto. Sip some cocktails, mingle with the international crowd, as you let the music take you away.
Of course there is plenty to do and see in the Old City but if you want to break free from the "tried and true" visit the Getsemani neighborhood for a truly unique experience in Cartagena.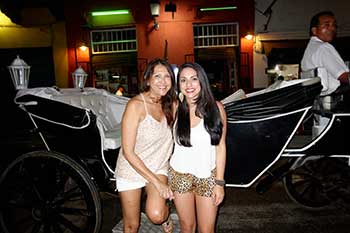 Club Havanna
Arriving outside Club Havanna by Horse and Carrriage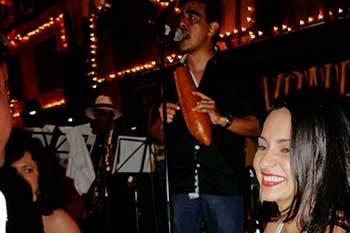 Live Salsa
In Café Havana to the early hours of the morning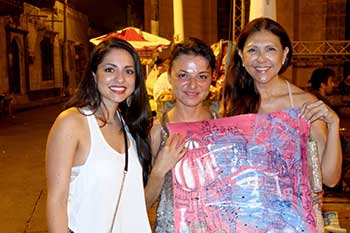 Street Artistans
in Getsemani's Plaza de la Trinidad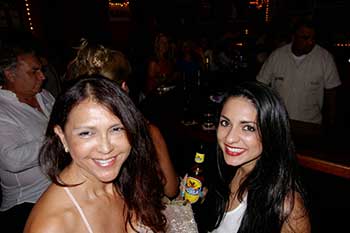 Party all Night
It isn't hard to get into the mood of the Cuban vibe in Café Havana with live salsa