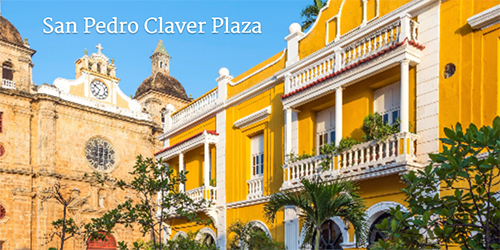 Colonial Architecture of Cartagena
Cartagena's rich history and heritage shines through in its beautiful architecture, which has become one of the main attributes of this charming Colombian town.
Located on the southern coast of the Caribbean Sea, Cartagena's history dates back to the 16th Century when the city was a bustling hub of the Spanish empire. Playing the role of an inquisition center for the Catholic Church and a base for the slave market in South America and the Caribbean region, as well as being the region's most shipping port between the New World and Spain, the city's architecture is a beautifully preserved reflection of this once burgeoning city.
UNESCO World Heritage Site
Most of the architecture from this time can be found in The Old City, now a UNESCO World Heritage Site, in which a maze of charming colonial churches, homes, plazas, and fortifications is protected by colossal stone walls that surround the city.
These massive walls, spanning 11-kilometers, were built to protect the town from the constant plundering of pirates, and along with several fortifications, such as the Castillo of San Felipe de Barajas, took over two hundred years to complete. The Castillo of San Felipe de Barajas housed 63 cannons, buildings for water, food and weapons storage, as well as an intricate network of tunnels, and held off many an attack from both pirates and the British throughout history. During the 17th Century, the Castillo of San Felipe de Barajas became known as the strongest Spanish military structure in the New World.
Cathedral of Cartagena
Cartagena is also home to a number of religious buildings from colonial times, such as the magnificent Cathedral of Cartagena, also known as the Church of Santa Catalina de Alejandría; the Church of Santo Domingo, and the Convent of La Popa, that stands sentry on the highest hill overlooking the city.
Castillo San Felipe de Barajas
The Fortress dominates approaches to the city by land or sea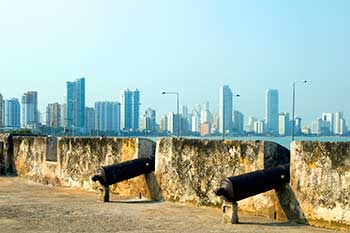 Cartagena
With the more modern district of Bocagrande in the distance outside the Old City walls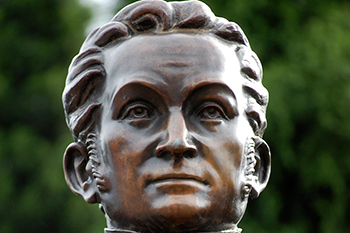 Simon Bolivar
He led Venezuela, Colombia, Panama (part of Colombia during this period), Ecuador, Peru to independence from the Spanish Empire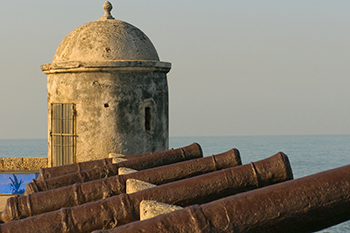 Cartagena Old City Wall
Built in the 16th Century and still an impressive reminder of days gone by