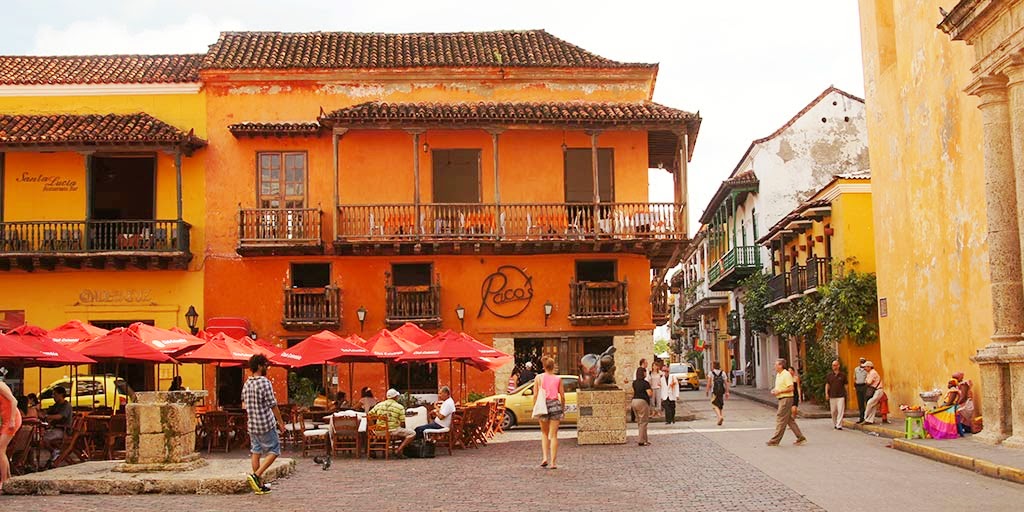 The Plaza Santo Domingo in Cartagena
This colorful plaza is located in the heart of the historic Walled City of Cartagena, making it a great place to meet up with friends before sightseeing or a night on the town. Surrounded by beautifully restored Spanish Colonial architecture, a Botero Statue, Plaza Santo Domingo is actually named for the famous church that sits at its edge. The Church of Santo Domingo is not only is the one of the most visually stunning churches in Cartagena it's also the oldest (originally founded in 1551).
Plaza Santo Domingo: The Center of it All
The Plaza Santo Domingo is pretty sleepy during the morning hours but, as Cartagena wakes up and world travelers begin their exploration of this Caribbean gem, it gets lively fast. Everybody gravitates toward this bastion of culture, art, and history!
It's a wonderful place to escape the heat of the day but stick around until the sun begins to slide toward the horizon and you'll see another side of Plaza Santo Domingo entirely. As the restaurants around the square open up their outside seating and local musicians and singers come out to put on a show, the whole plaza takes on a casual party vibe that's really something special.
And if you feel the urge to dance, the salsa clubs around the plaza offer both music and liquid courage you need to get the show started. However, Santo Domingo is also within walking distance of nearly everything, including the clubs in the Getsemani entertainment district.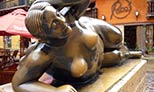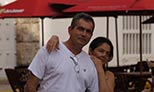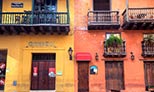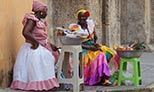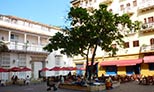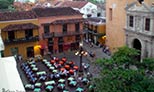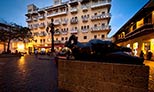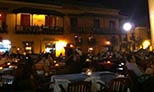 Fabulous Food and Drink in Plaza Santo Domingo Cartagena
And let's talk about the food (and drink) shall we? The Plaza Santo Domingo is filled with numerous restaurants and bars, so many (and with such a wide variety of cuisines) that you're sure to find someplace cozy everyone in your group will love. From simple pub fare and small plates to Italian, Spanish, and even Australian Fusion—you can travel the world without walking more than a half mile.
With so many delicious offerings the plaza is a great place to have a bite to eat (day or night). It's also an excellent place to simply sit, sip a beer or glass of wine, and watch Cartagena flow by under the Caribbean sky.
Bring Home a Piece of Colombia
While it is a bit "touristy" thanks to the competition you can usually get a pretty good price on homemade handicrafts like beaded jewelry, necklaces made from delicate and colorful chirilla seeds, and authentic Colombian mochila handbags made from native wool from the street vendors in Plaza Domingo.
Whether the Plaza Santo Domingo is your destination of choice or simply an interesting place to rest and refresh for a bit before you explore the rest of what Cartagena has to offer, you owe it to yourself to see this vibrant little plaza first-hand while you're here.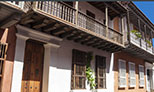 Old Colonial Street
in the Old City of Cartagena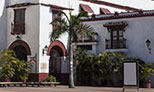 Antiguo Convento de San Francisco
Antiguo Convento de San Francisco in Cartagena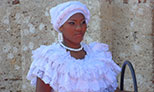 Palenquera Fruit Seller
There are plenty of places to get traditional fruits and Sweets from Vendors on the streets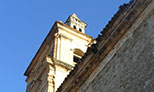 San Pedro Claver
Towers and Clock