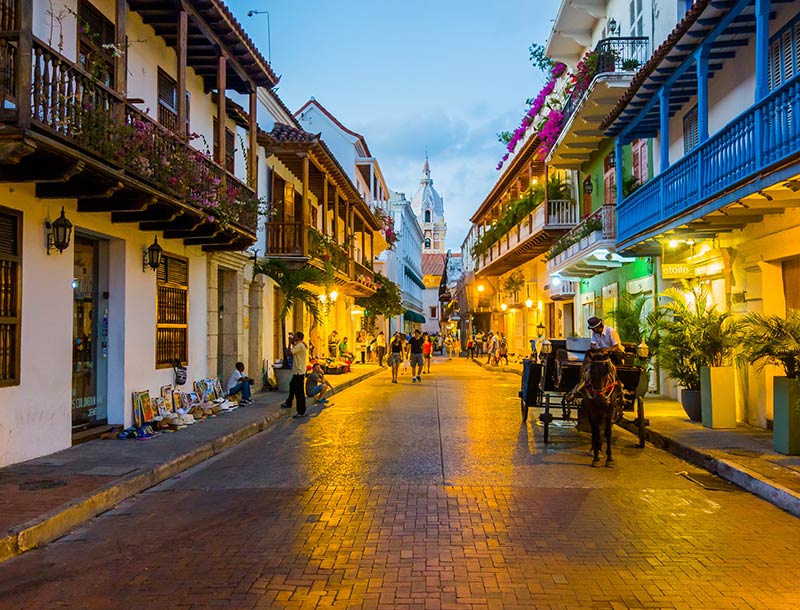 The Only Risk is Not Wanting to Leave
First-time visitors may be a little leery of vacationing in Cartagena. After all, the common preconception is that Colombia is still "The Wild West" of South America with revolutionary groups, drug cartels, and kidnappers running rampant. This perception isn't helped much by popular television and movies. But take it from us, traveling to the tourist locations and staying in well-traveled areas in the city is perfectly safe.
Indeed, Cartagena has positioned itself high upon the rankings of tourist hotspots in the Caribbean with a flourishing gustatory scene, amazing cultural exhibitions, and historic sightseeing opportunities unlike anywhere else in the world.
In fact, in Cartagena is the second-most popular tourist destination in Colombia for foreign travelers (behind only Bogota). Last year alone there was an astounding 11% increase of foreign vacationers coming into the country from all over the world!
Cartagena Safer than Cities in The U.S
With the disbanding of several criminal organizations, the increase in police presence, and the growing popularity of tourist destinations in Cartagena, the amount of crime in the city has plummeted in recent years. In fact, Cartagena is officially the safest city in Colombia. Indeed, 2017 crime statistics show that Cartagena (and the other large cities in Colombia) are actually safer than many cities in The United States. The main tourist locations (like Bocagrande, The Old City, and Getsemani) are perfectly safe for vacationers.
Even The United States Department of State Bureau of Diplomatic Security (which is in charge of assessing threat levels for American citizens and bureaucrats) says that "crime levels in the major tourist areas of Cartagena, including the historical center (El Centro, San Diego) and neighborhoods of Getsemani, Bocagrande, El Laguito, and Castillogrande, are considerably lower . . . ."
Individual travelers, couples, and families have been coming to Cartagena in droves since 2016 and have enjoyed amazing, safe vacations that they'll remember for a lifetime.
Smart Tips to Help You Stay Safe in Cartagena
Don't Paint Yourself a Target
Worldly tourists who have traveled abroad before know that property crimes are always the most prevalent in high-traffic tourist destinations.
The United States Department of State Bureau of Diplomatic Security states that the primary driver of crime against tourists and officials with business in Cartagena is "the perception of wealth" as in all vacation destinations around the world That means to keep yourself safe you should always minimize displays of wealth.
Don't flaunt expensive jewelry, cameras, or other items that can quickly and easily be snatched away. Don't carry a lot of cash with you. Don't leave valuables unattended.
Disbanding of FARC
In 2012 the Colombian government opened negotiations with The Revolutionary Armed Forces of Colombia (or FARC). In late 2016 they signed a peace treaty which began the immediate and swift disbanding and disarmament of the revolutionary group. While there are still several smaller revolutionary groups in the country (and some organized crime) the systematic crimes perpetrated against Western travelers for their political value have, for the most part, ceased.
Cartagena Awaits with Open Arms
The tourist industry provides millions of dollars annually to the local economy in Cartagena. And, as is common in tourist destinations around the world, the city has implemented changes to protect that financial investment. Indeed, many infrastructural changes, law enforcement improvements, and public outreach campaigns have been specifically designed to make the experience of vacationers in Cartagena better, safer, and unforgettable.
So don't let those antiquated notions about Colombia scare you away from having the best time of your life. Trust your local Cartagena vacation planners and let us show you how to have an amazing vacation in this tropical paradise.
Just follow the Colombian tourist slogan that more and more holidaymakers that come to our beautiful and magical city can testify to.
'THE ONLY RISK IS WANTING TO STAY'