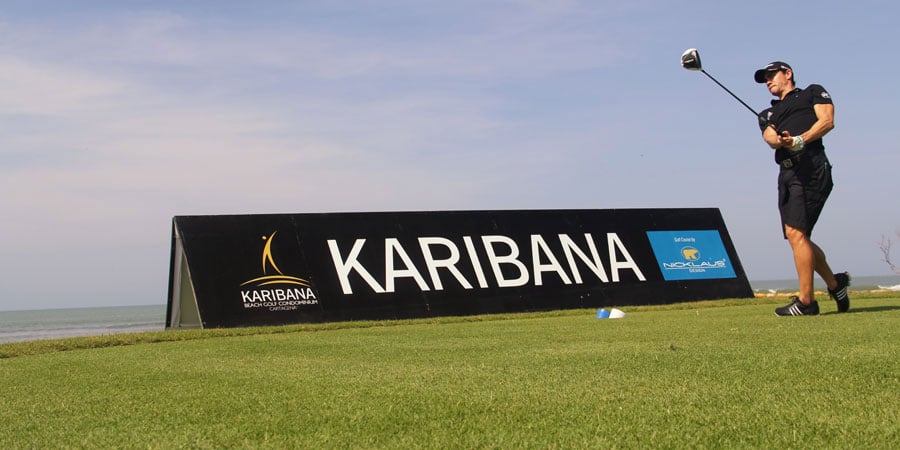 TPC Cartagena at Karibana—the Best Golf Course in Cartagena!
A Caribbean holiday is the perfect time for a little rest and recuperation but there's more to do while vacationing in Cartagena than see the sights and sit in the sun and sand. For those of us who like a little leisurely recreation on our dream vacations, golf is the ultimate escape. And there's no better place for a round of golf than the exquisite TPC Cartagena Golf Course at Karibana.
This luxurious 18-hole golf course is one of the newest (and quite possibly best) golf courses in Cartagena—maybe all of Colombia. Officially opened in late 2012, the course takes full advantage of the natural beauty of Cartagena including the lush forests and dazzling views of the Caribbean. The course is now home to the Cartagena de Indias at Karibana Championship (in addition to a number of other tournaments throughout the year) but is open to the public as well.
Picture it: strolling through Cartagena's historic (and picturesque) Old City for an early breakfast before hitting the lush links at Karibana. End the day with a wonderful dinner at any of the exquisite restaurants in the city or cocktails and music in Getsemani.
And when you stay at our luxury vacation rental homes in Cartagena, our complimentary concierge service can arrange reservations and travel to and from Karibana with a simple telephone call.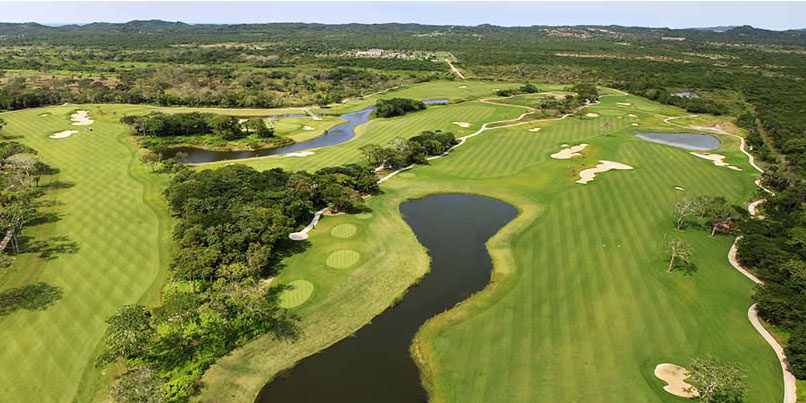 Luxurious Recreation Crafted by a Pro
TPC Cartagena at Karibana is one of only two 18-hole golf courses in Colombia created by Nicklaus Design—famed pro-athlete Jack Niklaus's family-owned design firm. Niklaus is a titan of the sport and together with his son has built a top-tier design house responsible for some of the most spectacular and innovated golf courses in the world. That passion and respect for the game is evident everywhere at the Karibana golf course in Cartagena.
The front nine holes dance through six artificial lakes and are surrounded by natural forest full of colorful wildlife and floral explosions. The back nine feature stunning ocean vistas and are bathed in the fresh sea air straight off the Caribbean!
Technology Makes Playtime Easier
Technology is at the very heart of these newer Nicklaus designs and TPC Cartagena at Karibana golf course is no exception. State-of-the-art systems were built to keep the grass ideal all year long (quite a task in Cartagena's tropical sun). Even the golf carts are smart, built to prevent damage to the course! They're also equipped with GPS tracking systems (which may sound like overkill but it comes in handy when you're feeling a bit puckish or run out of liquid refreshments). That's right, the carts are wirelessly linked to the dining room and the bar—have refreshments delivered or waiting for you when you get back!
Squeeze in Tee Time on your Next Cartagena Vacation
Cartagena is an historic and storied city full of wonderful sights, sounds, and taste sensations but sometimes a little time on the green is just what the doctor ordered. Are you an enthusiast? An amateur? A pro? PTC Cartagena at Karibana is a wonderful course for players of all ability levels so take full advantage of this gorgeous gem on your next luxury vacation in Cartagena.