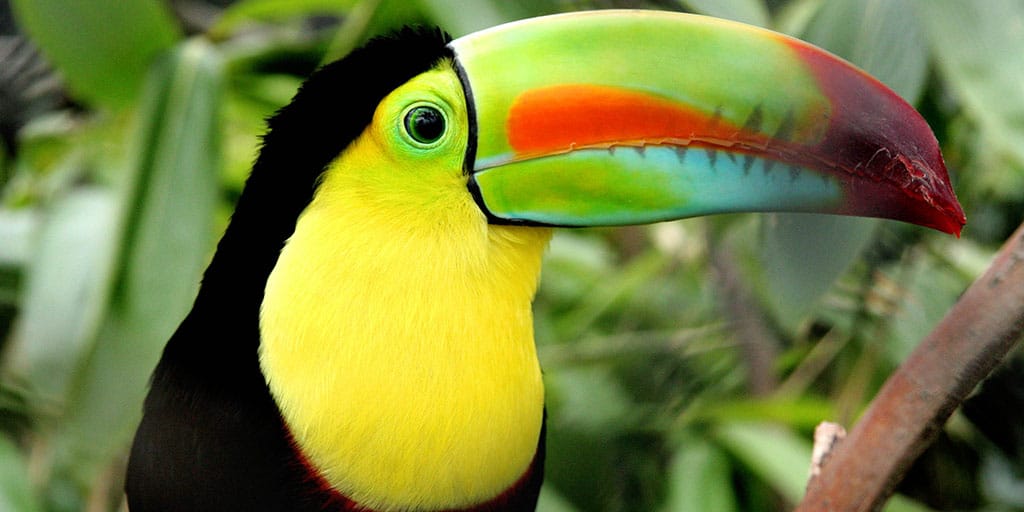 Avario Nacional de Colombia Near Cartagena
Colombia's natural beauty is one of the things that entices people to vacation in Cartagena. The warm and inviting Caribbean, the lush forests, the deep-rooted history and culture blanketed by the perfect blue sky—Cartagena is full of romance and wonder. And now there's one more reason to visit: the Avario Nacional de Colombia/ Colombian National Aviary. This park celebrates and showcases the abundant natural winged wildlife of South America for all to see. Colorful, musical, and majestic these birds will take your breath away when next you visit Cartagena.
The National Aviary — a Bird Lover's Paradise
Located on Baru (just a short ride from the heart of Cartagena) this 6 acre nature preserve is home to an amazing array of over 2,000 birds from 140 separate species. Guests wander well-groomed trails at their leisure, winding through various bird habitats (including a recreation of the rainforest complete with waterfall and splash pool for the flamingoes to play in!)
This excursion is wonderful daytrip for children and the curious of any age in Cartagena. Along the self-guided tour you'll find helpful signs that share facts about each species of bird as you encounter them. There's also a gift shop near the entrance where you can buy souvenirs to commemorate your visit and books so you can keep on learning even after you've gone home.
Make a New Feathered Friend in Cartagena
The National Aviary near Cartagena is unlike any other nature preserve in the region. The creators went to great lengths to faithfully recreate the natural habitats of these birds yet the whole park is designed in such a way that visitors can get up close and personal. The habitats of the rarer (or more dangerous) species are enclosed but many of the birds are free to go where they want—including right up to greet you!
Some of the feathered stars of Colombia's National Aviary are the toucans (with their enormous beaks), the vicious-looking harpy eagles, and Colombia's National Bird the endangered Andean Condor.
Rare and Endangered Birds You Won't See Anywhere Else
Many of these birds are the last of their kind. In fact, there are 15 species at the National Aviary that are in critical danger of extinction. Dozens more are on the endangered species list. They're kept here in captivity and cared for by experts so that their species might survive.
Owner and creator Rafael Vieira spent the last ten years building this aviary from the ground up. Many of the birds in the collection were gifted to the organization by Vieira and his wife. Some were even part of the wildlife exhibits at the popular Oceaniario waterpark and aquarium.
How to Get to the Aviary
While getting to the Aviary can be a bit difficult (public transportation from Cartagena isn't available) guests staying at our luxury vacation home rentals in Cartagena can easily arrange travel with a single telephone call. Our complimentary concierge service can arrange for a taxi or private car to pick you and your guests up anywhere in Cartagena then drop you right back at your door when the day is done.
Admission to the National Aviary is $18 (with discounts for children). While the exhibition is open to everyone, please keep in mind that the self-guided tours require walking considerable distances.
Gissell González Hurtado
Email: d.comunicacionesymercadeo@aviarionacional.co
Cel: (57) 317 675 7135