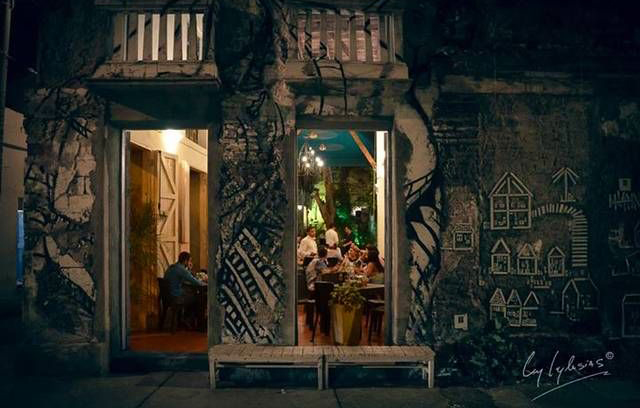 Good Food in a Hotspot without the Hang-Ups
There's something about Italian food when you're enjoying a seaside escape that just can't be matched by any other cuisine. It's almost enough to fool yourself into believing you're vacationing somewhere on the Mediterranean—especially when you're staying in one of our exclusive vacation rental homes that share so many architectural hallmarks of an Italian or Spanish villa.
But sometimes you're not interested in one of those stuffy restaurants that require a jacket and tie for you to fork over a huge amount of money for a mediocre meal. Sometimes you just want affordable food that fits the bill in a relaxed atmosphere. Di Silvio Trattoria is the place you're looking for.
Here you'll find authentic yet unpretentious Italian food in a clean, laid back environment. Located in Getsemani—the up-and-coming part of Cartagena that's all about the nightlife—this little restaurant is known by locals and vacationers alike for its great pizza. After all, what's better before or after an hour or two in a hopping night club than a hot slice?
The Menu
You'll find something to tempt even the most jaded taste buds from traditional pizza offerings like mushroom and Margherita to more adventurous pairings like the Diavola (pepperoncini and hot chorizo) and the Cartagena (stewed meat with baked plantains).
Of course, if you're not in the mood for pizza, you'll also find all of your authentic Italian favorites including pasta dishes as well as a variety of Antipasti packed full of Italian flavors and ingredients like prosciutto, capers, parmesan, and pesto.
In fact, the menu has so many offerings that Di Silvio Trattoria is by many consider it the best Italian menu in Cartagena.
The Vibe
Designed to be open and inviting, Di Silvio Trattoria offers an open-air feel through the creative use of large windows and doors, high ceilings, and outside seating at the back. You'll also notice that they're Getsemani location strays from the "uniform" look of most restaurants in the area (dark woods and distressed materials) favoring a much lighter palette and more whimsical décor.
This blend of atmosphere, good food, and affordable prices has quickly made Di Silvio Trattoria very popular among people vacationing in Cartagena as well as locals who want to grab a great meal without paying too much.
In fact, this restaurant has become so popular they've opened two other locations: Bocagrande and Ronda Real (both of which offer a slightly more upscale experience). But, for our money, the original location is still the best.
How to find Di Silvio Trattoria
You can call +57 5 6602205 with questions or make reservations. If you hit them at the right time (or don't mind waiting a while) you can simply stop by Getsemani Calle de la Sierpe 9A 08 Tuesday through Sunday from 6:30 PM.