Short term rentals Cartagena Colombia
Each prestigious luxury home rental has its own unique charm. The properties range from 3 to 15 bedrooms and accommodate any number of guests. Almost all of the properties come with rooftop gardens and swimming pools—the perfect place for a lazy breakfast before starting your day or intimate "unwinding" at night. The vast majority of our homes come with discreet live-in housekeepers to make your vacation a true escape from the every day. Every property captures the "New World" essence and preserve their historical value and have been updated to house the modern amenities you'd expect from a first-class vacation rental. Centrally located, in the old city letting you explore any of Cartagena's offerings with ease. We welcome you to explore our luxury home rental collection using our property search facility below and we are confident that you will find a perfect home rental to spend your time in our beautiful Cartagena.
See below a selection of our properties for rent in Cartagena and to tentatively book or Contact Us for more information. Whatever your requirements are, we are confident that we can deliver unrivaled rates due to our unique and personal relationships with the property owners.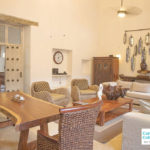 Starting at $700.00 per night
Casa Ruffo is an elegant home furnished by a top interior designer from Bogota. It has a spacious luxurious living room with ultra comfortable furniture. It is in one of the best locations within the old walled city of Cartagena de Indias due to it's proximity to everything yet, secluded and away from the hustle and bustle of the main streets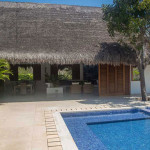 Starting at $850.00 per night
Casa Altea is an amazing house rental set in Baru and is on the beach surrounded by peace and tranquility with a private boat dock for 3 boats. The house has a central fixture of a swimming pool and open thatched living space that allows the breeze to flow through. All of Casa Altea's rooms have air conditioning and fans. A pergola for BBQ and is surrounded by beautiful gardens and greenery and comes with live in staff to cater for your every needs.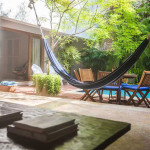 Starting at $850.00 per night
This fully furnished home rental in Cartagena's old city is designed with a modern touch that makes it attractive to travelers from afar. Casa Silva features 3 bedrooms all of which offer en-suite bathrooms and sleeps up to 8 guests. The public areas include multiple intimate seating areas, an open space living and an intimate dining area. While it is one of the smaller properties available, it is also one of the most affordable. A simplistic color scheme unites each level of this three-story property and makes it appear much larger than you might expect.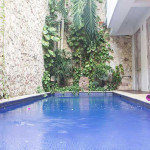 Starting at $850.00 per night
Casa Del Hobo is a historic Colonial-era home rental house that has been passed down through generations of the same family for the last 250 years. It has recently undergone complete contemporary remodeling, perfectly blending its traditional style and elegance with modern amenities.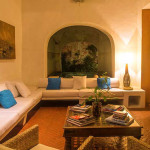 Starting at $1,300.00 per night
Casa La Palmera stately house with capacity of 12 people, located in the historic center of the city of Cartagena de Indias has 6 bedrooms all with private bathroom, air conditioning, LCD and fan. The property has dining room seats 8, kitchen with basic utensils, towels and amenities. On the third floor is the protruding jacuzzi with a view of the historical center and a small terrace next to the jacuzzi.
Starting at $1,400.00 per night
Casa Brisa is a breathtaking home built in the 16th Century is located within the Ancient Walls of Cartagena de Indias. The home has 5 spacious bedrooms all with en suite bathrooms; 2 on the first floor, 2 on the second floor and a master open space bedroom on the third floor.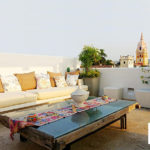 Starting at $1,500.00 per night
The property has 5 bedrooms and has an elevator to the second floor. Downstairs there is a central focused spacious area that is a great place for breakfast or simply to relax. Casa Lamar spoils guests with many available dinning areas. From the ground floor open courtyard to the dinning room or up to the roof top pool or even higher to the second level roof top that has spectacular views of the old city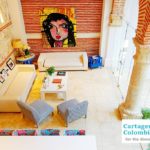 Starting at $700.00 per night
Casa Fusion is a colorful home with comfortable and luxurious modern furnishing within the Old City of Cartagena de Indias. It features a large pool at the entrance giving a refresh welcoming feeling. This gracious home has 3 bedrooms and 3 bathrooms. The house accommodates 6 people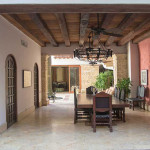 Starting at $700.00 per night
Casa Schumacher is a luxurious, 5-bedroom colonial townhouse that is more than 250-years old and has been fully restored to maintain its colonial charm, while adding all the modern conveniences. Located on exclusive Calle Don Sancho and near the beautifully restored Teatro Heredia and only about 50 meters from the 400 year-old fortress walls built by the Spaniards to protect the city.