Rent Your Dream Home in Cartagena
Our inventory of properties for rent in Cartagena consists of luxury villas and Spanish colonial style homes located right in the heart of the historical Old City and the Rosario Islands (Islas del Rosario).
Unique charm combined with an excellent location
Almost all of the properties come with rooftop gardens and swimming pools—the perfect place for a lazy breakfast before starting your day or intimate "unwinding" at night. The vast majority of our homes come with discreet live-in housekeepers to make your vacation a true escape from the every day. Every property captures the "New World" essence and preserve their historical value and have been updated to house the modern amenities you'd expect from a first-class vacation rental. Centrally located, in the old city letting you explore any of Cartagena's offerings with ease. We welcome you to explore our luxury home rental collection using our property search facility below and we are confident that you will find a perfect home rental to spend your time in our beautiful Cartagena.
Guest Concierge Services
Because you've chosen to stay with us in one of our luxury rental homes, you have access to our exclusive complimentary concierge service which makes anything you might desire just a phone call away.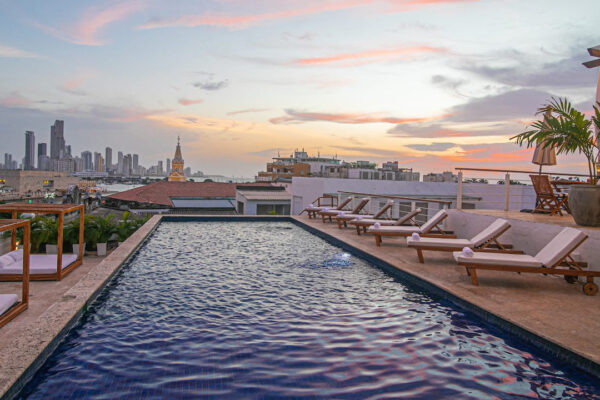 Starting at $2,800.00 per night
Casa Velero is in the center of the old city, this newly renovated 21-bedroom house, all with private bathrooms, is perfect for your vacation. Get the best of all worlds when you stay at this chic, modern, and this spacious home. The well-equipped accommodations put you a few minutes from all the best spots and tasty places in the historic city. With two private pools, a pool table, a spacious living room, and rooftop views, this amazing home is sure to please. The house also comes fully staffed with a butler, a cleaner, a chef, and night security.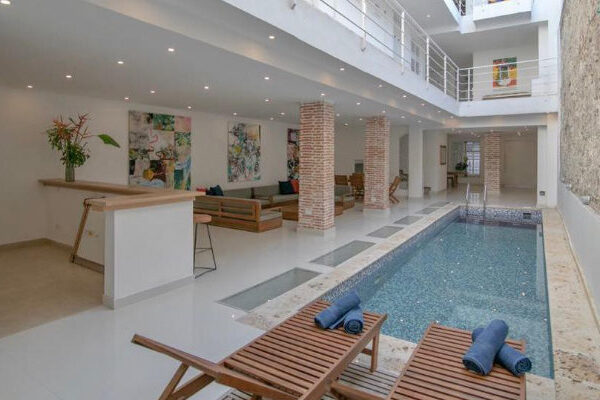 Starting at $1,800.00 per night
Live a pleasant stay in this fabulous house within the walled city of Cartagena de Indias. Casa Tumbao is spacious and with large open spaces outdoors. It has 2 swimming pools, a full kitchen, a games room, etc. The cleaning service and breakfast preparation are included in the price (ingredients not included). If you want a cook, we can add it at an additional cost.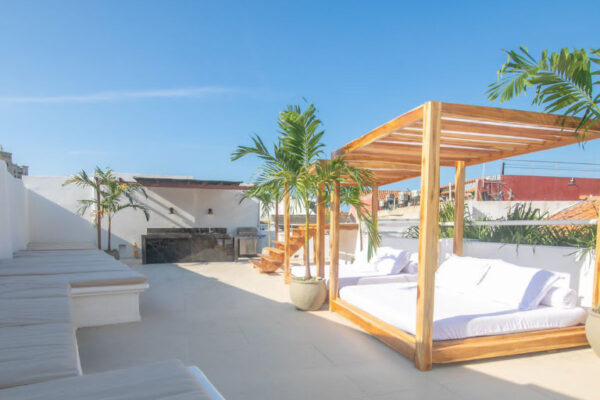 Starting at $2,900.00 per night
There is no better place to imagine yourself but enjoying this spacious 18 bedroom, 18 beds, 19.5 bathrooms home in the Center of 16th Century Cartagena, Colombia. Lounge around 2 beautiful pools with friends and family. Spend joyful times and make great memories at Casa Scallion. The grand terrace is equipped with a BBQ area. The rate includes the cleaning services, and a houseman/security 24/7. We can provide a full-time cook or chef for a small additional cost.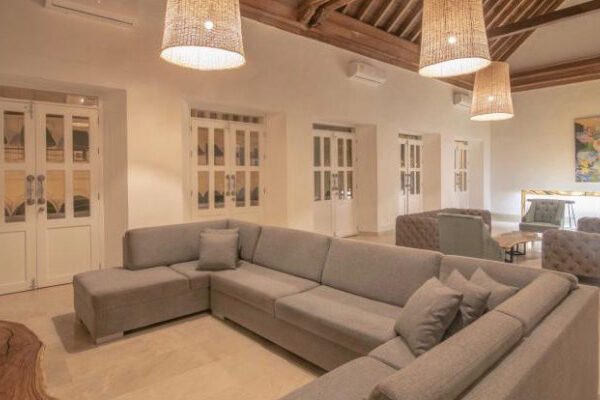 Starting at $2,800.00 per night
This 15 Bedroom, 16 bedrooms Luxurious Villa in Cartagena, Colombia, is available to host a fun vacation for an energetic group of friends and family. Located within walking distance to the center of Cartagena. Just step out of CASA SUN to enjoy restaurants, bars, clubs, historic sites, and all that the Old City of Cartagena has to offer. The rate includes the service of a housekeeper/cook and a houseman/security. We recommend hiring a full-time cook for an additional cost, payable directly to the assigned service person.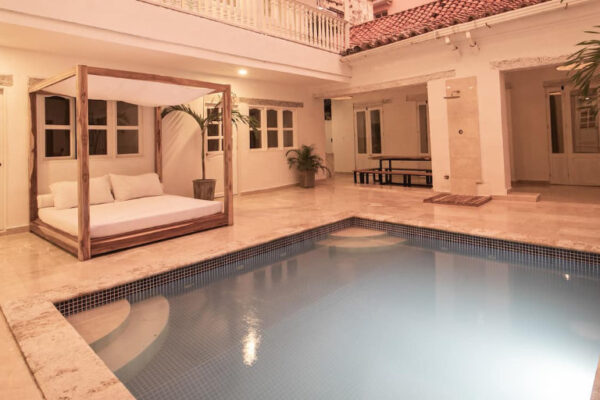 Starting at $2,300.00 per night
Seven thousand square foot mansion in the heart of Old City fully renovated and equipped with security, a butler, housekeeper, and a cook. Private swimming pool and a jacuzzi on the rooftop.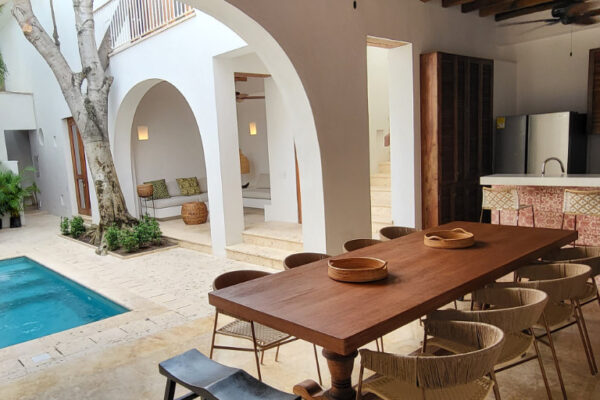 Starting at $550.00 per night
Casa Perla is a colonial home that has just been completely renovated and is now available for rent. The property has a modern design with a swimming pool, a kitchen equipped with the latest appliances and chill lounge cave near the pool. A fantastic location, located near the famous Santa Clara Hotel/p>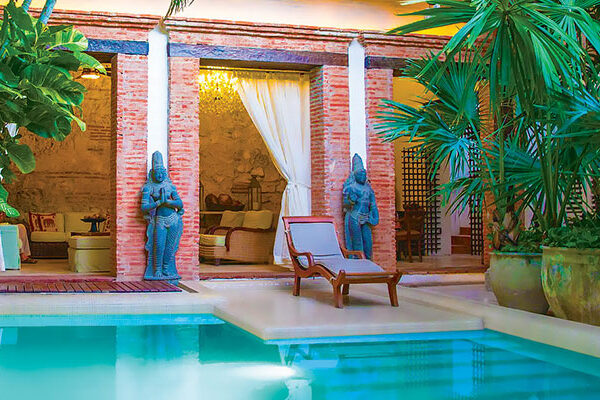 Starting at $900.00 per night
Casa Grande was restored by a well known Colombian Designer who restored and highlighted the ancient walls into a more modern feeling. The house has beautiful foliage around a large pool. It's located in one of the most secluded streets, away from the noise, but near enough to walk to restaurants, bars, clubs, and historic sites.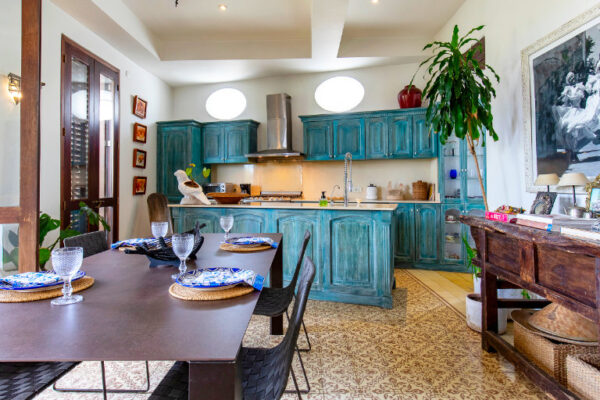 Starting at $1,500.00 per night
Casa Arty is an amazing home in Cartagena, Colombia. Recently renovated to provide modern luxuries and amenities tailored to your wants and needs. You get a bright clean spacious bedroom with an excellent staff nearby to help you. 3 Bedrooms, 5 bathrooms, a Jacuzzi on the roof. Excellent old city location.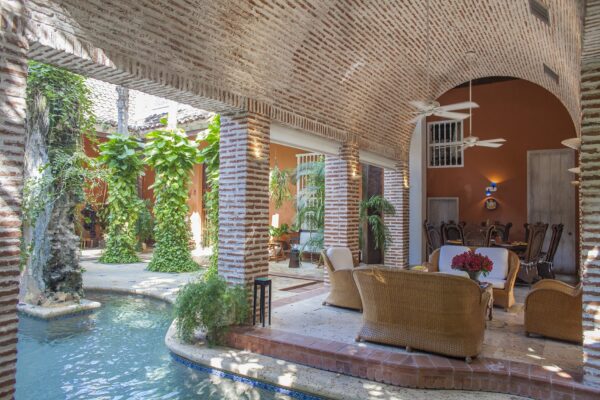 Starting at $1,600.00 per night
Casa Tropical is a 7 bedroom house, with 2 fully equipped kitchens, 2 living rooms, spacious dining room, fabulous terraces from where to view the old city. The well-trained staff of 4 will pamper you as soon as you set into the house.