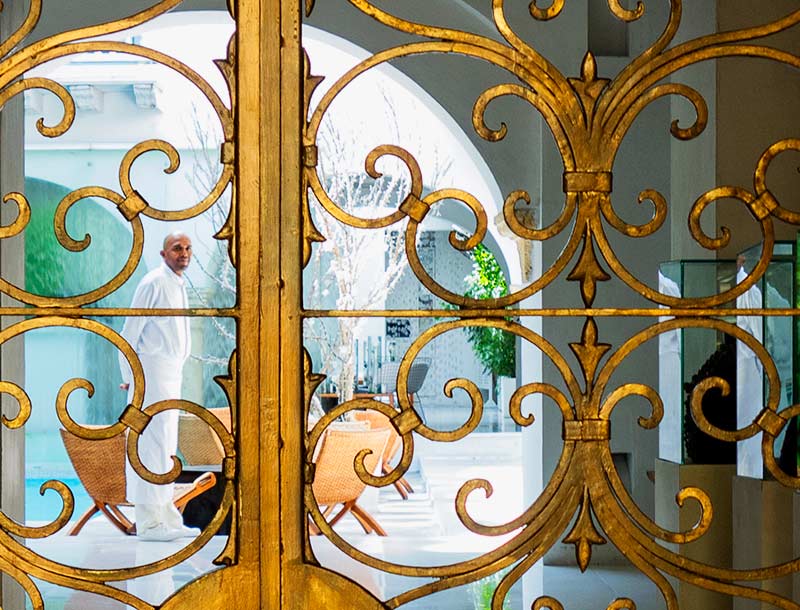 Restaurant Vera
Located inside the Tcherassi Hotel in Cartagena, Restaurant Vera offers visitors and locals alike an elegant fine dining atmosphere and authentic Italian cuisine day or night. If you're craving real Italian food served with class and style Restaurant Vera provides.
The Décor
The first thing you'll notice is, of course, the chic Mediterranean-inspired décor that blends flawlessly into the Old World Spanish style so ever-present in Cartagena. From the creamy color scheme to the open-air patio framed by elegant arches, to the crisps linens and splashes of glittery silver this place is a sort of minimalist's interpretation of Italy on the Caribbean.
Tables are spaced appropriately, adding to the airy feel while creating little bubbles of intimate ambiance in which diners can share special moments with each other, not the entire restaurant.
This combination of relaxed finesse makes Restaurant Vera a great place for an elegant lunch or long, luxurious dinner under the stars. (Yes, there is inner outdoor courtyard seating available without the necessity of street-side dining).
All of this combines into a sort of intoxicating blend that makes Restaurant Vera the perfect place for a romantic dinner, an upscale night with new or old friends.
The Menu
Created by Daniel Brown and Emilia Romagna (both native Colombians), the menu was designed to evoke Italy in every bite but use natural, locally sourced ingredients native to Colombia.
In addition to several À la carte options, the menu at Restaurant Vera offers a wide variety of Italian favorites like prosciutto and melon, penne Bolognese, linguine with shrimp, and ravioli. And when we say traditional Italian we're talking about an authentic cuisine that true Italians will recognize: hand-made pasta, fresh fish straight from the sea, sauces that compliment without overpowering, it's the complete package.
And if you have a bit of a sweet tooth, the desserts (like tiramisu) were created to satisfy.
The Service
The wait staff at Restaurant Vera is trained to ensure your evening (or afternoon) is unforgettable. Everyone from the hosts and hostesses right through the waiters and beyond always has the guest in mind 100% of the time. You'll be taken by the hand the minute you step through the door, guided through the menu with thoughtful suggestions, and served with flair.
Keep in mind that reservations may be required during busy times of the year, week, or even day. However, even if you walk in and have to wait, it's generally only a few minutes.
The interior dining room is glassed-in, air conditioned, and comfortable no matter what time of day it is. The outside seating is a tad warm in the daytime but after the sun sets it's a wonderful place to eat in the open air.
Vera is on our list of our top Fine Dining restaurants in Cartagena
The Details
Hours: 7 days per week 12:30 to 22:30
Website: www.tcherassihtels.com