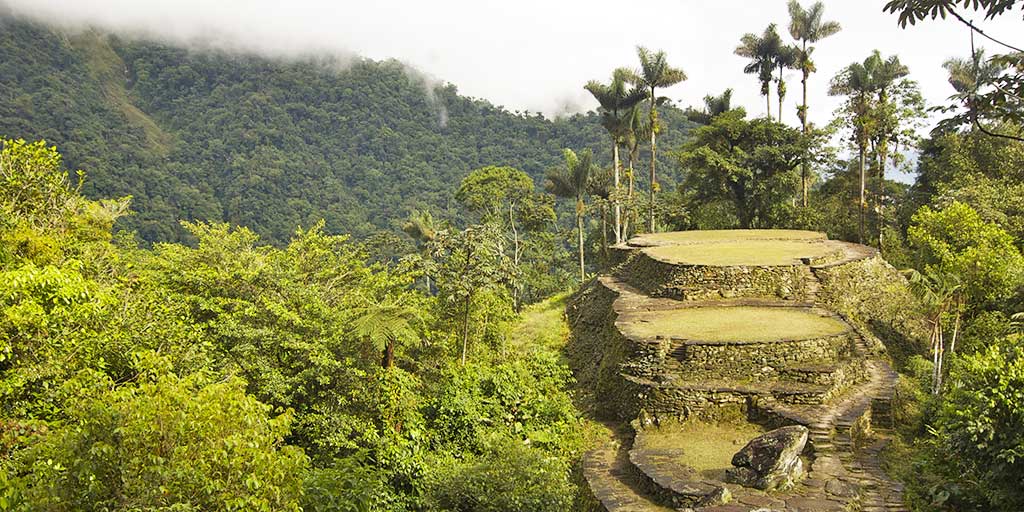 The Lost City of Ciudad Perdida
Looking for something a little more exciting than sitting on the sandy beaches of the Rosarios Islands during your vacation in Cartagena? Not afraid to go a little off the beaten path? There is a "lost" city of ancient providence hidden in the jungle just hours from Cartagena that offers a unique peek into the storied past of Colombia and lets visitors truly grasp what life was like over 1200 years ago.
This city, Ciudad Perdida, is even older than Machu Picchu and is amazingly preserved for having survived in such close proximity to major urban centers for so long.
So if you feel like letting your inner Indiana Jones out for a little adventure, a trek to Ciudad Perdida may be just what the Doctor ordered.
The History of Ciudad Perdida
This city consists of 169 terraces carved into the side of a hill overlooking the Buritaca River. It was inhabited sometime around 800 AD—around the time Charlemagne was crowned Emperor of the West in Europe and Danish Vikings were sacking the fledgling city of London.
While the true origins of this site are lost to time, local tribes including the Arhuaco and Koguis have been visiting it for decades—perhaps even centuries—before its modern discovery. These people believe the site is a sacred city, part of a network of villages throughout the area inhabited by their ancestors.
Evidence collected since its modern discovery leads experts to conclude that the site was likely the center for manufacturing and perhaps a political stronghold in ancient times. Further evidence shows that the ruins were abandoned sometime during the Spanish Conquest of Colombia—around the time Cartagena was founded.
The Discovery of the Lost City
Ciudad Perdida literally means "The Lost City." These ancient ruins located in the hilly jungle of Colombia roughly 4.5 hours south of Cartagena earned that name because they rested hidden away in the greenery until 1972—decades after most of the similar ancient ruins were uncovered in the area.
The Lost City Ciudad Perdida was discovered almost by accident by a band of treasure looters following up on local legends. They plundered the ruins for ceremonial urns and other bits of treasure that found their ways onto the Colombian Black Market. However, the discovery did not go unnoticed by the proper authorities and soon after accredited anthropologists and archaeologist came in to secure the site. Between 1976 and 1982 the entire site was secured, mapped, and partially restored to its previous glory.
Ciudad Perdida Tours
There are many tour companies offering a variety of packages to adventurous travelers—including those vacationing in Cartagena. The Lost City Ciudad Perdida itself is roughly 4.5 hours away by car from Cartagena so there is a fair amount of travelling involved but the rewards are simply spectacular!
Multi-Day Treks
Physically fit, outdoorsy vacationers can take advantage of professionally guided 4- or 5-day trek packages which include food, primitive lodging, and cultural exploration of the region.
Helicopter Tours
Don't feel like a 4-day trek through the jungle? Helicopter tours of the Lost City Ciudad Perdida are also available. Relax as your pilot whisks you over the Colombian jungle and offers breathtaking views of the scenery as you approach this hidden gem. Your tour guide will then point out some of the major landmarks within The Lost City as you hover over these ancient ruins and bathe in the awe-inspiring ingenuity of Colombia's ancient peoples.
(Please keep in mind that because the site of the ruins is deemed sacred by the local peoples, helicopters are not permitted to land at Ciudad Perdida.)
Tour and Sightseeing Arrangements Made Easy
When you stay at one of our luxury vacation rental homes in Cartagena you have access to our exclusive concierge service. One phone call is all it takes to arrange everything from dinner reservation to travel—including sightseeing tours to Ciudad Perdida. Plus you get to experience the best of Cartagena while living like a local in the heart of the Walled City steps away from fine food, excellent entertainment, and some of the most historically significant sites along South America's Caribbean coast.
Contact us to reserve your vacation home in Cartagena today.
Lost City Ciudad Perdida Helicopter Tours