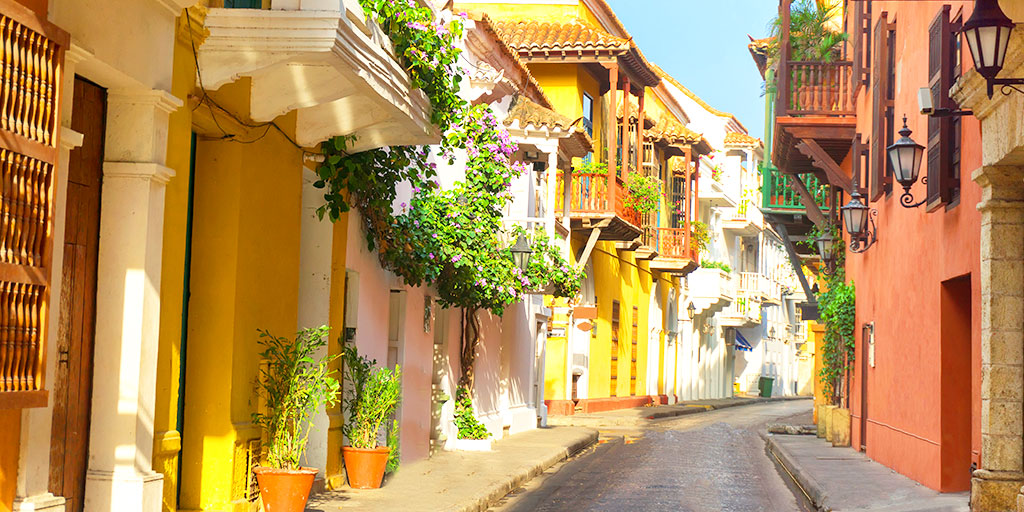 Cartagena is an a Explosion of Color
One of the things travelers see when they're vacationing in Cartagena for the first time is the amazing Spanish Colonial architecture. But when they a look a little more closely they see that architecture is exquisitely accented by a floral explosion!
Walk through any of the narrow streets in Cartagena's old Walled City and you'll see hanging baskets and window boxes everywhere. These boxes are bursting with bougainvillea and other colorful tropical plants. They hang over balconies, drape into enclosed courtyards, blanket the ancient stucco walls of many of the finest haciendas in the city. You'll find many of the eateries bars, and even nightclubs make use of these local plants in their interior courtyards as well—just another way to remind you you're somewhere truly special.
This infusion of spectacular color brings a splash of bright, natural pigmentation into and already colorful cityscape. That contrast (between the stoic and imposing walls with their heavy fortified doors and the delicate and sometimes almost ethereal blossoms) creates an artist's paradise. Photographers, painters, and sketch artists from around the world come to be inspired and capture this unique Caribbean flair on paper and canvass.
Full Sensory Experiences in a Spanish Caribbean Getaway
But as pleasing as these fantastical tangles of greenery and blooms to the eye, they're every bit as exciting to smell. The sense of smell is linked more closely to memory than any other. Think about it. When you remember the smell of your father's after shave or the scent of the special cookies your mother used to bake, or even the aroma of your first lover's shampoo it's almost as if you're transported back in time: you can see everything clearly, you can feel the sun, or the breeze, or a kiss on your skin—you can close your eyes for a moment and get lost in a memory.
That's part of what makes vacationing in Cartagena so romantic, so special, so unforgettable. It doesn't just look and sound like an exotic escape, it smells like it too. Many visitors go home and "suffer" wonderful memories popping into their mind's eye after catching just a hint of that intoxicating floral scent mixed with sun tan oil and tangy Caribbean spices.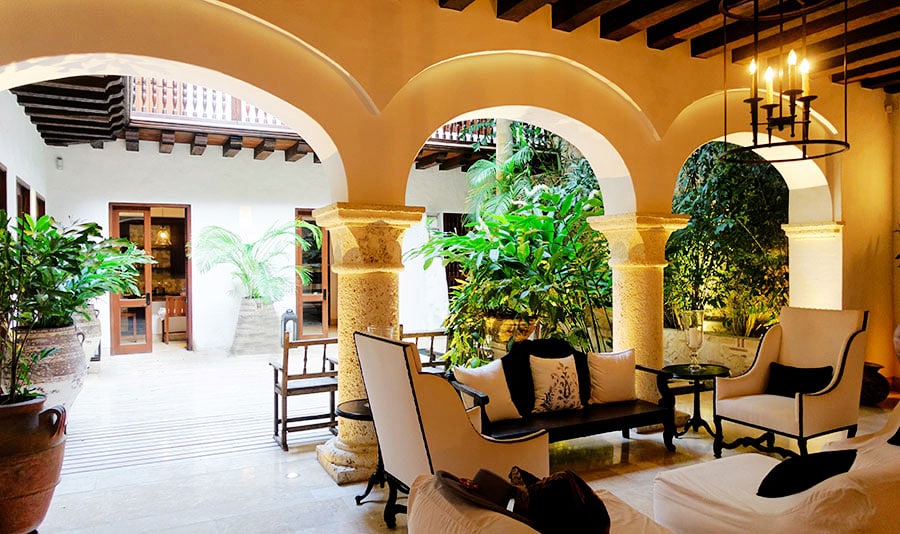 Make Vacationing in Cartagena Unforgettable!
The best way to create and commit this full sensory experience to memory is vacationing in Cartagena like a Colombian. Skip the cookie-cutter high-rise hotels and the ultra-modern boutiques. You can find those sorts of accommodation anywhere. Instead live right in the heart of it all.
Most of our luxury vacation rental homes in Cartagena are either in the Walled City's historic boundaries or within walking distance.
You get immediate access to everything our wonderful city offers from amazing world cuisine and an unbeatable nightlife to somber and historic icons to gorgeous and irreplaceable landmarks. Stay with us in our lavishly updated yet historic homes and become a Colombian for a week, a month, or even longer!