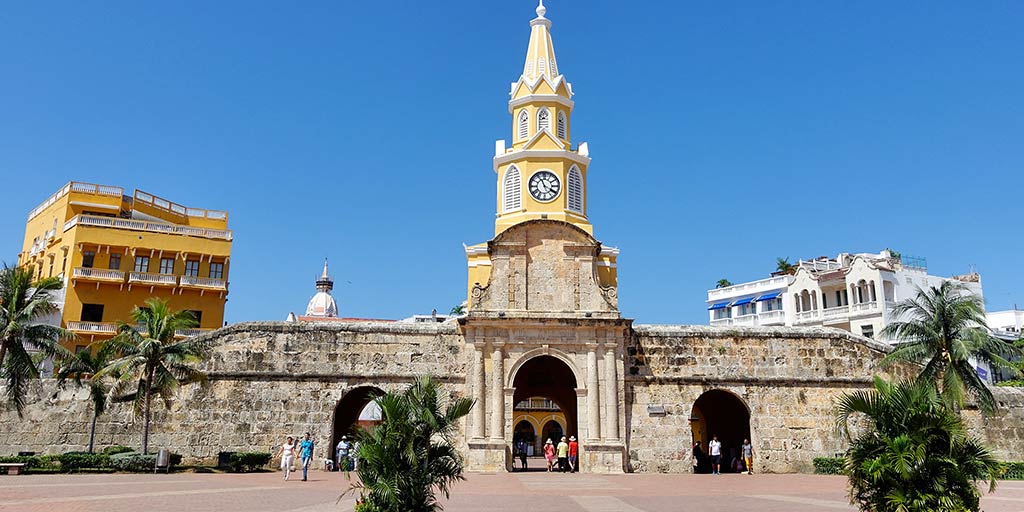 Plaza de los Coches in Cartagena
This central plaza has held many names over the centuries: the Plaza de Juez, the Plaza del Esclavo, Plaza de Mercaderes, and lastly the Plaza de Yerba. But the Plaza de los Coches, as it is known now, has remained an integral part of Cartagena since the city was founded in 1533. And even as the city grows into a metropolitan melting pot of nationalities, delicate snippets of the past are still preserved with reverence in places like this quiet square.
The History of the Plaza de los Coches
Located just behind the Torre de Reiloj or "Clock Tower (which is the primary entrance into the old Walled City of Cartagena) the Plaza de los Coches is the most central of all the plazas in the city. During the reign of the Spanish empire, the square was used as a slave market. For many years Africans stolen from their homelands would wind up here to be sold to wealthy plantation owners in and around Cartagena or points farther inland.
Time and tradition have washed the stigma of that dark time away and the Plaza de los Coches is now a bright and lively part of historic Cartagena. Here you'll find gorgeous Spanish Colonial architecture lovingly preserved and restored to its glory. Gilded with eye-popping colors, the buildings which surround the plaza are hung with balconies often dripping with festive flowers and foliage of every color under the sun. The shadowed arches that run along the ground level of the Plaza de los Coches provide a respite from the heat of the day and many are home to local vendors who sell everything from cool drinks to handicrafts.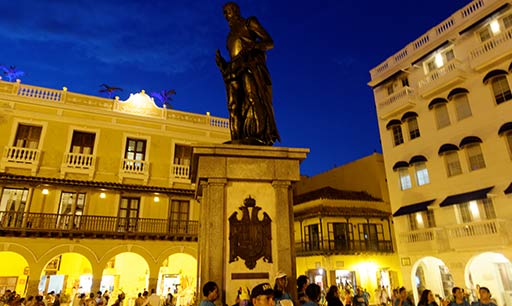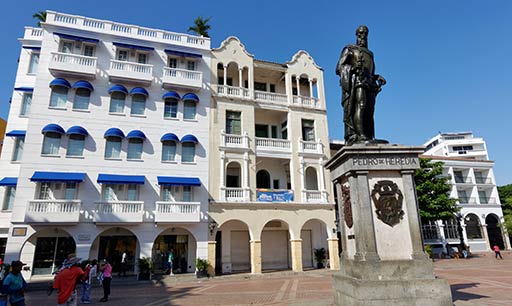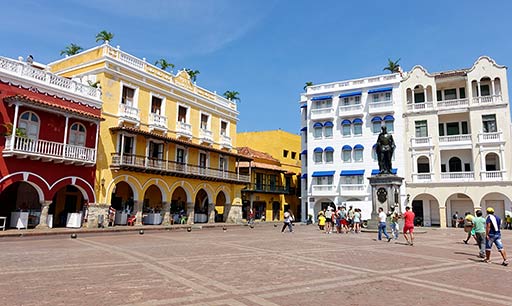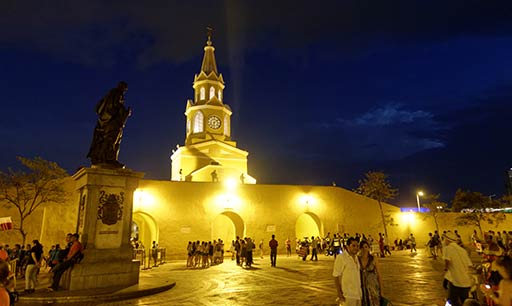 The Statue of Don Pedro Heredia
In the center of the plaza stands a statue of Cartagena's founding father, Don Pedro de Heredia. His bearded visage looks out upon modern Cartagena, seemingly judging the historic cities progress toward a brighter and more vibrant future. Horse drawn carriages pass under his watchful gaze as they have done for centuries and lend an air of romance to the storied history of this little corner of Cartagena.
El Portal de los Dulces
The arcaded walkway (known as El Portal de los Dulces) which runs alongside one side of the Plaza de los Coches is home to a number of confectionary shops, small vendor stalls selling locally made and authentically Colombian sweets. Here adventurous foodies are tempted by traditional favorites like cocadas blancas, chancacas (both coconut candies), or muñecas de leche (milk dolls). In March the Plaza de los Coches plays host to the Festival de los Dulces—the Festival of Sweets. During the celebration the plaza fills with vendors selling a mind-bending array of traditional confections. This is the perfect time of year to visit Cartagena if you (or one of your travel companions) have a sweet tooth.