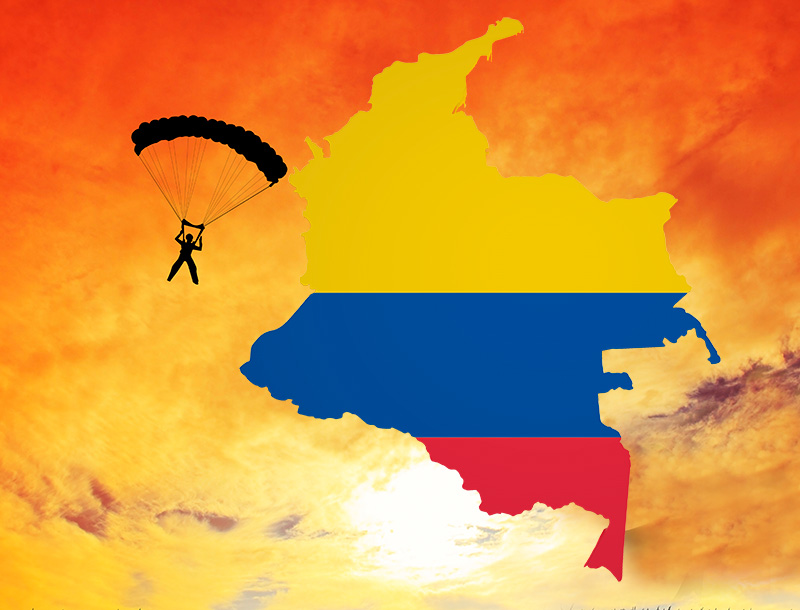 Skydiving Cartagena—an Amazing Vacation Experience You'll Never Forget
Cartagena isn't just an excellent vacation spot for people who like to walk in the shade of historic forts and lounge on the beach. Cartagena is a hotspot for thrill seekers as well. While for years those thrills were mostly found on (and under) the ocean just minutes from the heart of the Old City, Skydive Colombia is offering travelers a unique vacation thrill ride in the sky. This well-established and reputable skydiving team is expanding their current operation to the Cartagena area and will soon be offering adventurous types the opportunity to skydive above the Caribbean and land on one of the area's most beautiful beaches.
If you've skydived in the past this is a wonderful opportunity for you to do so in one of the most beautiful places on earth. If you've never jumped before, this is a great time to start—make your vacation memories truly unforgettable!
The New Dive
Skydive Colombia is offering a wonderful new skydiving package for folks vacationing in Cartagena. They will now be landing directly on the beach at Playa Mendosa—located roughly half way between Cartagena and Barranquilla.
Just minutes outside Cartagena, Playa Mendosa offer amazing views of the Caribbean Sea as jumpers glide effortlessly out of the sky over one of Colombia's hottest tourist attractions. Located just minutes from Barranquilla and Cartagena, Playa Mendosa is within easy reach of your exclusive luxury vacation rental home in Cartagena. In fact, our complimentary concierge can even arrange a car for you.
Imagine the Caribbean lapping at your feet as you glide over the waves (and the beachgoers) and touchdown in the sand!
The inaugural launch of this new flight plan takes off on December 20th 2018. And while it may be too late to book your reservation on that first flight out—you can bet there are plenty more waiting for you with jumps daily (weather permitting).
Experienced Skydiving Instructors Take the Worries Out of Jumping
Never jumped before? Don't worry, Skydive Colombia has been in operation for over 25 years and employs licensed professionals who literally have thousands of jumps to their names.
Indeed, founders Maria Paula Ospina, Ricardo Ospina, Jaime Tristancho, and Gustavo Escobar have a total of over 8,000 jumps combined.
While inexperienced jumpers can enjoy the comfort and safety of a tandem jump, Skydive Colombia also offers instruction and with the proper training individuals can book solo dives as well.
Pricing
This is actually one of the most affordable thrills you can find in Cartagena. Your skydiving package comes complete with licensed tandem jumpers to help you experience freefall safely, securely, and without any worries.
Plus you get video and photos of your jump show you can show friends and family back home what an amazing vacation you really had.
You get all that for one low price of COP $600,000 (roughly $200 US). That's roughly what other skydiving operations charge for just the jump alone (with pictures and/or video extra).
Reservations Recommended
You might not think that many people would want to jump out of a perfectly good plane—but they do. In fact, seeing Cartagena and the surrounding Caribbean countryside from freefall is such an amazing way to make incredible memories that skydiving Cartagena is one of the top new attractions in this historic city. But there are only so many hours in a day (and only so many flights can be scheduled).
So, if you'd like to experience this once-in-a-lifetime thrill while vacationing in Cartagena, reservations are recommended.
To reserve your jump time 313-8914152 or write to [email protected]