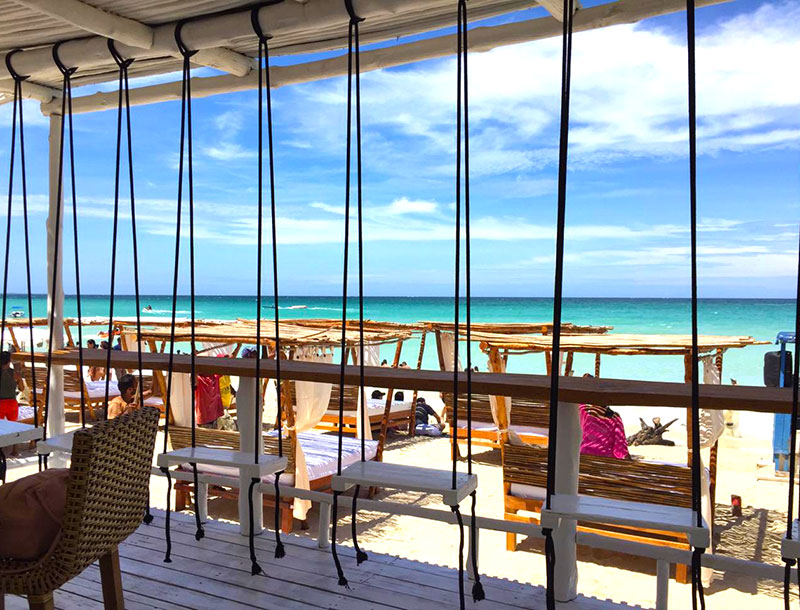 Private Boat Trip to Nena Beach Club
When you think of the Caribbean you think of sun-kissed sand beaches and beautiful blue waters. Maybe you also think of lovely tanned bodies glistening in the sun, tropical cocktails, and chill music to relax by. When you're vacationing in Cartagena, that can mean only one thing—a day trip to Nena Beach Club on Playa Blanca.
The Best Beach in Cartagena?
Playa Blanca is an amazing stretch of white sand on Isla Baru; just 35 minutes by private boat from Cartagena's harbor. For years this has been the destination for sun worshippers from all over the world. It's the perfect mix of rustic underdevelopment and stylishly hip.
On Playa Blanca you will find:
• Plenty of white sand
• Warm Caribbean waters to wash your cares away
• Hip people
• Cocktails and local food options to tempt your taste buds
But, keep in mind, Playa Blanca is a public beach and most of it is undeveloped with a few shanties and shacks here and there. If you're looking for a more refined experience, you'll want to visit Nena—Playa Blanca's most glamorous beach club.
Nena –the Ultimate Caribbean Beach Escape
Nena is an amazing beach club you'll find along with this idyllic piece of paradise.
This is the most upscale venue on Playa Blanca complete with stylishly rustic canopy beds on which to lounge, amazingly fresh cocktails and a sampling of some of the best foods straight from the sea.
You can sit and savor the sensations for hours and watch the sun slip below the horizon to put an end to an amazing day of relaxation and fun.
But what Caribbean getaway would be complete without a little time on the sea?
Boat Rentals to Nena Beach Club and Playa Blanca
When you book your stay at one of our exclusive luxury vacation homes in Cartagena, you not only get a gorgeous place to stay right in the heart of the Old City, you get access to our complimentary concierge service. Our experienced local experts can help you plan whatever day trips you have in store including exciting and romantic boat tours of the Rosario Islands.
With just one call we can arrange for travel to and from the pier, a well-appointed motorboat (or even a luxury yacht) for the day, a captain, crew, and all the provision you'll need for a fun day splashing through the Caribbean.
Make the most of this luxurious escape and tour multiple islands in the Rosario chain, find secluded beaches on which to relax, snorkel among some of the most amazing coral reefs you'll ever see, or simply put your toes in the sand and watch the day slide by.
If you're up for something a little more luxurious, something a little more hedonistic, your captain can drop you at Nena beach club on Playa Blanca for lunch, for the afternoon, or for the entire day—it's all up to you.