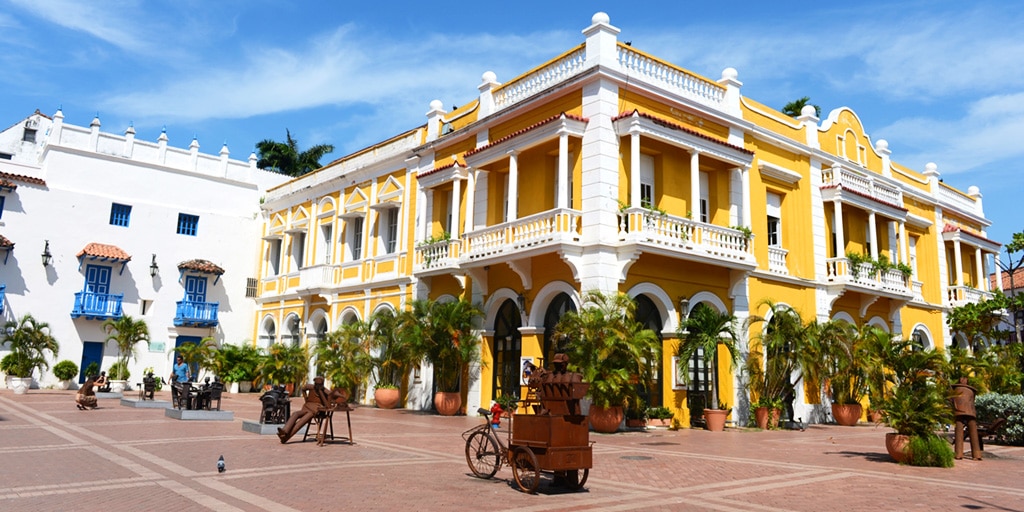 The Old City – the heart of this Caribbean paradise
Hunting for the best place where to stay in Cartagena? You're not alone. Cartagena has become something of an international tourism magnet over the past few years. Travelers from Europe, North America, and as far away as Australia have discovered what Colombians have known for years: Cartagena is the best place to sample South American's Caribbean coast.
But if you've never been, how do you know where to stay in Cartagena in order to have the best experience possible? Take it from a native Cartagenan.
The Old City is where it's at
Where to stay in Cartagena? While the stretch of beach-front resorts may tempt you at first, there's really no better place to stay in Cartagena than the Old City. The cultural heart of this Caribbean paradise beats strong within these old walls. It is here you'll find the best shops, the best restaurants, the best nightclubs, the best of everything really.
Cartagena's Old City is a vibrant and truly modern metropolitan hotspot (full of bistro eateries, artist galleries, historic sights to see) but everything is surrounded by Spanish Colonial glory and buildings that have stood for over 300 years!
Location, Location, Location
What do you get when you stay at one of our luxury vacation rental homes in the heart of Cartagena's Old City? The most authentic vacation experience you can possibly book!
You are literally steps away from all of the excitement. The moment you open your door Cartagena greets you like an old friend. Sample the freshest fruit served up by traditional palenqueras, flag down a horse-drawn carriage instead of a taxi, bask in the glory of the historic buildings towering over you, inhale the sweet-scented bougainvillea draped from every balcony and window box.
Cartagena is truly a vacation destination unlike any other.
Cartagena's Old City is minutes from everything!
The biggest and best sightseeing destinations in Cartagena (including The Cathedral, Plaza de Los Coches, Las Bovedas, Iglesia de San Pedro Claver, Plaza de San Diego) are inside the Walled City or just outside.
The best places to grab a great meal, cocktails with new friends, or a hot salsa band's live show is a short walk away in the Getsemani district. (Which is also where you'll find the most eye-catching live performances, multi-media art, and world-renown street graffiti.)
The Rosario Islands (home to Cartagena's heaven-sent beaches of white sand and beautiful people) are a short boat ride from the historic harbor.
Imagine anywhere you want to be within walking distance. Even the more distance sightseeing destinations like Convento La Popa and Castillo San Felipe de Barajas can be easily reached by taxi.
Your home away from home
But for a truly authentic vacation in Cartagena a hotel or condominium just won't do it. You don't just want to simply visit our wonderful city. You want to live here!
We offer luxurious vacation rental homes in Cartagena's best neighborhoods that afford you all the amenities of a modern hotel combined with the quaint historic charm of a Spanish Colonial hacienda. These one-of-a-kind vacation homes in Cartagena have been fully refurbished with everything a modern international traveler needs to feel at home when they're away.
Most include:
• Large spacious rooms (often with open-air windows, breezeways, and balconies)
• Swimming pools (perfect for relaxing after a day of exploration)
• Roof-top patios (some with private hot tubs and outdoor cooking spaces)
• Modern appliances
• Full housekeeping services (including chefs and wait-staff on request)
• Complimentary Concierge service at the touch of a button
If stepping back into the Spanish Colonial past without giving up any of the conveniences of home sounds like just the thing, contact us to learn more about the luxury vacation homes in Cartagena we have available for you.