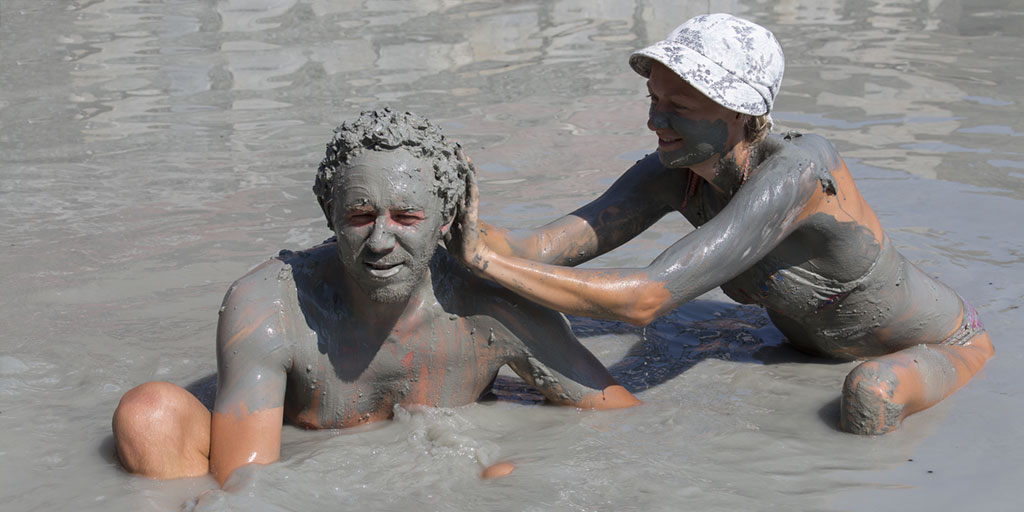 Mud Bath at Volcan del Totumo
If you find yourself with a day to spare in Cartagena or just want to take a break from the city and see a more rustic part of the Colombian countryside there's nothing more relaxing than a rejuvenating mud bath at the Volcan del Totumo. About 30-40 minutes from the heart of Cartagena, this natural mud volcano rises 15 meters into the sky at the edge of a fresh water lagoon. It doesn't look like much from the road—just a small hill surrounded by a handful of wooden shacks—but as you climb the steps up the side and peer down into the volcano you know you're in for something truly unique.
For just $2.50 US you can slip into the cool grey mud and let your cares simply melt away. This soothing sense of being completely enveloped in soft, sensuous mud is unlike anything you'll experience elsewhere. You can bob on the surface, splash about, and even make friends with other visitors while letting the mud gently suspend you.
Some might be a bit fearful at first (especially when they learn the bottom of this mud volcano is roughly 1.5 miles below their feet) but not to worry—the mud is so dense that you simply can't sink! If you want to dunk under you have to let one of the attendants actually hold you down. (Don't worry–they'll help you clear the mud away from your face and mouth when you come back up.)
The attendants also offer optional all-over massages (sometimes even without you asking for one) in return for meager tips at the end. While many simply say "no" to these full-body rub downs, they're missing out on the true bohemian experience.
The Healing Properties of the Volcan del Totumo Mud Bath
A mineral analysis of the mud that bubbles up from the Volcan del Totumo shows it contains sulfates, phosphates, and magnesium. While we can't vouch for the curative powers of the Volcan del Totumo's mud, many do claiming it heals everything from acne to arthritis. Regardless, the fine grit does offer a full-body exfoliation treatment for much less than you'd pay for in a spa.
And we can vouch for the stress-relieving properties of cool mud submersion and a gentle but comprehensive massage. You'll leave the volcano feeling relaxed and rejuvenated with a one-of-a-kind experience you can brag about for years to come.
A Few Tips for Your Trip to the Volcan del Totumo
When to Go: This is one of the busiest attractions in the area but you can maximize your trip by planning wisely. Mornings and afternoons are the busiest times as local hotels ferry guests to the volcano in the morning and cruise ships drop busloads of passengers in the afternoons.
Getting to Volcan del Totumo: Organized tours are available from Cartagena (and are often cheaper than a taxi ride) but require you to take a bus with a couple dozen other folks to the volcano. Taxi rides offer a more private experience (and delivery right to your front door when it's over).
Stay Safe: Regardless of how you get there, leave your valuables at your home away from home. There are no lockers at the volcano and you may have to rely on strangers to watch your clothes and belongings while you're in the bath.
Last of All: Enjoy the experience. Give yourself to the free-floating experience. Enjoy a massage. Embrace your inner "mud monster." Take plenty of photos. Relax! The whole trip (from transportation to tips) might cost roughly $40 US so why not have all the fun you can?