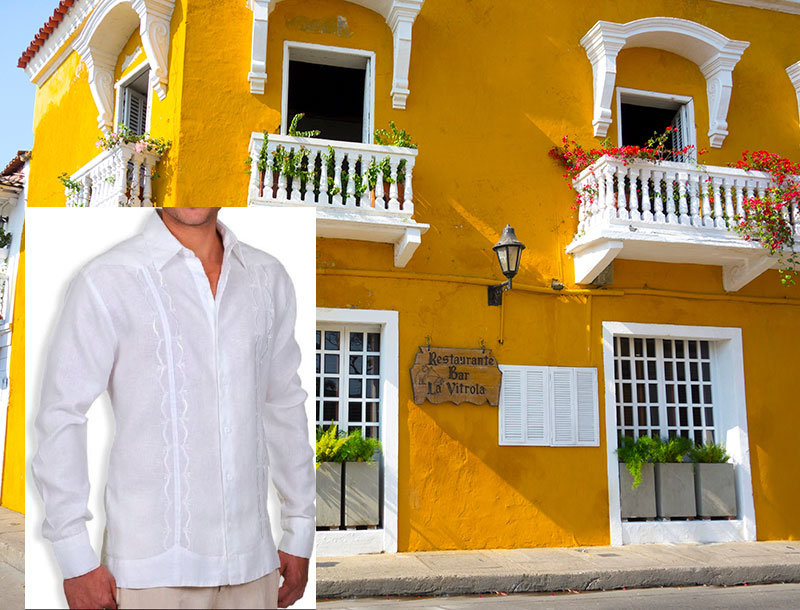 Guayabera Shirts for Men—a Cartagena Classic
These simple, breezy shirts are something of a cultural icon in regions once under the control of the Spanish Empire. Distinguishable by their two closely-sewn rows of pleats (called alforzas) running down the front of the shirt, the guayabera allows for style and comfort in what could otherwise be a sticky situation.
Indeed, the design allows for air flow while blocking out or reflecting the sun's rays. In addition, breathable materials make these shirts essential in Colombia's warmer climates like tropical Cartagena.
That makes these shirts extremely popular in South America and the Caribbean—so much so there are several regionally distinct variations on the traditional guayabera. For example, in Mexico, they've put aside the traditional white and pastel colors for black guayaberas embroidered with colorful floral patterns. These designs are so ornate they're acceptable formal attire. In Cuba, they've ditched the "Neru" collar popular in the Philippines for a spread collar and added two more pockets in addition to the traditional one on each breast.
The History of the Guayabera
Also known as a Camisa de Yucatan (or shirt of the Yucatan), it's believed that the guayabera is actually a derivation of shirt style popularized in the Philippines—the Barong Tagalog—which is actually a pre-Spanish design. However, some suggest that the design actually originated in Mexico and was once used as a traditional wedding dress for grooms. Still, others say it was invented in Cuba. While there's little evidence to support this claim, Cuban guayaberas do typically sport stylistic flourishes not seen on shirts produced elsewhere.
Regardless of where the design actually came from, these shirts became exceptionally popular in the 19th Century across Spanish-speaking zones of Southern and Central America as well as Caribbean Islands with Spanish heritage (especially Cuba). Indeed, the guayabera is closely tied to politics in many regions and has been used as a symbolic representation of rural roots by politicians. Some countries even recognize the guayabera as official formal attire for government functions.
When to Wear this Cartagena Wardrobe Essential
These shirts were literally built for the summer months in hot, humid, tropical environments like the Spanish Caribbean. Typically made of linen or cotton, they are usually lightly constructed while still providing UV protection.
While they were traditionally (and still are) adopted in more formal settings, guayaberas can be seen at any time of day or night almost anywhere in Cartagena.
Typically these airy shirts are paired with trousers and are a huge step up from ubiquitous Tee-Shirts that many travelers adopt as a sort of traveling uniform. However, when deciding whether to dress your guayabera up for a night on the town or down for a day at the beach, pay close attention to the material, the embroidery, and the ornamentation.
Simpler designs of more common cloth are perfect for hitting the beach or sightseeing around the historic sites in Cartagena. These shirts will look perfectly at home on vacationers grabbing a cocktail at one of the trendy bars or restaurants that have popped up in the Old City.
More elegant guayaberas made of silk or featuring elaborated pleating rather than simple designs can dress up any semi-formal attire you're thinking of wearing to dinner or a night of dancing at one of the more upscale clubs in Getsemani.
Where to Buy Your Guayabera In Cartagena
If you're looking to buy guayabera or two for your vacation in Cartagena, you won't have to look far. You can find these ubiquitous shirts almost anywhere from fine clothing retailers and boutique stores right down through street vendors selling from mobile carts. Indeed, some local designers (like Lina Cantillo) have embraced the traditionally masculine heritage of the guayabera to create entire lines featuring stylistic embellishments and unique material blends.
So, where to buy? The best answer to that particular question is to think about how you're going to wear your guayabera and purchase accordingly. If you're planning on wearing it out on the town, opt for a finer quality (and larger price tag) at one of the exclusive boutique shops in the Old City. Just need something for the beach? Nobody will know if you buy it of a street vendor.
Either way, your new guayabera will make a wonderful souvenir to take home after your unforgettable vacation in Cartagena.