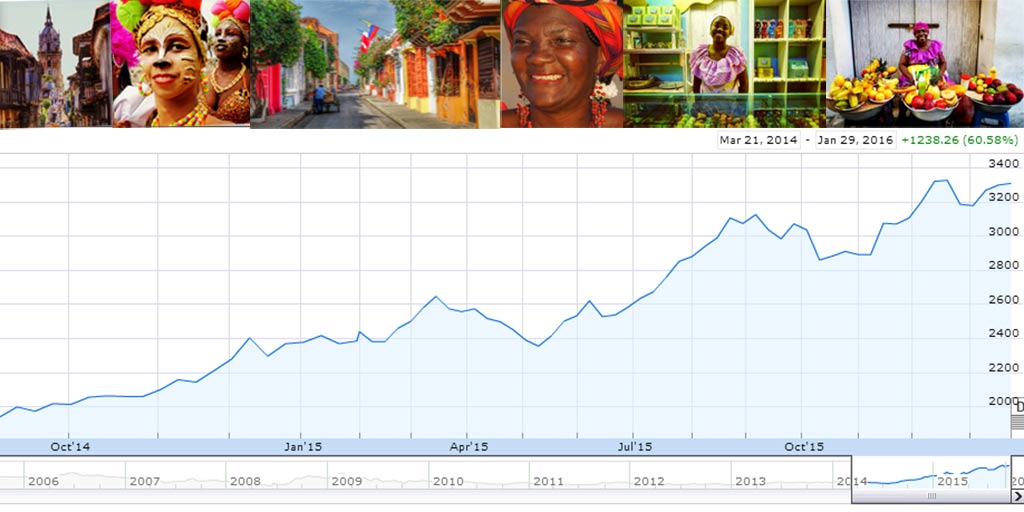 Is Now is the Best Time to Visit Cartagena Colombia?
There may never be a better time for you to visit Cartagena, Colombia than right now because the Colombian Peso is so weak. The Caribbean sun and sand, the beautiful people, the rich culture and historic significance—all of these are wonderful reasons to visit Cartagena but if you've been planning a vacation of business trip to our beautiful city by the sea you may want to push your plans ahead and come sooner than later. Why? Because the unique international financial situation we find ourselves in means that you can get more for your money now than ever before.
Imagine more:
• More shopping at world-renown retailers and Centro's high-end diamond and emerald boutiques
• More one-of-a-kind sand and surf excursions to the Rosario Islands
• More taste adventures in Cartagena's unique culinary scene
• More of the exciting nightlife in Getsemani's nightclubs
Use your buying power to make your luxury vacation in Cartagena an adventure like no other. The sky is the limit and bargains await you around every corner.
The Colombian Peso Hits a New Low
The recent financial shakeup on the world market has dropped the value of the Colombian Peso to a near-record low. That means the exchange rate in Cartagena hasn't been this consumer-friendly in years. In fact, because the Colombian Peso has taken such a hit in comparison to the American Dollar, you can get more for your money than ever before in this Spanish Caribbean paradise.
Increase Your Buying Power in Cartagena
Just one US Dollar could be worth over 3,300 Colombian Pesos! That means an exquisite dinner at one of the best restaurants in Cartagena could cost you 65% less than it did just two years ago. A day trip excursion to Isla Baru and Playa Blanca could run just a quarter of what it did five years ago.
Simply put, visitors to Cartagena can take advantage of buying power not seen for the last decade.
Poor Exchange Rates Aren't All Bad
But don't feel bad about the poor exchange rate. Colombia is enjoying the lowest inflation rate it has seen in nearly 60 years! This is good news. Exports like bananas, coffee, and flowers are more attractive on the world market, gasoline prices are much lower now—making travel in Cartagena more affordable for everyone, and the tourism industry is enjoying a huge boom.
All this because of a favorable financial situation you can take advantage of.
To Buy Peso or Not to Buy Pesos?
If you're planning a trip to Cartagena it might be tempting to buy Colombian Pesos before you get to the airport. I would suggest waiting. Why?
• Using an ATM is very convenient and allows you to withdraw funds based on your requirements when in Cartagena and therefore, you are not reliant on day to day spending based on monies you brought with you.
• ATMs are readily available throughout Cartagena and many carry only small fees (typically $3-$5 per transaction) on-par with their American counterparts. (These fees are often much smaller than those associated with currency purchases at US banks.)
• There's no need to carry huge quantities of cash around—unless you're planning on one massive shopping spree. "Digital" money is safer, more secure, and easier to carry.
Cartagena is a Vacation Paradise and Now It's More Affordable than Ever
Contact us today to book a luxury vacation rental home in Cartagena. Our deluxe accommodations allow you to experience Colombia first-hand and they've never been more affordable. Plus, when you stay at one of our wonderfully appointed villas or rental properties you receive our complimentary concierge service. Use it to arrange travel and dining reservations as well as to book site-seeing tours and more. Get the full Colombian experience while you're here. But hurry, there's no telling how long this historically low exchange rate will play in your favor.