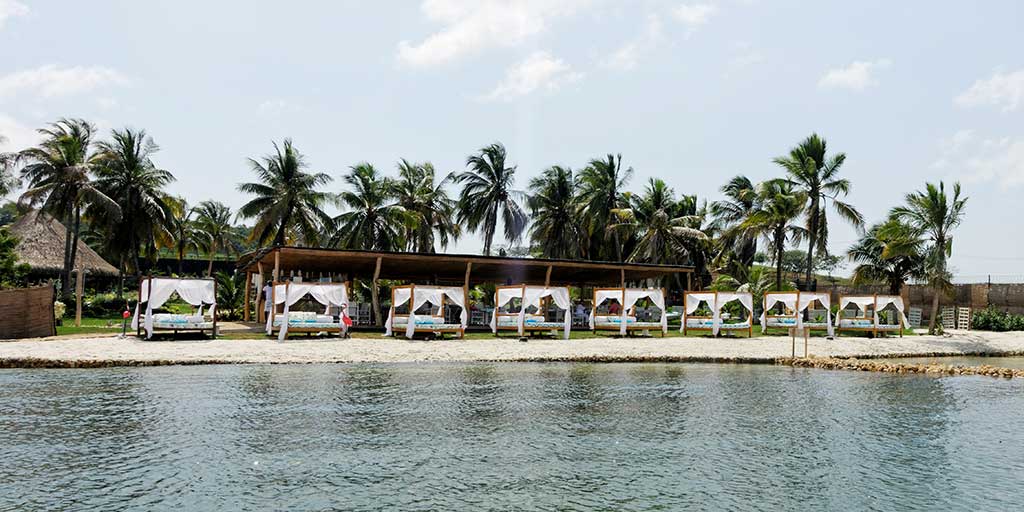 El Pescador de Colores Sea Lounge & Restaurant Isla Barú Cartagena
For a relaxing recreation and dining experience unlike any other in Cartagena you have to go – well — just outside Cartagena. El Pescador de Colores Sea Lounge & Restaurant is just a few minutes away by boat on the beautiful tropical oasis that is Baru Island. This island is renowned for its pristine white sand beaches and "authentic" Caribbean feel. While there are a handful of bars, restaurants, and eateries on Baru, El Pescador is the first real luxury beach club on the island.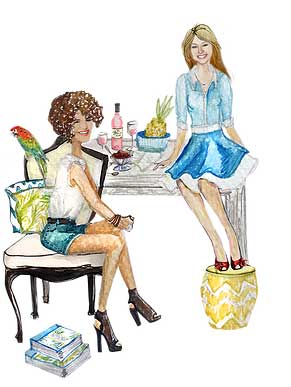 Beach Paradise Imported from the Mediterranean
When you feel that white sand between your toes and taste that warm sea breeze it's hard not to be transported to the Côte d'Azur. This Mediterranean vibe is something that El Pescador's creators, Portia Hart and Lina Bustillo, worked hard to bring to Colombia.
Portia is a native of the UK but has the Caribbean in her blood. She chose to move to Colombia to be closer to her Trinidadian family after 7 years as the COO of a luxury yacht brokerage in Monaco. Lina, a native of Colombia, also lived on the French Riviera in the same time period, studying luxury and business. Lina and Portia did not meet until they were introduced in Cartagena at a later date. They then started to dream of bringing some of the glamour of the French Riviera to Colombia and El Pescador de Colores was born in late 2015.
They partnered together used land owned by Lina's grandfather (photographer and poet dubbed the original 'Pescador de Colores') on which to build EPC. Both women have put their extensive business skillsets to work to create a unique tropical getaway in El Pescador de Colores on Baru.
Visitors are free to play in the sand and sun or relax with one of El Pescador's signature cocktails as they lounge on the four-poster beach beds or rustic converted canoe loungers. Take a dip in the ocean or the natural sea pool and while away the day.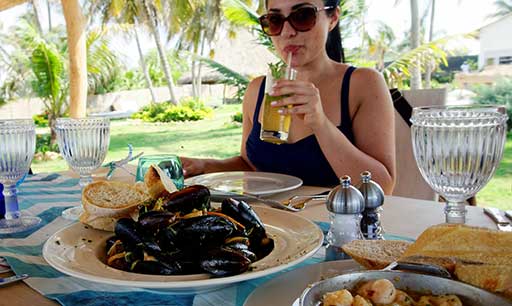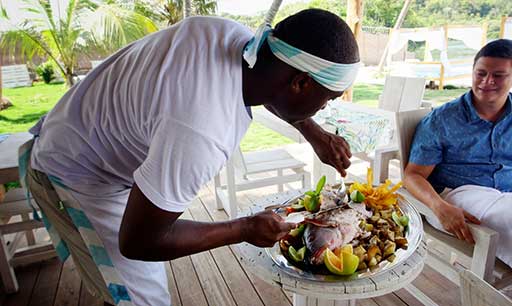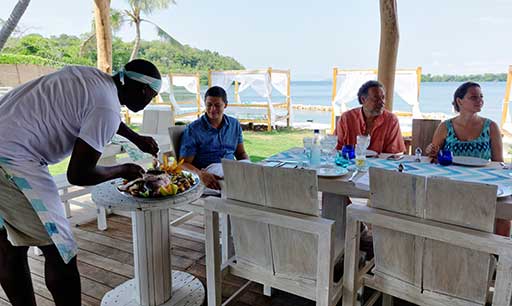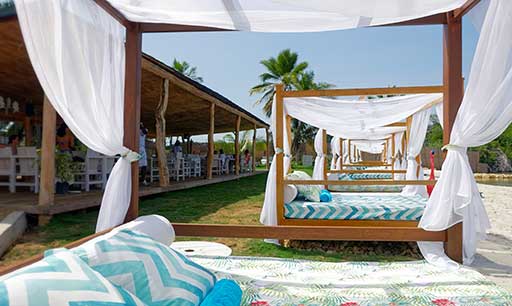 The Food Here is for Sharing
When it's time for lunch or an early dinner, it's time for something truly exceptional. Head Chef Silvestre is half Colombian and was born in Ibiza. He has worked at the White Isle's prestigious Harbour Club and Bogota's renowned Puerta Grande (Colombia's second busiest restaurant one point). It's this unique blend of Mediterranean and Colombian influences that inspired Silvestre to create a menu that's heavy on the Paella (and several other Mediterranean favorites) while paying homage to Cartagena's fishing heritage.
Dishes like citrus sea bass carpaccio and Paella de Colores were made for sharing with close family, good friends, and new neighbors while Ginger Beef Tenderloin or the Calamari Oh La La will please even the pickiest palate. Pair each dish with one of El Pescador's seasonally rotating wine offerings and enjoy life along the Riviera without leaving Colombia.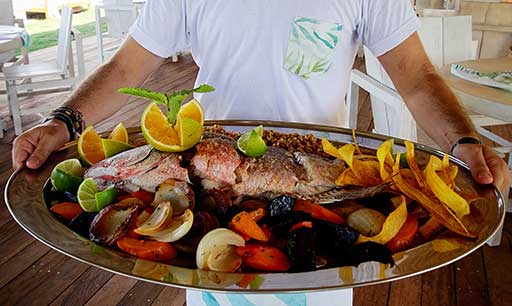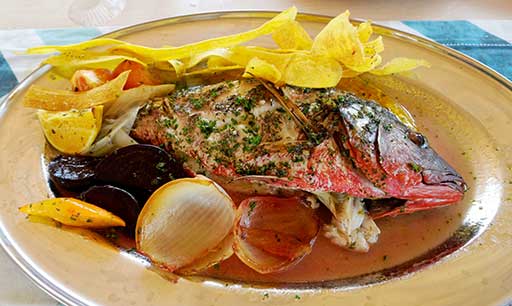 Getting to El Pescador de Colores
If you have your own boat (or rent/charter one via our exclusive complimentary concierge service) you can go to El Pescador de Colores whenever you want. They're open Wednesday through Monday 11:30AM to 5:30PM.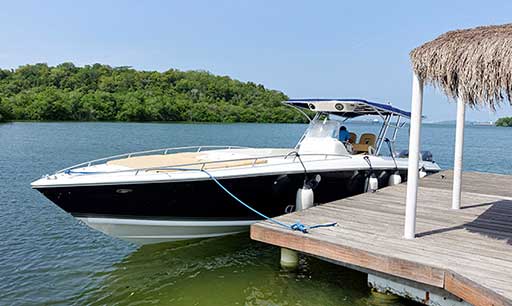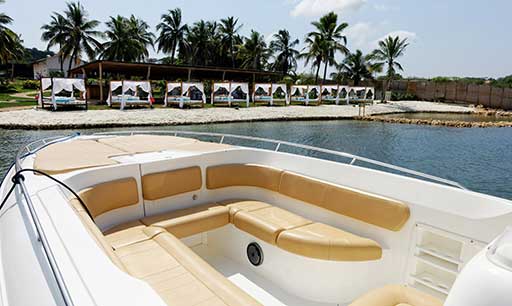 If you don't have access to your own boat, the restaurant and lounge provides a private boat which leaves from Muelle de los Pegasos in Cartagena at 11:30AM and 1:00PM.
The return boats leave from Baru at 3:00PM and 5:30PM. The ride costs 50,000 COP (about $15 US) as of January 2016.
Reservations are available via an online form that can be found on El Pescador's website: .