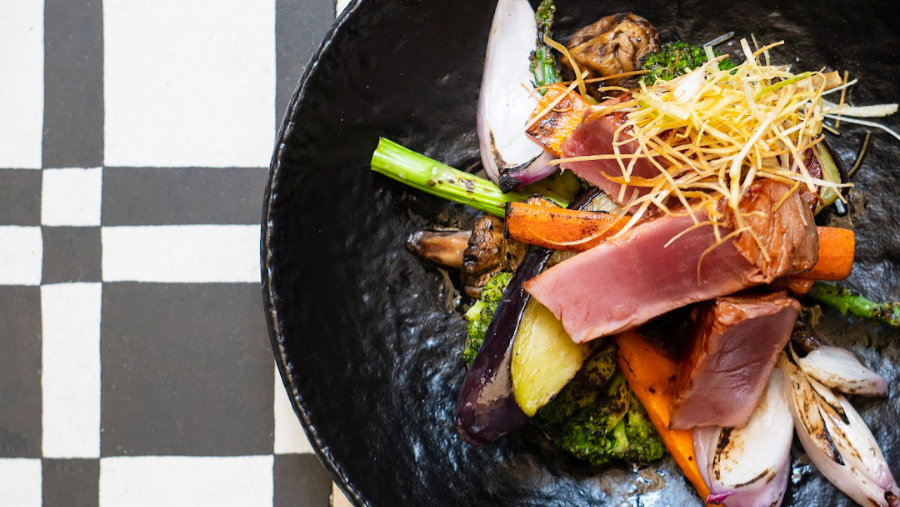 An Upscale Mexican Experience with Modern Aesthetics and Elegant Dishes
When someone says "Mexican restaurant" to you, you might immediately think of dark spaces with worn wooden tables, knobby glassware, trendy art with Mexican motifs on the walls, tequila on tap, and margaritas by the bucket. But Restaurante La Única in Cartagena proves that not all restaurants fall into the same comfortable trap. Looking in from the outside, you might think Restaurante La Única in Cartagena served French cuisine or Italian. However, when the dishes arrive, there's no doubt that Restaurante La Única in Cartagena is very clearly Mexican to its core. The light and airy interior bleeds outside via large open spaces. Everything from the choice of furniture to the artful decoration bathes the place in the sense of relaxation and refinery that's often associated with classy European cafes and restaurants.
The menu is replete with authentic Mexican meals like tacos, fish, and various slow-cooked meats, from pork to beef. It is expertly seasoned and presented in an upscale way that you'll forget you're eating Mexican. Instead of the typical pile of fried food on a plate with some sauce slathered over it, you'll receive gorgeously plated meals with subtle garnishes and colorful flares. But the structured plating doesn't take away from the authentic taste.
The chefs have done a great job keeping the menu offerings authentically Mexican while sprinkling in local ingredients and influences from the Pacific Coast—a bit of a breath of fresh air, considering most of the food you'll find in Cartagena is the Caribbean in origin. However, as good as the food is, it's only part of the experience of dining at Restaurante La Única.
The Vibe is What People Come For
The skillful mixologists' architecture, decoration, and trendy uniforms aside, Restaurante La Única is all about energy. Most days and nights, you'll find a DJ in the house spinning great, high-energy music to accompany your meal. If you're lucky enough (or plan), you'll arrive to see live musicians belting out Mexican folk songs and mariachi bands making their way around the dining room.
Restaurante La Única is a gathering place for friends and family, and as such, it can get a bit boisterous—especially when the signature cocktails start flowing. However, the vibe makes the meal that much more awesome.
Reservations (Highly) Recommended
We recommend reserving your table at Restaurante La Única if you're planning a special occasion with a group of friends. Everything—the music, the menu, the staff—creates a memorable evening. And reservations are recommended because this higher-end Mexican restaurant in Cartagena is always packed.
Of course, suppose you're staying with us at any of our luxury vacation rental homes in Cartagena (all within walking distance of Restaurante La Única). In that case, we can make the reservations for you ahead of time. Give your concierge a call if you are staying with us, and tell them when you'd like a table and how many guests to expect. Leave the rest to us!
Opening Times:
Mon: 11:30–22:00
Tue: 11:30–22:00
Wed: 11:30–22:00
Thu: 11:30–22:00
Fri: 11:30–22:00
Sat: 11:30–22:00
Sun: 12:00–20:00