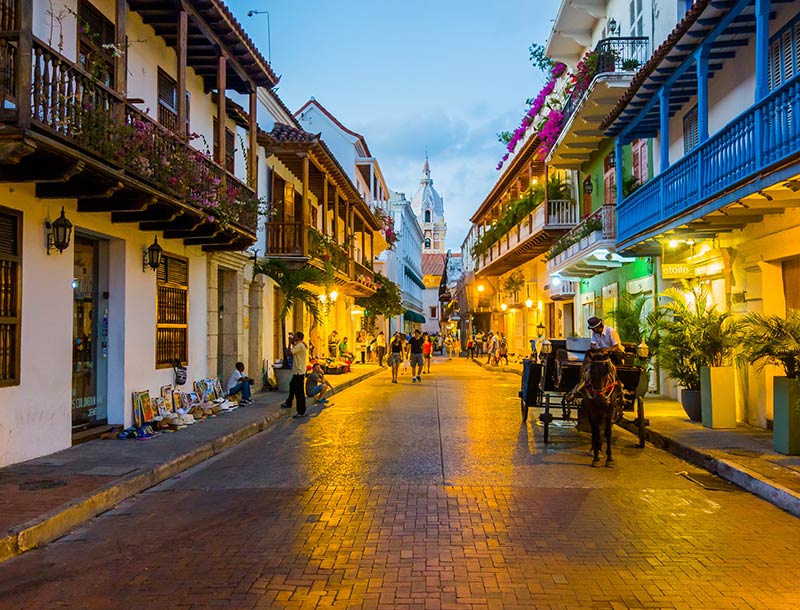 How safe is Cartagena?
The clue or proof is 'in the pudding'. Colombia has seen a significant increase in tourism over the last few years. The growing popularity of tourist destinations like Cartagena has grown exponentially. The tourism industry's revenue has increased by 1.5 billion dollars since 2015 and continues to expand. One of the biggest fears for tourists visiting Colombia is memories of the past. But this fear is unfounded. Cartagena is officially one of the safest cities in Colombia.
The civil war that has beset Colombia for decades, one that pitted its government against the paramilitary group FARC, finally brings a newfound period of peace. As a traveler, this means that you are in the middle of an exciting period in Colombian history.
Cartagena Colombia is a popular tourist destination because of its lively Caribbean culture, lush scenery, and rich history with plenty of things to do. This city's must-see attractions include the fortresses, Catholic churches, and colonial architecture and designated by UNESCO as an artistic heritage site.
At night, the streets buzz with music, and people are out to have a good time. Dining in the Old City at many of the fantastic restaurants is always a great option. Likewise, the many watering holes throughout the old city packed with friendly faces having fun is a testimony to the chill vibe we have in Cartagena. There is also fantastic nightlife that includes nightclubs, theaters, and live shows.
Smart Tips to Help You Stay Safe in Cartagena
Commonsense prevails – As in all vacation destinations around the world, to keep yourself safe you should always minimize displays of wealth and do not carry a lot of cash with you. Don't leave valuables unattended, and do not flaunt expensive jewelry, cameras, or other items. Nothing less than you would hear when traveling anywhere in the World.
Cartagena awaits with open arms.
The tourist industry provides millions of dollars annually to the local economy in Cartagena. And, as is common in tourist destinations around the world, the city has implemented changes to protect that financial investment. Indeed, many infrastructural changes, law enforcement improvements, and public outreach campaigns have been designed to make the vacationers' experience in Cartagena better, safer, and unforgettable.
So don't let those antiquated notions about Colombia scare you away from having the best time of your life. Trust your local Cartagena vacation planners, and let us show you how to have an amazing vacation in our tropical paradise. Just follow the Colombian tourist slogan 'THE ONLY RISK IS WANTING TO STAY' that more and more holidaymakers that come to our beautiful and magical city can testify to.