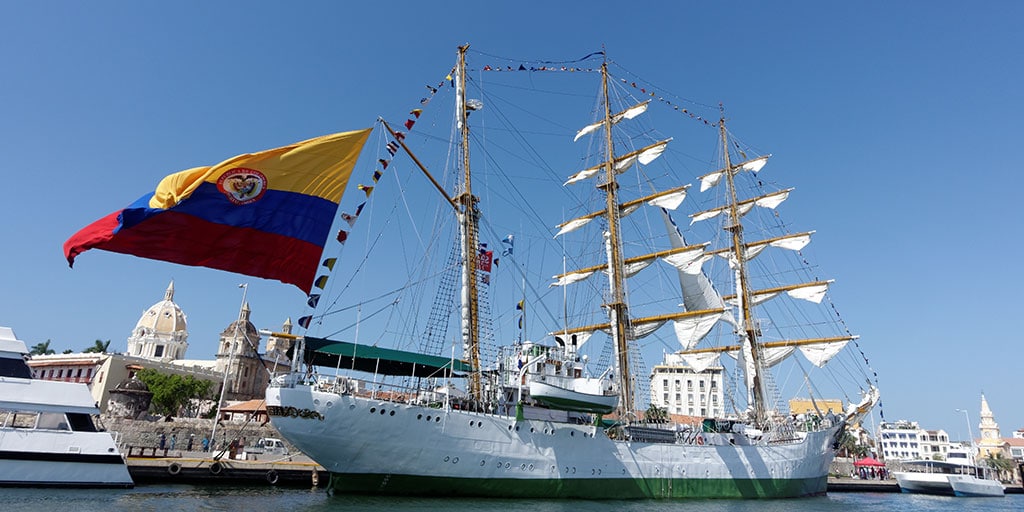 Naval History Enthusiasts in Cartagena Flock to the Tall Ship ARC Gloria
The ARC Gloria is a must see when vacationing in Cartagena. Cartagena was once one of the most important ports in the Spanish Empire, funneling gold, slave laborers, and precious jewels into and out of South America. That naval history has remained an important part of the culture in Cartagena and is on display pretty much anywhere you go. However, if you are a history buff or just love beautiful ships you have to see the ARC Gloria while visiting Cartagena
ARC Gloria—Cartagena's Tall Ship
The ARC Gloria is a three-masted barque, commissioned by the Colombian Navy in 1966. Her name is a reference to Colombia's national anthem (Oh Gloria Inmarcesible–O Unfading Glory).
She was built in Spain and is over 56 meters long—making her one of the biggest tall ships still afloat anywhere in the world. You can see her glorious masts jutting up out of the harbor from nearly anywhere in Cartagena.
When you get closer you'll notice the amazing attention to detail like the gleaming polished wood and buffed brass fittings. You'll also spy the magnificent figurehead—a gilded, winged angel leading the way across the waves. Named Maria Salud, the figurehead is allegedly a tribute to the sculptor's daughter.
Historic Relic or Modern Marvel?
Often moored in Cartagena's Centro District, the Gloria is the Colombian Navy's official flagship and is used as a sailing training ship. When she's not in port, The Gloria is likely on a training sail with up to 170 cadets from the Colombian Navy. While her polished wood and 23 sails make her look like a ghost from Cartagena's piratical past, she's a fully modern ship with:
• Diesel engines
• Computer monitoring systems
• Electronic navigation
• Air Conditioning
Cultural Ambassador to Colombia
The ARC Gloria is often invited to regattas and tall ship parades around the world. During these international events she becomes Colombia's cultural ambassador, opening herself to visiting dignitaries and average Joes. "Hidden" away behind the bar in the officer's mess is a wonderful display of pre-Colombian gold and ceramic artifacts that are used as breath-taking teaching materials.
Where to Find the ARC Gloria
The Gloria is often docked with the rest of Colombia's Atlantic Fleet in Cartagena. You can get there by taxi or by foot (it's just a few minutes' walk from the famous Clock Tower). If you're staying at one of our luxury vacation rental homes in Cartagena, we can arrange a car for you.
Once at the fleet's entrance a guide will lead you past various naval ships including submarines, battleships acquired from the U.S. Navy, and several military river boats to the Gloria herself.
The ARC Gloria is open to the public from 9 AM to 6 PM when she's in port.
Please keep in mind that all of the tour guides are Spanish speaking so an interpreter (or having someone in your travel party fluent in Spanish is recommended).