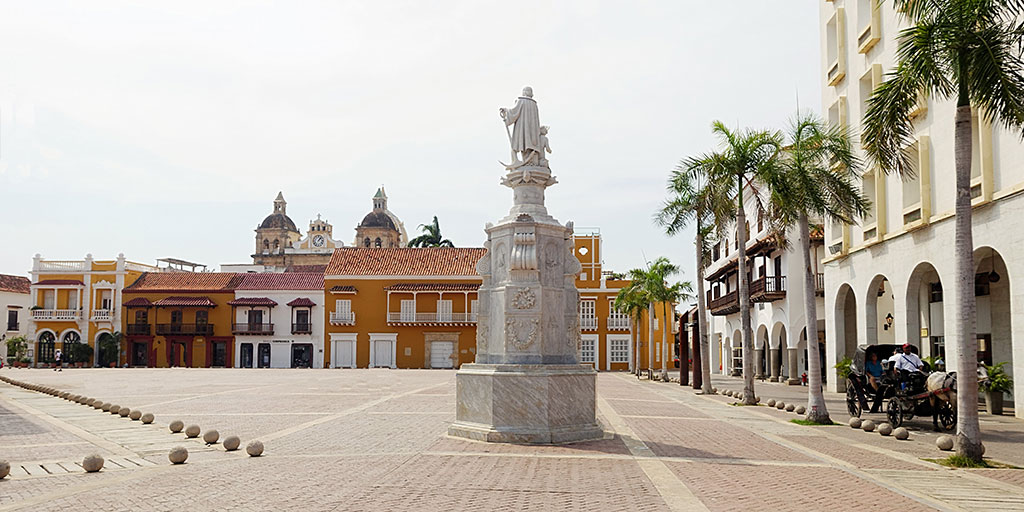 The Plaza de la Aduana in Cartagena
The largest and oldest plaza in Cartagena, Plaza de la Aduana is located partway between the Cathedral of San Pedro Claver and the Plaza de los Coches. Originally known as Antigua Real Contaduria, the plaza was once used as a parade ground and was home to Cartagena's Colonial Era government. Visitors are often struck by the beauty of the architecture that remains standing today. The plaza is also a great place to witness contemporary Caribbean Colombian life. It's also centrally located, making anywhere in the Walled City within walking distance.
The History of Plaza de la Aduana
At first you might simply think Plaza de la Aduana is yet another square with surrounded by even more beautiful buildings. However, these amazing examples of Spanish Colonial structures have played a deep and integral part in Cartagena's History. Many now house more modern businesses and organizations (such as banks) but The Royal Customs House has been lovingly restored to its full Spanish Colonial glory and is now Cartagena's City Hall.
In the center of the plaza is a giant statue of Christopher Columbus. It was erected in 1894 when the square was (temporarily) renamed the Plaza de Colon (Columbus' Plaza). Later, in the early 20th century, the plaza was renamed after Cartagena-born Colombian president Rafael Núñez, though his name refused to stick either.
It's almost impossible for a visitor to fully understand the true historical significance represented in this plaza. Hiring a tour guide to point out all the sites you might otherwise miss is essential. If you prefer to adventure on your own, there is a fairly well appointed information center in the square for those who need a little help getting around.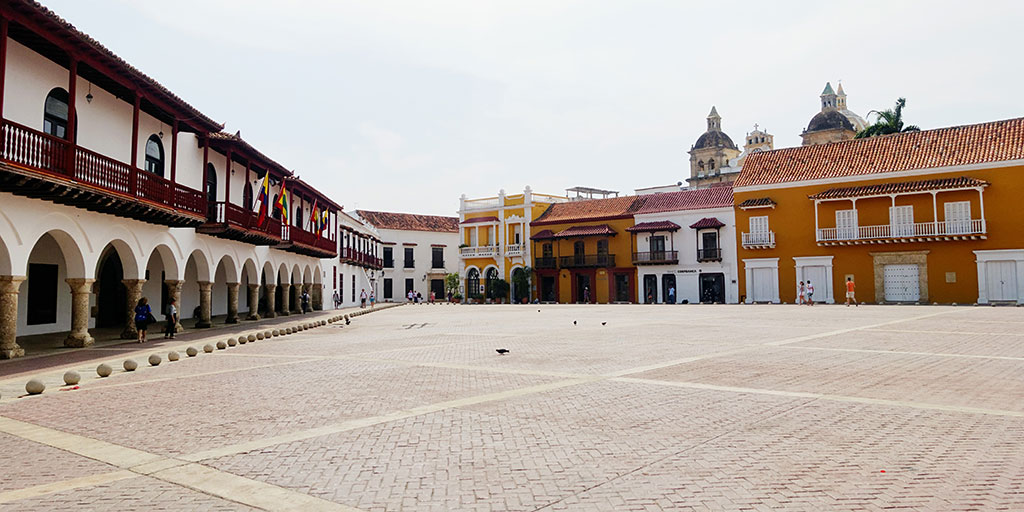 The Plaza de la Aduana Today
The plaza is a great stop along your essential Cartagena sightseeing tour. It's close to several of the city's other "must see" locations including the clock tower, the Plaza de los Coches, San Pedro Claver, and the Naval Museum. From here you can catch one of the many horse drawn carriages through Cartagena and see the city as an aristocrat would have in the 18th Century.
Plaza de la Aduana is a wonderful day or night. The Caribbean sun really makes the vibrant colors, delicate details, and blooming flowers pop—so bring your cameras. When the sun goes down, the lights come on illuminating everything (including the stunning architecture) in new and striking ways.
Need a Tour Guide?
When you stay at one of our luxury vacation home rentals in Cartagena, our complimentary concierge service can arrange friendly and reliable tour guides with a single telephone call. We can also arrange travel to and from just about any destination inside (or even outside) the city as well as dining reservations and more. Don't just visit Cartagena, truly experience this Caribbean gem.