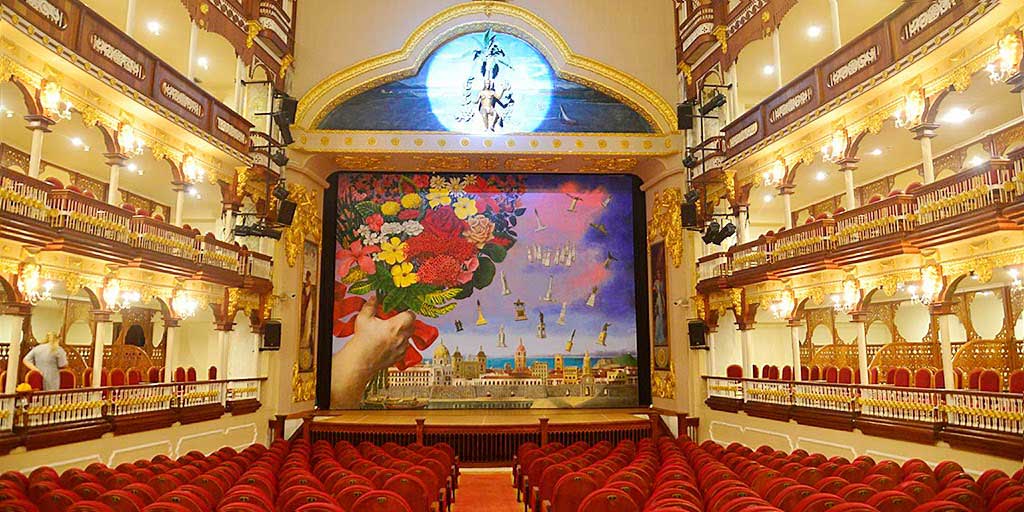 Cartagena's Historic Performing Arts Venue
Teatro Heredia (Heredia Theater) is the premiere center for the performing arts in Cartagena. Architects infused Caribbean flair into Classic Italian style to create a venue that represents both the elegance of the Old World and the cultural heritage of Colombia's Caribbean coast.
And while the outside is beautiful the interior will simply take your breath away. With 22 karat gold infused plaster, elegant latticework creating an intricate lace design between the boxes, Carrara Marble, and a gorgeous mural gracing the ceiling the building is certainly awe-inspiring.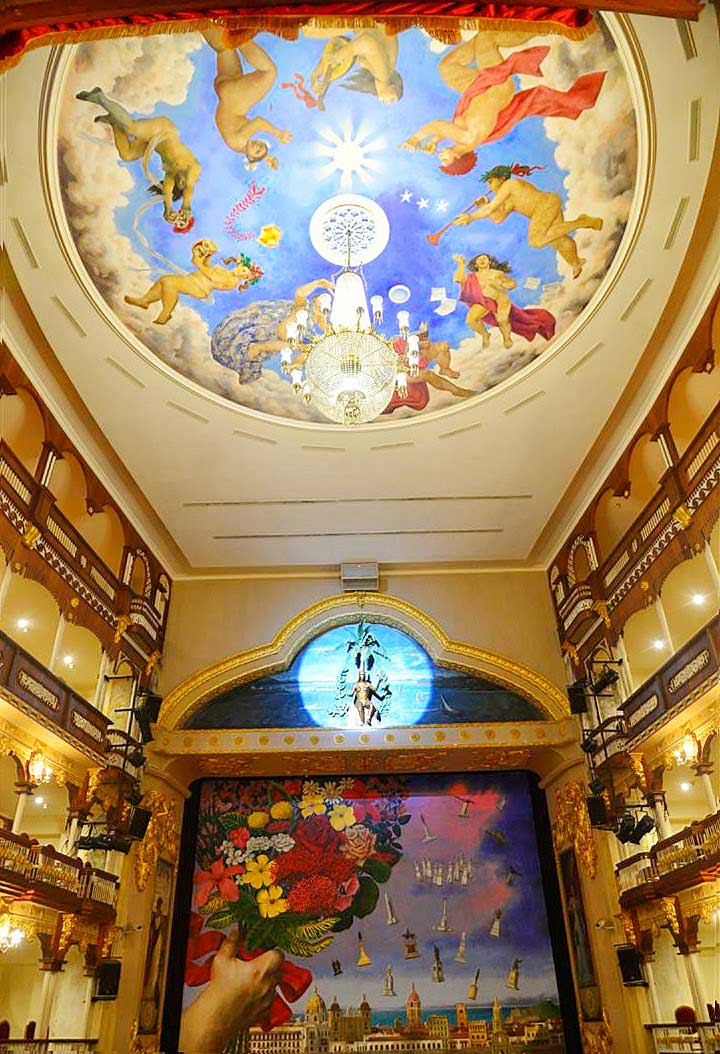 The History of Teatro Heredia
Construction began in 1911 at the request of the Company Music Hall of Cartagena. The building was designed to replace the aging municipal theater. Architect Luis Felipe Jaspe spared no expense when it came to his masterwork. Not only did he use precious building materials like Carrera Marble and 22-karat gold, he had portions of the building (including the stairs) manufactured in Italy and shipped across the ocean.
Teatro Heredia fell on hard times in the 1970s and was closed to the public. During the revitalization of Cartagena (in the late 1980s and early 1990s) patrons paid to have this historic icon beautifully restored.
Work began in 1988. Cartagena's own master painter Enrique Grau was contracted to create the mural that now graces the ceiling. Depicting the nine muses of the arts and sciences, it is lit from below by the massive crystal chandelier. Grau also painted the theater's curtain which depicts a god-like hand bestowing a bouquet of flowers upon the city of Cartagena while historic icons rain from the heavens above.
Teatro Heredia is Available for Rent
Many people don't know that the Teatro Heredia is available for private events as well. Today the theater is used for all sorts of performances from local musical groups to touring troupes of actors and dancers. It also hosts the annual Hays Festival — a TED-like conference. Indeed, anniversaries, corporate conferences, and charity fundraisers all take advantage of the opulence to impress guests from all walks of life.
Just imagine your dream destination wedding in Cartagena on the Teatro Heredia's historic stage. Surrounded by red velvet, 22-karat gold woodwork, and overseen by the muses of the arts above your guests will remember your special day forever.
Teatro Heredia is a "Must See"
The Teatro Heredia is one of the most gorgeous historic venues in Cartagena. Visitors to the Walled City owe it to themselves to see the amazing architecture first-hand. And if the tropical heat is getting to you, Teatro Heredia makes an excellent stopover. Calle de Merced (which runs right past the theater) acts as a natural wind tunnel, funneling a cooling breeze into the city.