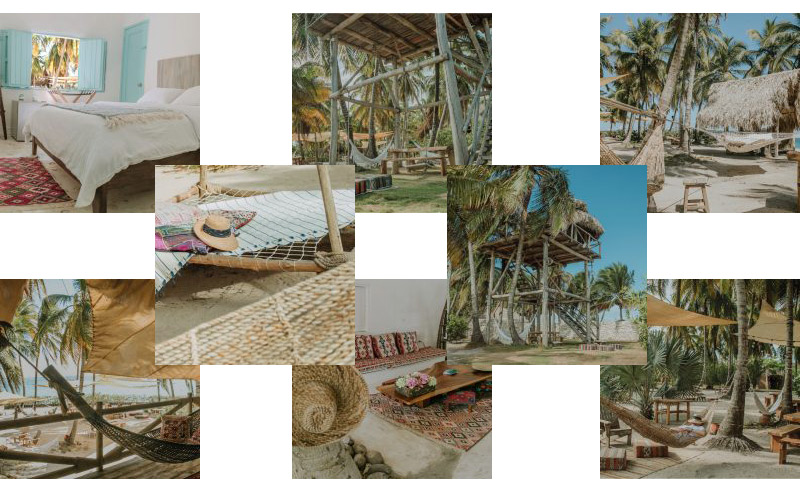 Eteka Slow Beach Lounge is a Semi-Private Beach Escape Just Minutes from Cartagena
Just minutes away from the hustle and bustle at the heart of Cartagena, Colombia is an oasis of calm and connection to nature that can help weary travelers reset their inner alignment and refresh for a day (or more). Eteka Slow Beach Lounge is a semi-private getaway on an island just minutes from the port of Cartagena that has been carefully curated and architecturally designed to exist in harmony with the land and sea. Here guests will enjoy sand, sun, and surf the way it was meant to be—at their own pace—without the added pressures of crowds of tourists, pushy vendors, or overworked tour guides. With options available that include meal packages, overnight accommodations, and on-site activities like watersports, Eteka Slow Beach Lounge is the perfect mini-escape for folks vacationing in Cartagena.
Located on Tierra Bomba Island
Eteka Slow Beach Lounge is located on the beautiful Tierra Bomba Island—just a few minutes by speedboat from the crowded wharves at the port of Cartagena. While Tierra Bomba isn't as pristine or remote as some of the Rosario Islands, the fact that the island (and the beach) is semi-private greatly increases the tranquility one will feel when stepping foot onto the soft sands. Gaze out over the Caribbean upon the melting pot that is the modern/ancient old city of Cartagena while your rest, regroup, and plan the rest of your Colombian vacation.
Eteka Slow Beach Lounge Takes Guests Back to Nature
The Eteka Slow Beach Lounge resort getaway is designed to connect guests with nature and features a rustic, minimalist architecture that never interferes with the land. Caribbean blues, crisp whites, and pops of accents colors abound in the public and private areas of the Lounge and contribute to that calming feel. The buildings and landscaping were created in harmony with existing flora and you might even be lucky enough to have a palm tree growing right up through the floor of your private suite!
But Eteka Slow Beach Lounge isn't a castaway's nightmare. The friendly staff is ever-present (but never in your face) offering amenities such as excellently prepared meals, cool cocktails, and upgrades. You can take advantage of the beach, Tiki bar, and watersports for a day or book a longer excursion away from Cartagena in their intimate cabana-style suites. Each suite is limited to three guests (with the daily rates based on a double-occupancy) but if you have a larger party, Eteka Slow Beach Lounge offers guests the ability to buy-out the place and make exclusive the entire location (for an additional fee).
Additionally, if you're planning something more than a day on the beach, Eteka offers function packages as well including destination wedding packages and more. This location is great for getaway events because it's much closer to Cartagena proper than other island escapes like the Rosarios—just a few minutes by boat each way.
Interested in booking your semi-private beach day or planning an exclusive destination event? When you stay at any of our luxury vacation homes in Cartagena you'll receive access to our complimentary comprehensive concierge service. Your dedicated concierge staff can handle all the details of an Eteka Slow Beach Lounge escape from transportation to the port to securing your preferred accommodations on Tierra Bomba Island. So stay with us and experience Cartagena like a native.
Contact Information
C: (+57) 3045938911
E: [email protected]
www.etekacartagena.com
Isla Tierra Bomba,
Cartagena, Colombia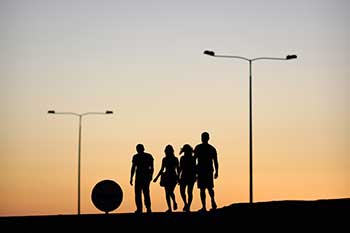 Cartagena Old City Wall
Walking around the wall at sunset. Amazing. A must do!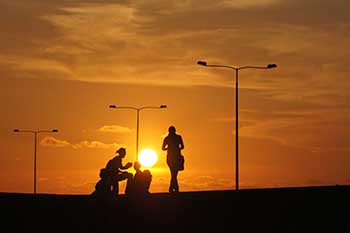 Sunset in Cartagena Old City Wall at Sunset
Friends gathering to watch the sunset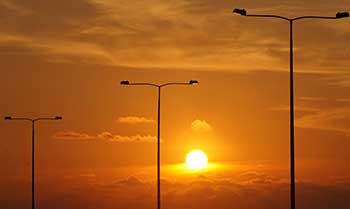 View from Cartagena Old City Wall at Sunset
Optical Illusions at Sunset in beautiful Cartagena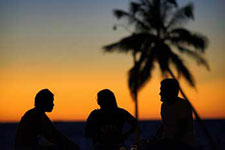 Old City Wall at Sunset
Chilling by Cartagena Old City Wall at Sunset