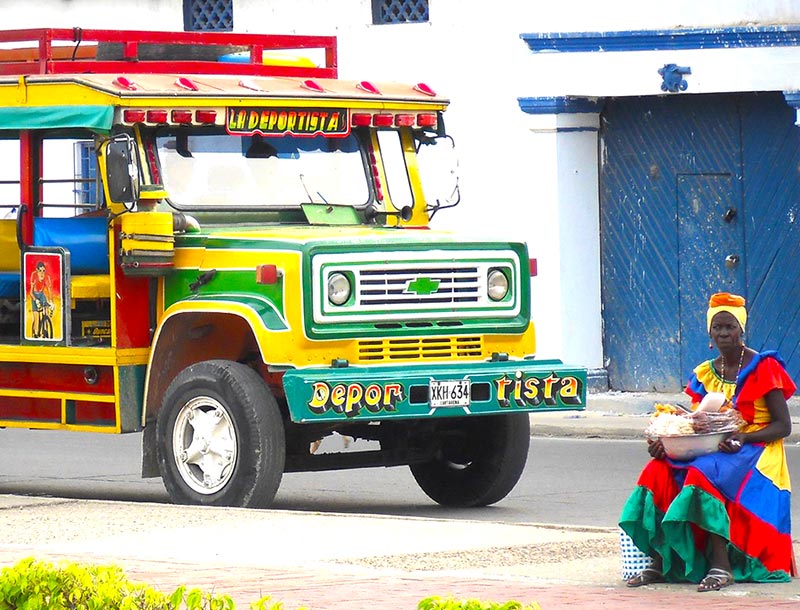 What is a Chiva? (Hint: It's Not your Father's Goat)
What is a chiva? Literally, the word is Spanish and refers to a female goat but those folks sashaying down the sidewalk with big smiles on their faces aren't talking about riding around on livestock. In the modern sense, the word refers to brightly-colored buses that ferry party-goers around cities (or even between cities) in Colombia. These buses have historic roots in the colorful, privately-owned transports that still function as public transportation in more rural areas of Colombia and throughout South America. In fact, it's documented that the first motor-driven vehicles built in Medellin way back in 1908!
And while the modern purpose of a chiva has evolved, most of these buses still look mostly like you would have found thirty years ago crawling along some mountainous jungle track.
How to Spot a Chiva in the Wild
Listen for the sounds of music and revelry. Modern chivas are essentially party buses. These machines have been converted into mobile night clubs that tour companies rent or charter to individuals and groups who want to get from Point A to Point B while having the most fun possible.
Traditional chivas were brightly-colored (usually featuring some variation of their nation's flag) with custom art on the exterior—usually sporting a mural along the side or on the back of the bus. You'll notice that unlike a typical bus, they don't have doors or windows. Indeed, traditional models featured bench seating that allowed passengers to easily enter and exit the vehicle from the outside.
You'll also likely spot a ladder on the exterior so cargo (and riders) can be stored on the roof. This feature lent the chiva its other colloquial name: Escalera.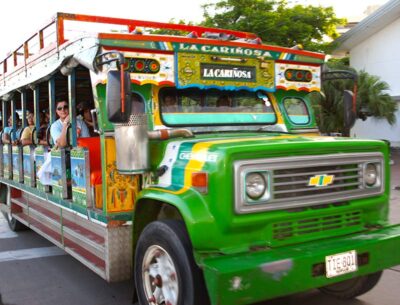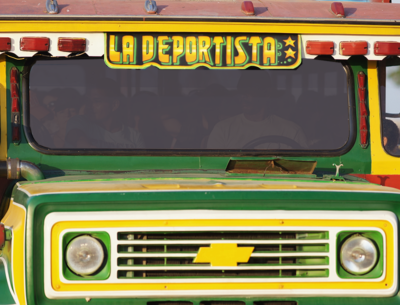 What to Expect from Your Chiva Experience
Don't worry, when you board a modern chiva, you won't feel like you're squeezing yourself between herders for the long, sticky ride to Medellin.
While modern versions still hold onto some of those old traditions (namely the garish color schemes and personal nicknames given to them by the drivers), they've all been tweaked to provide a more raucous venue for entertaining.
You'll still find bench seating but now it's usually turned inward to leave enough room in the middle to stand, and dance, and carouse as you please. Also, you'll usually find an upgraded sound system in a party chiva so the driver can blast their own personal preference of club music along the way. (Some chivas have even been known to sport live bands!). And what party bus would be complete without adult beverages?
Typically, passengers in a chiva will bring their own cocktails of choice along for the ride but some charter companies will offer packages that provide beverages free-of-charge.
If you're shooting for a truly authentic chiva experience, you'll want to score some aguardiente. That's sugarcane alcohol flavored with anise-like liqorice—that just happens to be Colombia's liquor of choice. Aguardiente aficionados know that this drink is potent and meant to be savored from shot glasses (usually handcrafted pottery or carved wooden version).
Chiva Sightseeing Tours
If you're looking for a more sedate, family-friendly option but still want to experience a chiva ride while in Cartagena, you can also find companies offering daylight sightseeing tours around the city using these traditional modes of transport.
Most tours come complete with narration (usually in both Spanish and English) and often offer ho-on/hop-off stops for sightseers to snap a few photos.
How to Hire a Chiva for Your Next Party
There are a number of companies in and around Cartagena offering chiva rental and charters to vacationers and locals alike. All offer roughly the same services but some will cut better prices while others offer unique perks like upgraded soundtracks, entry into exclusive nightclubs, and complimentary beverages.
Let Us book your Chiva tour for You
If you'd like to book a chiva while you're vacationing in Cartagena, let our complimentary concierge service do it for you. All guests staying in our luxury vacation rental homes in Cartagena receive free concierge service with the touch of a button. Our helpful, knowledgeable, and local staff can help you find and book the perfect chiva for your party—whether you're looking for mild or wild.