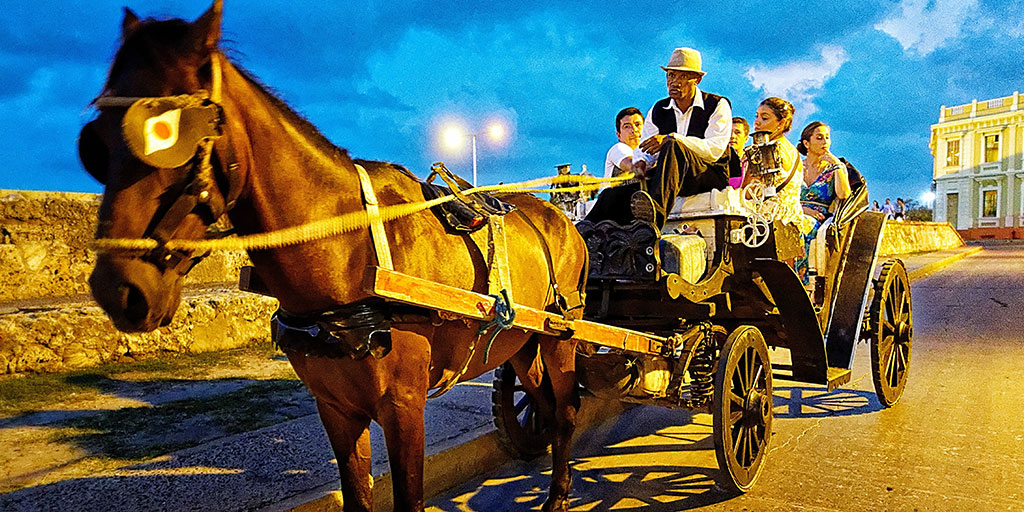 Take a Horse Drawn Carriage Through Cartagena
There's really no better way to see Cartagena than seated in a horse-drawn carriage. It's the perfect way to experience this historic city as you would have two or three hundred years ago. Carriages are available almost anywhere throughout the city and can accommodate groups of four. Larger parties can reserve multiple carriages in travel in a sort of wagon train throughout this historic Caribbean vacation getaway.
Romantic and Historic
Carriage rides are great for history buffs. Getting a narrated (or non-narrated) tour past some of the most historic sites in the city is a great way to see "everything" in a day. Plus you can bookmark the locations you'd like to come back to on foot for further exploration.
But carriage rides can be romantic as well (especially in the early morning or evening hours when the Caribbean sun is just right to set the sky on fire). Some companies even offer romantic evening carriage rides paired with romantic dinners for two! That's just what cupid ordered for nervous grooms-to-be in need of a memorable way to propose to their fiancées! So bring the ring along for the ride.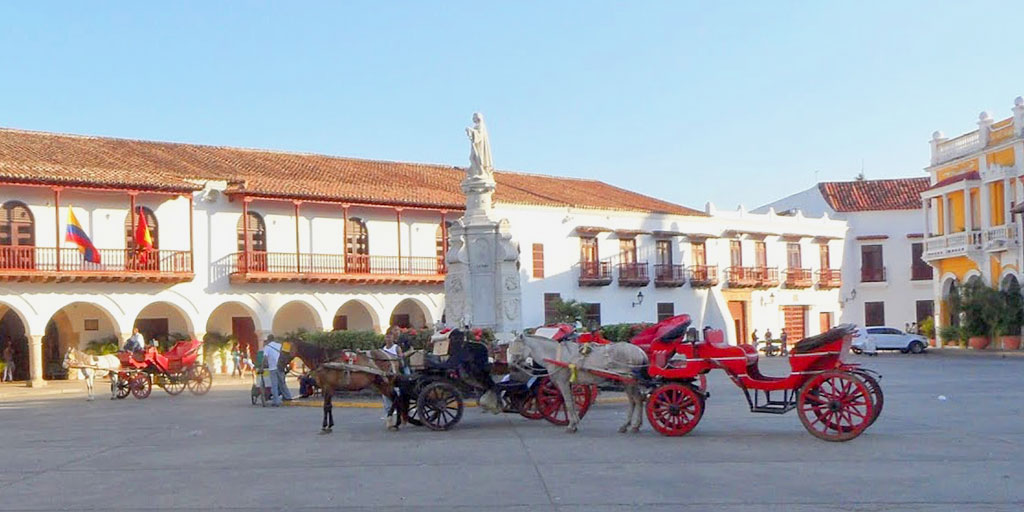 The Sights You'll See!
While each carriage ride is a bit different most of the drivers take visitors past:
• Plaza San Diego
• Plaza de los Coches (where many of these carriages make their pickups and drop-offs)
• The Cathedral de San Pedro Claver
• Plaza de la Aduana (with its famous statue of Christopher Columbus)
• Las Bóvedas (historic dungeons rebuilt into quaint shops)
• The Old Wall around the historic city center
Some horse-drawn carriages will bring you toward Boca Grande but most stay right in the Old City when even on otherwise unexceptional streets you'll see amazing architecture, colorful explosions of flowers bursting from hanging baskets and balconies, and street performers playing instruments, dancing, and singing for your enjoyment.
After your ride, it's the perfect time to snag a great deal on a hand-craft mochila bag or one-of-a-kind art from one of the many street vendors.
A Few Tips to Get the Best Carriage Ride Possible
1) You can hop off at your destination of choice or arrange a guided tour with your carriage driver. This offers you an alternative to a taxi fare and saves your tired feet if you've already been walking around our beautiful city for a while.
2) Be sure you haggle to get the best price. The going rate for carriage rides in Cartagena is around $30-$40 per hour but feel free to negotiate. Drivers are often willing to drop the price, throw in extras, or make exceptions for larger parties.
3) Don't forget the sunscreen! An horse-drawn carriage in Cartagena is an open-air vehicle. While you'll be riding in the shadows of some of the tallest buildings in The New World (four- and five stories!) you're bound to catch some rays to dress appropriately and bring the sunscreen.
4) Don't forget the camera! Snapping photos from a car is next to impossible. But carriages don't have windows to blur up your shot and the horses travel slow enough that you won't have to worry much about motion blur!
Most of all, enjoy the ride. It's your time to experience the real Cartagena so take it all in. And when the ride is over, we welcome you back to your luxury vacation rental home in Cartagena for a little relaxation (and perhaps an afternoon cocktail on your private rooftop patio).